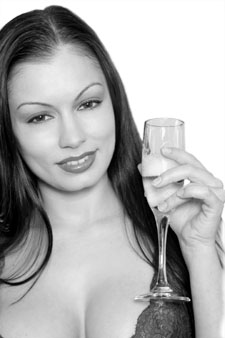 Thank You

Aria Giovanni

Cris and Alex



Glamourcon extends a special thank you to everyone who made this interview possible.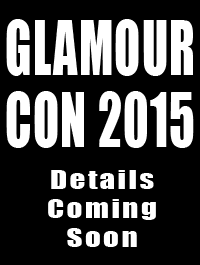 Interview Questions by
Bob Schultz &
Keith E. Williams

Photography By
Keith E. Williams
www.Exoart.com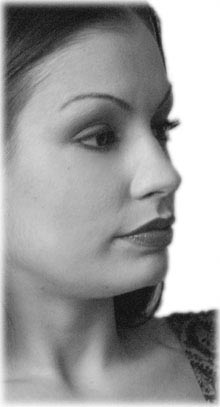 Glamourcon's January Interview - Issue #2

As the incredible Aria Giovanni hops from place to place, city to city, she stopped just long enough in LA to grant Glamourcon an interview and photo shoot. We packed ourselves into her suite while she took break after a busy day. She told us a few secrets while relaxing with some very cold Champagne.
---
GC: A very happy and prosperous new year to you, Aria. What are your hopes and goals for the coming year?
Aria: The only thing I hope for every year is to be happy. As you grow up and as you get older, different things make you happy. I want to continue finding whatever that is and pursue it.

GC: Aria, you are certainly already one of the top glamour models active in the industry, but I understand you only started modeling in 1999?
Aria: It was the end of 1999. I actually came upon modeling as a way to pay for college. I actually never thought I was going to model or that I would be successful at modeling, or that I would like it. I just thought of it as a way to pay off some bills while I was going to college.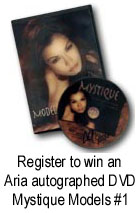 GC: How did you first learn of Glamourcon and what keeps you coming back?
Aria: I appeared with Ed Fox at my first Glamourcon. He had a booth and he asked me to come sign autographs at his booth. I thought that would be a great opportunity and then when I saw how well I did at the show, I really started thinking about how this is a good opportunity to market myself to a different audience. I have been to as many of the shows since then that I have been able to - almost every one.

GC: Now that you are a Glamourcon/VAMP veteran, what do you like best about the shows?
Aria: I think I like the fact that I can meet my fans because you don't have very many opportunities to do that. You'll read postings on the message board and respond to them but to actually see fans in person and for them to be excited to see you, it's really neat. The nicest part about actually seeing them is that they get to tell you what they like, what they don't like and don't really care for. You really understand what you need to be doing more of and what you need to be doing less of. This really helps.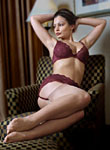 GC: You have a very successful web site, www.AriaGiovanni.com, what's your secret?
Aria: I am not sure what a model has to do to have a successful website. I know what I do and I am constantly listening to new ideas and changing things. I offer amateur, glamour, fetish, candid, artistic nudes, videos and net buddies updates. There is something for everybody. Some people really like the artistic nudes, others really like the glamour, some are really big fans of when I was doing amateur modeling and are still big fans of my amateur work. I try to put a variety, every day there is something different. I update five days a week and have weekly diary entries that I put on the site. I have an appearances page which I write down my appearances, what shows and conventions I am going to be doing. I think offering something that is steady and stable is important. I update five days a week because every day there is something new.

GC: I'm sure part of your sites success is your popularity with fans. Do you have any insight into that popularity?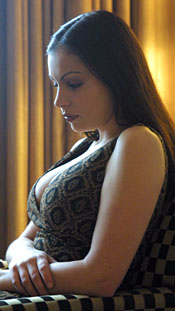 Aria: I am not quite sure why. I think it is a combination of many things. I think I work really hard. I wake up in the morning and I'm on my computer answering emails, then I go to the photo shoot and then I go wardrobe shopping. Back on my computer…and every single day pretty much I am working, whether it be shooting, whether it be wardrobe shopping, answering emails, getting photo scans, getting products picked up or whatever it might be, I am always doing something with my business because I look at it as a business. I try to think how can I make this a better product for the consumers. I offer such a variety that creates a fan base in every genre and because of that I am getting fans from all different angles. I try to hit mainstream as much as possible and really hit as many different groups of people as possible because the fans of Playboy are not necessarily the fans of Penthouse, not necessarily fans of amateur photos online, not necessarily the fans of fetish magazines. These are all different groups of people and being able to hit as many different groups as possible I can create more of a buzz throughout a population. Not just an itch and I think that's really helped in my popularity.

GC: Was the Penthouse (Sept 2000) shoot a good experience for you?
Aria: I actually really enjoyed shooting for Penthouse because of Suze Randall. It was a great time. She was actually hilarious and I felt very comfortable with her and I know the photos she takes are very beautiful. Yes, they are more graphic than others but she really portrays it in a different light than most glamour photographers. I had a great time! She stuck me in a koi pond and had fish biting at me. She stuck me in a cold shower…it was great! I think all my best stories of shooting come from Suze.

GC: What drives the fans wild?
Aria: I get told a lot that people like the fact that I am all natural, that I am curvy and that I'm not 5'10." I'm not saying that that's not attractive but I don't think there's a huge group of girls that are in my niche. I do have that niche of being all natural, large chested, curvy, big butt, the whole thing, you know, you don't see that many models out there like that. There are some, but it's not like the cookie cutter's stance.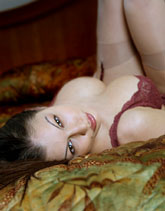 GC: Have you been chased all your life, or is it something recent?
Aria: Definitely something recent. And, actually not even so much now. I go out with no makeup no one notices me. I can still go in a crowd unnoticed if I want to. But I can also go into a room and have everyone look if I want. It's a matter how you carry yourself, timing and poise. It's grace and it's all how you work with it, I've learned that over the years. When I was younger I was so unpopular. In high school, no one ever asked me out. No one asked me to the prom or any of the dances. You grow up like an ugly duckling and no one pays any attention. All of a sudden you choose a profession and people come up to say "Oh my God, I can't believe it's you" and they're shaking. And I stand there thinking, "Are you kidding?" I just don't believe they feel that way.

GC: We've heard you were a biology major but hung it up for modeling. True?
Aria: When I started modeling, I was already enrolled in a junior college majoring in biology. The same month I got into Penthouse, I was accepted to UCSD as a junior transfer student. My major was biochemistry and my minor was English writing. But I never went because I decided, since I was accepted and got the transfer, I knew I could always come back to school, but I probably couldn't come back to modeling. The workload in your junior year is so heavy, you can't work. It's all school. I chose modeling. I haven't been back since about six months after I started the modeling.

GC: There are rumors about your eclectic eating habits. Tell us about pomegranates.
Aria: I'm a very picky eater. I'm very particular about how my food is prepared and what I like and what I like together. I enjoy wine. And, I love pomegranates when they come into season! If you were to spend a week with me and could observe my eating habits, you could write a short story about how weird I am about food. I want this but not with that or it can't be together or it's got to be this or that way. But it's not like eating like a bird. It's more like I want extra sauce - I want steak with extra sauce - I want vegetables, but not these vegetables - I want green salad and dessert with it. I want wine and port. I know what I like and I want it done the right way.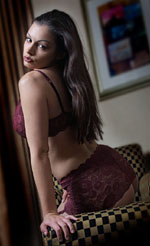 GC: You have had the opportunity to travel extensively, what are some of your favorite places?
Aria: I really like New York - Manhattan, SOHO. I lived on Long Island and really enjoyed it. I really enjoyed the Bahamas, Jamaica, Belize and Hawaii. They were all nice because they were tropical and something I'd never experienced before. I love being new places. I just hate having to get on that plane, though.

GC: Where are you dying to go that you haven't been?
Aria: Oh, wait! Italy was the best! I forgot to mention Italy and, of course, it was the best place I've been ... ah, Florence!

Hmmm? Places I haven't been? All of Europe, other than Italy. I want to go to Europe which I will be visiting this year. Australia, too, which I will also be visiting this year.

GC: Who are your favorite photographers and models?
Aria: I don't really have one. It depends on which genre were discussing. I really enjoy shooting with Suze Randall and Julie Strain. Also Andrew Blake, who does still photography too. I just don't have that one person that I would drop everything for. I think it really depends on my mood at the time.

Favorite model? Well, most are my girlfriends. I don't really see them like models. I see them as real girls. When we're not working we're - (smiles and giggles) drinking, eating dinner, talking about boys, laughing hysterically, telling jokes, falling down stairs - stuff like that. You know, girl stuff. I don't see them as models, because they are my friends.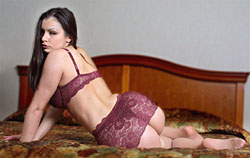 GC: Who are you hoping to work with in the future?
Aria: One photographer is Christophe Mourthé but he doesn't know I want to work with him yet. I actually want to work with some of the fetish magazines in Europe. That's what I really want to be doing when I spend time in Europe this year. I want to meet up with the people from Bizarre, Marquis, etc. I want to be on their covers. It's something I haven't done. From the beginning I have shot with fetish catalogs like Stockroom and I shot with Ken Marcus. Also, some Andrew Blake stuff, Bondage by Request and Short Fuse. I haven't really broke into the magazine portion of fetish which I really would like. So it's about hitting those different groups of people.

GC: What was the coolest shoot or video of your career so far?
Aria: Oh! (excited exclamation) OK - I have a couple. Obviously Andrew Blake. The recent one we did together is coming out in January (or maybe February). It's the fifth one I've done with him. This one is all fetish. I did a full suspension by my ankles from the ceiling. It was really cool and a really neat feeling. I had a great time on the shoot. If you like fetish and you're into his style, you're gonna love this dvd. I'm really excited about this one because I was in so many great scenes. All about fetish. I also like the one we did in Italy, because, well, we were in Italy.

GC: We've heard you say you want to smile more in photos, what do you mean?
Aria: I think, when it comes to glamour, it's not considered sexy to smile. Especially, with my "look" which is exotic, feminine and curvy. Common wisdom is it breaks the mood. I have strong eyes and it doesn't really work well to smile. People ask "why don't you smile" and I have to tell them they won't take the photo if I don't stop smiling. Today we'll be shooting amateur and I get to smile all I want because that's the whole idea to be young and carefree. But when you're tied up doing fetish, one of the things not to do is to smile.

GC: Thank you so much for taking some time out of your hectic schedule to talk with us. We appreciate the candid answers and the big smiles. We enjoyed our time with you.

After a little more Champagne, we spent some time photographing Aria in some lingerie for you. Many of the images are located below, just click to see the larger version. There is more Aria interview and tons of great photos at www.AriaGiovanni.com.



You can read the complete interview and see more Aria photos at
www.AriaGiovanni.com