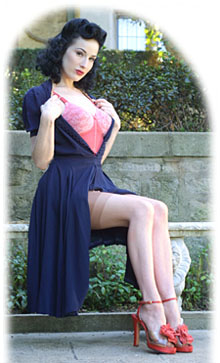 Thank You

Dita Von Teese
Andrea Martin
Melissa Dishell
George Bone

Bill Farley
Terri Thomerson
Hugh M. Hefner
Playboy Enterprises
The Mansion Staff

Jay Cwener



Glamourcon extends a special thank you to everyone who made this interview possible.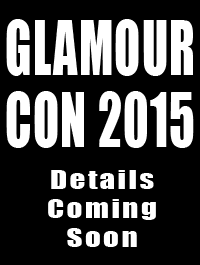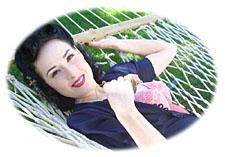 Interview Questions by
Bob Schultz,
Keith E. Williams
& the GC30 PML Guys

Photography By
Keith E. Williams
www.Exoart.com

Glamourcon's December Interview - Our Premier Issue
Part 2 of the Mansion Interview & Photos are now avaiable at www.dita.net

GLAMOURCON caught up with Playboy's December issue cover girl, Dita Von Teese, at the beautiful Playboy Mansion. Dita granted GLAMOURCON an exclusive interview and photo session on the mansion grounds. Enjoy!
---
GC: Dita, Glamourcon, what's the relationship there?
Dita: I love Glamourcon. I feel like Glamourcon is where I got my start. I was reflecting on it this last weekend when I had my December Playboy cover in front of me. I was thinking about the first time I went to Glamourcon and had one little postcard picture in the middle of the table. It's all I had and nobody knew who I was or where I came from. That was the first time and when a few nice people stopped to talk with me. So I feel like Glamourcon has really brought me the attention that I did not have before. It means a lot to me, meeting my fans and learning what they like and what they don't like. Glamourcon let's me gauge what's going on and what I should be doing. When fans say, "That was a fabulous photo shoot" or "I didn't really like that one," I listen and file it away for reference. It's definitely fun to watch the line at my table grow. There is always a traffic jam at your both, Glamourcon loves you too. I love Glamourcon and it's the only convention that I really do. I've tried to attend others, but have been very dissatisfied with them. I don't feel like I really belong. With Glamourcon, I consider it my home…if anyone wants to meet me, they should just go to Glamourcon.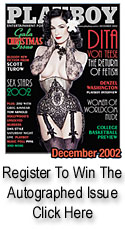 GC: Speaking of the December Playboy, did you pick the cover image and other photos?
Dita: No. I didn't have choice of what images Playboy actually chose, but I did get to style everything and decide what they were going to shoot. I just made sure every shot was something I was going to be happy with. Hef picked it, he edited the film. I think with my pictorial, it was his pet project, so I believe he edited all of the film. Hef decided which shots were going to make the issue. It was a nice that the final images were a surprise, but I was dying to know - it was several months before I found out.

GC: Did you get to see the issue early?
Dita: Not really. I saw it about the same time everyone else did. Maybe a day or two before, but I think there were many people that saw it way before I did. But even when the package arrived at my house and I walked in, I was really to nervous to open it. I couldn't open it for about an hour, it was just sitting there. I had no idea which shots were going to end up in the pictorial.

GC: Recently you have been very visible,we've seen you everywhere, are you going more mainstream?
Dita: I hope so in a way. But I'll still be a little fetishy and edgy. I'm still gonna stick with what I like, but I'm glad that people are learning more and being exposed to me. For the past several years it was just a small group of people - people interested in the things I was interested in, which is generally fetish type elements. I am really excited that I have had the opportunity to be seen by more people and that people are really into it. I am getting the exposure I always wished I had.

GC: You have been in many publications and videos other than Playboy - how were they different?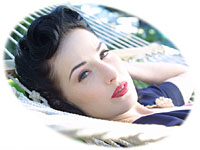 Dita: Other projects have been more erotic or heavier into fetish, like the Andrew Blake films for instance, those are pretty racy films. I will not be making that genre of film in the future. I've also done "erotic" style photos and it just isn't for me. I haven't done either in a long time. I am not embarrassed by any of those images or projects, I've just moved on to other things. It was special experience to shoot some cool pictures with my boyfriend, Marilyn Manson, and see them published. I've also done a fair amount or lingerie and mainstream modeling.

GC: Is society changing, making you more mainstream?
Dita: I don't think it is really so much that society is changing, I believe it's more likely the result of somebody enabling me to be in the spotlight. I don't think attitudes are suddenly changing. The appearance in Playboy exposes me to a whole new group of people for the first time. Many people are learning about the whole burlesque revival. The more people see you, one person talks to another, they start talking about retro burlesque. It's the buzz and all the rage right now. At least, I hope so. There are a lot of different burlesque dancers, a lot of them pride themselves on being a little bit more edgy, different and underground. I am trying to appeal to the average person. I am trying not to be too fetishy or hard-core. Different people do burlesque in different ways. I decided to go in the mainstream direction. I think that my look can appeal to wider fan base.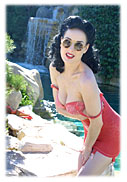 A lot of the girls now are in the alternative style, which is great, it is just a different audience. I am trying to reach the "average Joe" which is what burlesque was really about anyway. In its first heyday, burlesque was about mainstream, average guys and some women going to see an exciting show That's my goal, a beautiful, sensual show for almost everyone. I have studied the history of burlesque and I discovered, contrary to current beliefs, it was a mostly male audience back then. The headliners were women and it was about the strippers. The audience was routinely about 75 percent men, according to publications written at that time. My collection of vintage books from the 1940s describe in detail what the burlesque show is (was) like. I'll accept that as a more accurate truth than modern books written about burlesque.

GC: I've heard debates about your style and the era that inspired it, can you define it?
Dita: I think my style is a combination of several eras. My favorite era is the mid 40's. But I also really love the 30's and sometimes I even go through a 50's look. Each era has elements I really like so my unique style is sometimes a combination of all three. But I believe what I do best is the 40's. It's my favorite and biggest challenge that era to get right. The forties hairstyles were more elaborate and the clothing was really specific. The 40's are definitely the most challenging era to emulate, so that's my favorite.

GC: So the style, the preparation and the dressing up are really part of your lifestyle?
Dita: One of my most important goals was to bring pinup art to life. That's how I got started with burlesque and my styling. Even my burlesque shows are not based so much on vintage burlesque, but more on bringing pinup art to life. I am a huge fan of beauty and artistry of pinup art. The old burlesque is probably envisioned better in people's minds than the actual reality of the shows. If you watch the little videos, it (burlesque) was kind of rough and amateurish. I strive to make my burlesque shows a little more glossy and more modern. A little more beautiful than the tassel twirling stuff. The old burlesque not really me and I have to do what's in my heart, what works for me instead of copying the past.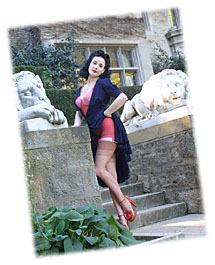 GC: What is your career focus now; the burlesque, the modeling?
Dita: Really… I feel like I have been put through the ringer a little bit with the modeling world. There seems to be a fine line between celebrity and model. People sell your images and use them for their own benefit. I've learned a lot from that and so I am shying away from just shooting like crazy, with just anyone. I want to own my images. I want to be more selective about who I am shooting with and where the image is going to end up. I like doing my burlesque shows because I don't have the stress of feeling that my images are gonna get pawned off all over the Internet and all over the world. I do my show, people get to see it and they enjoy it. I enjoy it. There is nothing left afterwards, it's on to the next show. It's a little less frightening for me. I feel there are a lot of girls out there shooting like crazy, every day, all the time, for everybody else's website. I want to maintain exclusivity with where my images go because I want to own something when I am old. We should take a lesson from Bettie Page. She doesn't have a whole lot because everyone else owns her pictures. I don't want that to happen to me, so I want to put my very best forward with every picture. Why would I want to do it half ass? And when I am putting my best forward I want to have that picture for myself. To keep and do whatever I want with it. So that's where I stand right now on the photographs.

GC: There are often Bettie Page comparisons. Like it or hate it?
Dita: I like it because everything that I ever wanted was to be compared to her. Not that I look like her, because I don't really, but because I have a little bit of what she had, that made her something memorable. That "it" thing. I wasn't really trying to copy Bettie. Although, I have done photo shoots where I am replicating her look. I thought extensively about what it was that attracted people to her and why she is still an endearing image to people all over the world. It's really nice to be compared to her. I am completely thrilled that somebody would even mention my name in the same sentence. Several years ago, not everyone knew who Bettie Page was and now, pretty much everyone does. I also think that the name Bettie Page gives people something to compare me to, it gives them a visual perception of me.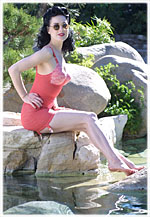 GC: In a recent interview Marilyn Manson, your boyfriend, mentioned you bake him great cookies. In your heels. (Sigh) True?
Dita: Most of the time. I don't always wear high heels. He was basically just trying to generalize the fact that I dress up for him and I'm a glamour girl 24-7. I'm always pretty glamorous, even when I'm hanging around the house. That's the way I like to dress, it's what I enjoy. Of course there are the times where I am wearing a corset, stockings and high heels and I have made him dinner. The Playboy pictorial and every thing you see in most of my photos resembles my real life. I styled the Playboy pictorial. A friend and I came up with the ideas for the clothes, props and everything in the image, so I'm not the product of some stylist. I think people should know that about me. All of Hollywood is being styled to death by consultants and employees working for them. That will never happen with me, it's my style.

GC: Let's take a break to create some images here at the Playboy Mansion. Then we can continue on with the interview
Dita: Sounds good, we can shoot outside in the sun, by the Grotto and pool.

So we took a few minutes to photograph Dita on the grounds of the Playboy Mansion. Many of the images are located below, just click to see the larger version. The remainder of the Dita interview will be available on www.dita.net next week. Be sure to stop in to read the rest, and see even more photos of Dita!



Part II of the Interview & Photos Continues At www.Dita.net Next Week