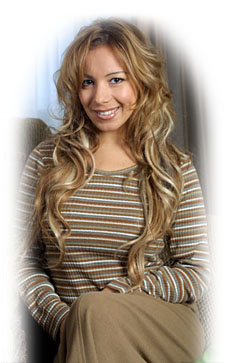 Thank You

Nissa



Glamourcon extends a special thank you to everyone who made this interview possible.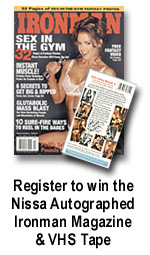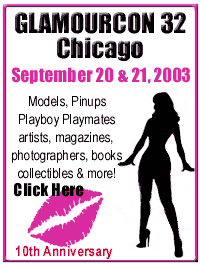 Interview Questions by
Bob Schultz &
Keith E. Williams

Photography By
Keith E. Williams
www.Exoart.com




We appreciate feedback
It helps us make a better site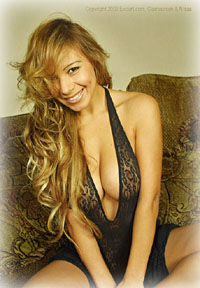 Glamourcon's February Interview - Issue #3
Free Drawing: Register To Win Magazine and VHS Tape Autographed By Nissa



Model, actress, web superstar, producer - all that and much more! Nissa was kind enough to take time out between shoots to tell us a bit about herself. Her interview / photo shoot was one of the hottest we have ever done. ¡cómo disfruto!
---
GC: Tell us about how you got started in modeling.
Nissa: I actually came to my first Glamourcon convention in 2000 but I hadn't really started actually modeling. I just came to check things out. I came with one of my photographers and he said that I should be here. At that time I was working for Victoria's Secret and I was managing several stores in Salt Lake City. I flew to Los Angeles to the Glamourcon 2000 to check things out and I had a great response from that show. There were a lot of people that wanted to work with me. I made so many contacts at that show that motivated me to think that, yeah, it could be something that I could do. I modeled before but I never did anything but a few bikini shoots.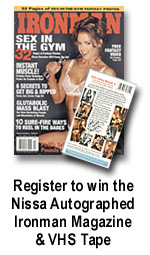 GC: How did you first learn about the Glamourcon show?
Nissa: I learned about it when I came that first time for the web models. It was one of the other girls, who's also a web model, who sent me an email about Glamourcon. I think that from there I have been to every single show except for maybe one or two. It has really built my career. I have gotten a lot of contacts.

GC: Which Glamourcon experience stands out in your mind?
Nissa: They have all been good. It's fun to know that people look up to you or that they see you somewhere, like in a magazine or something, and they approach you and are like, wow, you're for real, and you're here! They're saying I have seen you here and here and here and I once met you in person. You know, they compliment you and you motivate them. Just to know that you have brought that to that person leaves an impression. I really enjoy it when they share their memories.

GC: Do you want to pursue acting?
Nissa: Definitely. I think that's my strongest point right now even though I still do a lot of modeling. I take acting classes, do take voice over classes and do a lot of voice overs. I'm bilingual as I speak fluent Spanish. A lot of the companies are seeing that the Latin communities are expanding every day.

So several companies contracted me to translate shows, not just the voice-overs. I actually translate the shows into Spanish. This is the hard part of the business because doing the voice-over is one thing, which is not so hard, but when translating from English to Spanish, especially when there are a lot of jokes, the American jokes don't always translate very well in to Spanish. A lot of times I find myself rewriting a lot of those things, you know what I mean? I have to take these sentences from English, first in my mind and then write them down in Spanish with a completely different sentence, translating the same joke to Spanish, which is hard.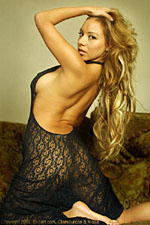 GC: Tell us about one of your favorite girlfriends, Aria.
Nissa: I love working with Aria. She's actually one of the first models I met when I came to Los Angeles when I first started working. She's been everything - not just a friend, but I look up to her as a model because really I was very, very new. I learned so much from her -modeling, business points - she is very, very sharp. She's very business wise, I learned most of the industry from her.

GC: We hear lots of buzz about model web site these days, what do you members get
Nissa: After January 1st, I will have a new webmaster so there are a lot of new things that I will have that I haven't had before. I have eight sections of different photo galleries - like my girlfiends' photos, fitness photos, fetish photos, wet and wild photos, hot wheels and hot rods. I have candid, amateur and sheer seduction. Those are the eight different sections. I have also mpeg's and videos. Sometimes they go with the photo set and sometimes they are independent. I will have stories that will be available to read or they can hear it recorded. That section will be in Spanish and English. I am also going to have a web cam - maybe two web cams a week depending on how busy I am. Cost? The website is www.NissaOnline.com.

GC: Do you dream of a perfect man, describe him.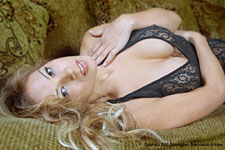 Nissa: (Instantly and with GLEE!) A man in uniform! I like him to be a little mysterious. I don't like the type that is too much of himself. I like a little bit of mystery, a little bit quiet. I love a man in business attire, it's kind of like a uniform.

GC: I love to listen to your accent, it seems to be a mix, what's the scoop?
Nissa: I was actually born in Madrid in Spain, but I really don't feel like I am from there because I moved when I was so young. I moved to Mexico when I was very, very young so I feel like I am more from Mexico. And my accent is really mixed so people from Mexico don't think I am from Mexico and people from Spain don't think I am from Spain.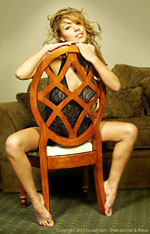 GC: Take a look into our cyrstal ball, and tell us about your future.
Nissa:I want to be a film producer. I am starting to do commentary and stories. I am starting to write a lot. I have been writing a lot of my ideas so I can start learning. I always produce my own shoots for my website. I want to start producing my own Playboy style stories and photo shoots. That's why I added the story section to my website so it would give me practice to write and create stories.

GC: Collaborators - whose on your wanna list?
Nissa: Gosh, I have so many people that I admire. Tyra Banks, the fashion, swimsuit model. She actually was one of my motivators. I read her story, her books. She has help books and she has modeling books - so she has motivated me a lot. So if I had a chance to work with any model, I would love to work with her. I would also like to work with Sports Illustrated. I love Al Pacino. He is very strong and Italian. He just reminds me so much of my dad. It would be him or Jack Nicholson. If I could work with anybody it would be them.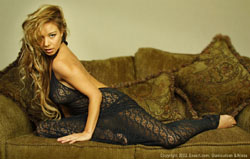 GC: Your best photo job experience?
Nissa: I have to say the one I did in Hawaii. Not just because of the nature of the shoot, but because of all of the elements. The photographer was incredible, the location was just amazing, and I was feeling my best, so I really, really enjoyed that photo shoot.

GC: Hobbies, pastimes, freaky fetishes?
Nissa: Extreme sports. I love flying. I love parachuting. I love skydiving. I was four years in ROTC with the Air Force so I had a lot of chances to jump out of planes. I loved that. That is one of the things I actually miss. I was actually planning on doing one of my next shoots jumping out of a plane. (at this point, we had to stop to fantasize....)

GC: Any topics you want to mention?
Nissa: Actually photography has been one of my hobbies since I was very, very young. So, now that I have the opportunities to take pictures of my friends or for the website, I became an amateur photographer. I love photographing Aria. Photography is a hobby of mine that I have always liked. I am glad I am back taking pictures as well. Not just being in front of the camera all the time, being on the other side of it.

GC: Thanks for letting us sneak a peak at your life and sharing your thoughts. We feel enlightened.

Take a moment or two to view the photographs of Nissa displayed below. You can find the conclusion of the interview and a bunch more photos (some even more revealing) at Nissa's web site - www.NissaOnline.com in the very near future.


| | |
| --- | --- |
| Feedback Helps Us Make A Better Site. Please Take Moment. | |
You can read the complete interview and see more Nissa photos at
www.NissaOnline.com