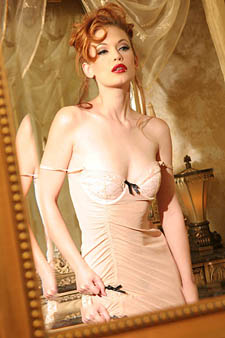 Justine Joli Details
Main Web Site:
www.JustineJoli.com

Interview Date & Location:
August 2006
Southern California

Thank You

Justine Joli
Taylor Wane
Laurien Productions
Cammy Ellis



Glamourcon extends a special thank you to everyone who made this interview possible.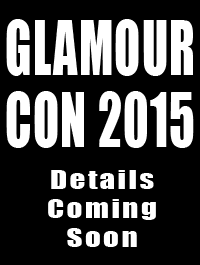 Interview Questions by
Bob Schultz

Photography By
Keith E. Williams
www.Exoart.com

Make-Up & Hair
Cammy Ellis
Taylor Wane




We appreciate feedback
It helps us make a better site




Welcome back, Justine! Congratulations on being selected as the first ever Glamourcon Girl of the Year. As you may know, the Glamourcon fans were asked to vote for their favorite GC Girl of the Month and you were the overwhelming winner! It was a little over one year ago that we featured you as our Glamourcon Girl of the Month. Our interview in August 2005 introduced you to the fans. But now, we want to dig a bit deeper.
---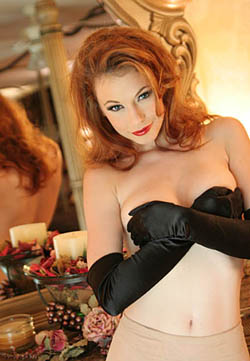 GC: Ready?
Justine: Maybe... Um, I thought there wasn't any math on this test.... (Giggles)

GC: It's been a year since we saw you last. Instead of a general "what have you been doing," let's break it down specifically. Are you still the same self described Sci-fi, Anime geek? And, if so, where have you been getting your geek fix?
Justine: I went to Comic Con SD.... I got my Laughing Man fix from GITS S.A.C. Second Gig. The Laughing Man is a reference from Catcher in the Rye.... It deals with what you thought you saw you did not see. The fans were Fabu! There were many new fans as well as a few repeats. They bought me a fuzzy Tachikoma! And stay tuned to www.JustineJoli.com for the whole female super hero series. To start, I'm turning myself into Poison Ivy!

GC: OK, now for our favorite part, the titillation We were told you had a special honor at AVN. Tell us about that. Oh, and don't spare any details, LOL
Justine: I have been nominated for Best Girl/Girl the last five years. I didn't win though. Hopefully, they will nominate me again... It's nice to be nomed. I was nomed for a Skye Blue fetish movie.

GC: Any exciting modeling or film projects have you done in the last year? Where are you focusing your skills?
Justine: My super hero series is one of the most exciting at the moment. I have already spent time creating The Major. And now, I'm excited to do more. The other project I love working on is with NellyRecchia.com.... She is the best. I love her.

I'm focusing most of my attention on my Super Hero series, and video at the moment.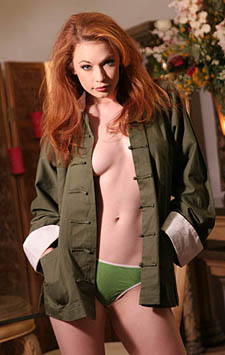 GC: Let's talk a bit about the state of the adult industry. Any trends you see developing? What is in and what is out? Where is it going?
Justine: Again, I thought this wasn't gonna be hard... (Giggles) Trends, huh? I have been told that G/G is the "in" thing at the moment. I've noticed that after the net boon crash that G/G sells more than hardcore. Why? I have no clue. I'm just glad I can be a part of that process.

GC: Where is porn going?
Justine: I have no clue. I do think you're gonna see a lot more girls coming into their own and shooting what they think is sexy. What does that mean exactly? Keep an eye out for the girl directors.

GC: OK, Boys and Girls (wink, wink), Justine is a single woman again. Justine, give us the scoop.
Justine: Heaven is waiting .... Hell I am...
Watch out Boys AND Girls... I'm on the hunt for good times and loads of fun.
I am single again and loving every minute of girl power.

GC: We understand you want to move further into dance. What are your plans?
Justine: I'm stripping and doing Burlesque. You will soon see me on the Lee Network and, hopefully, Lucha Va-Voom. I'm in training as we speak. Look for me at a strip club near you in November.

GC: You look so good now but we heard you are on a new diet and exercise plan. (Sigh) What are you doing? We imagine the French cream sauce is out...or is it?
Justine: I don't tell my manager nor my trainer I cheat on the weekends.... I make French food all weekend... (LOL) I swim 30 laps a day and circuit training 3 times a week.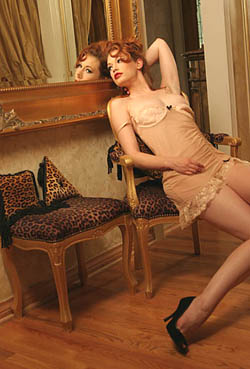 GC: One of the big changes in the last year is your website. What changes have you made and why? What can your web fans expect in the future?
Justine: I have redesigned my site to make it more efficient with faster updates, loads of video and a sleeker look. It also has techie features that are behind the scenes that make it fabu! You can expect a "More" feature as in blog, a place to have a forum for the fans, live chats and so much more! Stay tuned to www.justinejoli.com

GC: This interview/photo shoot is a bit more elaborate than the last. More sets, more changes and hair/makeup. What look(s) are you trying get this time out?
Justine: I loved it though. I had this idea of complete glamour puss... Just clean, beautiful sexy shots to make the perfect beautiful poster child for Glamourcon... To set the tone and standard for glamour models. I think... anyway. Hopefully, they can answer the interview sooner than I... (blushing)

GC: Tell us a little bit about the outfits you chose.
Justine: I went several places to pick outfits... (Laughing) It was hard... I eventually settled on more classic fashion pieces from the 50's except the Gi shots to satisfy my Japanese obsession.

GC: We noticed you used your iPod during our shoot. What is playing on that iPod right now?
Justine: Aside from my Harry Potter audio books? Aldous Huxley (Brave New World, Doors of Perception), Hitchhikers' Guide to the Galaxy, Have a Space Suit Will Travel, Music from Frank Sinatra, to Electronic.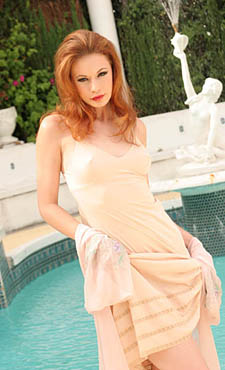 Playing while I do the interview:
I have a Playlist called Leftfield. In that playlist is Leftfield "Leftisim," Conjure One "Extraordinary Ways," "Conjuer One," and a few random songs in the same genres.

GC: Speaking of high tech, you look like you are really plugged in. Tell us a little about all your high tech toys.
Justine: Tri Band GSM Unlocked Phone, Bluetooth wireless head set, Apple G4 PowerBook, Altec Lansing Speakers, iPod, and cords. The phone, iPod and computer are my life. I sync all of my info into each of them because they are all Bluetooth compatible (with the exception of the iPod). They can talk to one another and and share info as well as upload info into one another..

GC: Last year it was nude Bungee jumping, which we truly enjoyed. This year?
Justine: Nude Skydiving, white water rafting,and dolphin swimming.

GC: Any good Glamourcon stories you care to tell us about?
Justine: This year in Chi-town was awesome! I met new fans as well as saw a few friendly familiar faces. And the party RULED! We had a blast! I was hammered 10 min into the party.... I wore a see-thru top, shook my groove thang and even talked a few wallflowers into dancing. I vaguely remember at some point letting Cleopatra take a pic of my boob. The best ever!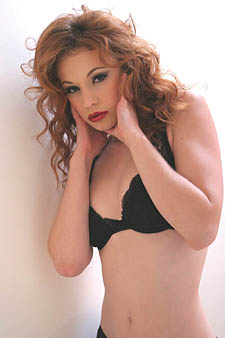 GC: OK, now on to the most important topic...the Glamourcon Girl of The Year. How does it feel to be the Glamourcon fan favorite?
Justine: I'm very honored. I'm so happy to know that the fans were happy enough with me to give me this chance. And I love the conventions to see all of my favorite fans as well as new ones. Without them i wouldn't be able to be here. So Thank You all very much!

GC: What can we expect from Justine Joli in the next year? Personally, professionally?
Justine: Just stay tuned to www.justinejoli.com to find out more here.... (wink wink)

GC: Last year, your secret is that you hang around the house naked. OK, we'll bet you have an even better secret this year...don'tcha? Come on... don'tcha?
Justine: My guilty pleasure is to sit, get baked and watch movies while ordering take-out, and making someone else open the door... (laughs)

GC: It was great to catch up with you and see the difference a year makes. You sure seem to have it all together...onward and upward! I'm sure we'll see you at plenty of future Glamourcons!





| | |
| --- | --- |
| Feedback Helps Us Make A Better Site. Please Take Moment. | |
You can see more of Justine at
www.JustineJoli.com