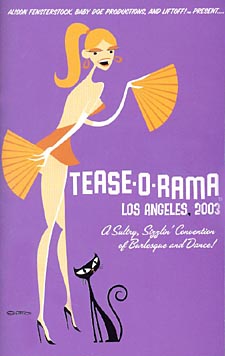 Tease-O-Rama Details
Main Web Site:
www.TeaseORama.com

Event Date & Location:
October 10th & 11th
Los Angeles

Henry Fonda Theatre


Thank You

Teaseorama
Alison Fensterstock
Baby Doe
Liftoff! Productions



Glamourcon extends a special thank you to everyone who made this review possible.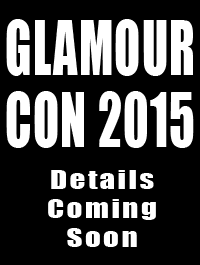 Review by
Bob Schultz

Photography By
Keith E. Williams
& Bob Schultz
As Well As Supplied Stock Photos



We appreciate feedback
It helps us make a better site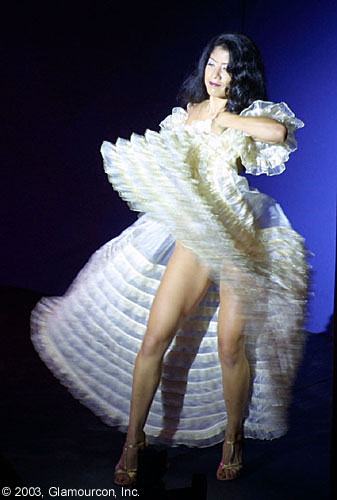 Glamourcon Reviews - #1

A Sultry, Sizzlin' Convention of Burlesque and Dance!
---
| | | |
| --- | --- | --- |
| | Pasties, Tassels and G-strings, Oh My! | |

International Burlesque Star and Glamourcon favorite, Dita von Teese joins Burlesque Hall of Famer, Catherine D'Lish on the stage. Their shimmering costumes soon give way to porcelain skin, pasties and G-strings under elegant lighting, beautiful music and a mist of ethereal fog. The dance continues while Dita and Catherine embrace under a real waterfall crafted on the stage Does it get any better? We think not.

The intrepid Glamourcon On The Road Team recently made its way to Hollywood to cover America's premiere Burlesque convention, TEASE-O-RAMA. The show was billed as "two days and nights of wild and wicked burlesque mania and go-go action." It certainly lived up to its billing and more!

The brainchild of Alison Fensterstock of the SophistiKittens, Baby Doe of the Devil-Ettes and event planner, Liftoff! Productions, TEASE-O-RAMA made its third appearance and first in Los Angeles. "We did well with first shows (in New Orleans and San Francisco) so we thought we would try Los Angeles," say Alison. We are glad you did!

The press party at the Big Foot Lodge was a trip! This was our chance to get to know many of the performers before the show. As fate would have it, the Glamourcon staff was greeted on the curb in front party by none other than Dita & Catherine D'Lish. OK, maybe they didn't actually wait to greet us but we did arrive at the same time… The party became so crowded with press and performers that it began to spill out to the sidewalk where we were entertained by a wonderful exhibition of fire-eating by Miss Satanica Szandor, accompanied by Mike Bolger- The Impossible Jazz Impresario, a one-man trumpet and accordion band. After meeting the beautiful women of all ages that were preparing to entertain us the next day, we knew we would be in for a treat. We did have a bit of trouble with the restroom as we were unfamiliar with the term, "Does." Does what? Hmmm…then we got it - we were in a bar decorated as a national park. So we had a 50/50 chance and chose the "Buck" room…. Good choice.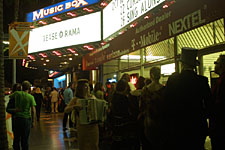 The next night, a warm fall Friday, we arrived early, got our press passes and wrist bands for drinking. I even got carded! OK, it was dark. The fun began as soon as we hit the lobby. Vendors were selling all kinds of burlesque merchandise, photos, T-shirts and even horned rimmed glasses from bygone days. The first thing we noticed is that the audience of several hundred was half women - many of which were dressed to the nines, along with their escorts. The burlesque fans here really know how to get into the mood! The Henry Fonda theater was split into two levels with hundreds of seats in the balcony area with the bottom floor reserved for tables in a Las Vegas style setup and, of course, the stage.

Suzanne Ramsey, otherwise known as Kitten on The Keys, did a great job of emceeing the event with her blend of bawdy humor and great signing voice. The Baggy Pants Boys provided the authentic vaudeville comedy during act transitions and a team of beautiful card girls were worth the price of admission. But the reason for the evening was the hundreds, and I mean hundreds, of beautiful women of every generation of burlesque, from Dixie Evans to Dita. They performed, one after the other, for the next six hours. This had to be the best entertainment value in town! Classic stars such as Gyna Rose Jewel, Satan's Angel, Isis Starr, Kiva and Cynthiana showed they still have the right stuff.
The Sophistikittens, backed up by the awesome Sophisticats featuring Plas Johnson on smooth sax and Butterfly du Jour's vocals, riled us up with their 50's based dances and sexy jazz . The Devil-Ettes, with tight synchronized steps, reminded us how to do the Jerk, Watusi and Monkey among many other Go-Go style dances I seem to remember from when I was just a toddler… The Wau-Wau Sisters, all the way from New York worked the trapeze with flair and Buxotica Burlesque knocked the socks off the fans. After her performance, Eva Von Slut, took the time to introduce us to her "poodle." Racie Gonzales danced up a hot Latin storm. Stars such as Miss Erochica, Stella Star and Lola The Vamp came from as far away as Japan, Great Britain and Australia to appear at the show. Miss Delirium Tremens lived up to her name by inducing sweating and trembling in most of audience. These are but a few of the sensational acts that stole the show and delighted the fans. But, even with the talented bevy of beauties that went before them, Catherine D'Lish and Dita Von Tease elicited the biggest roar from the audience with their elegant solo and double routines; champagne, feather fans and waterfalls.

While jostling with the other press for a good camera angle near the end of Dita's routine, I heard a nearby fan turned to his friend and say, "Dude, this has changed my life!" Indeed.



During the day on Saturday, TEASE-O-RAMA offered classes on everything from the history of burlesque to how to make and twirl your pasties. It was a chance for anyone to learn the various arts of burlesque. Who knows, maybe some of the students will be performing at the next Tease-O-Rama.

Friday night was crowded but Saturday was packed! Saturday night's stunning line offered a fresh set of performers, combined with a few killer repeats from Friday's lineup. There were the groups; Harlem Shake, from the only all women of color burlesque troupe in the US, offered up two stunning performances, the ladies of Lavender Cabaret danced into our hearts, and Hot Pink Feathers tickled our fancy (or fantasy?). We worshipped the soloists; Harvest Moon was sultry as ever, Satan's Angel rocked and rolled the house, the World Famous "Bob" (no, not me) captivated the audience by shaking and shimmying her 47 ˝ F - 34 - 44 assets, and Dita mesmerized us with her new & improved Bath Tub spectacular.

I wish we could describe in detail all the incredible performances and burlesque stars from both Friday and Saturday, but that would just be overwhelming. You really must experience Tease-O-Rama yourself to get the full impact. To the stars, "YOU WERE ALL FABULOUS. THANKS!!"

The convention ended on Sunday with a film and wrap party. But by that time we were just too tasseled out to make it. We packed it up and slinked home.

Before hitting the road, I asked Alison where she wanted to take the show next. She told me she always thought Las Vegas would be a dream location and maybe someday they will book it there. I have feeling that they won't have to wait long if the reception they received in LA was any indicator.

When the next TEASE-O-RAMA is announced, wherever it is, make your plans. You don't want to miss this show!

Below are some photographs we are captured at the show. Enjoy them, wish we could publish a pic of every act. After you've perused the photos, check out Tease-O-Rama's web site www.teaseorama.com.



| | |
| --- | --- |
| Feedback Helps Us Make A Better Site. Please Take Moment. | |
Check Out www.teaseorama.com