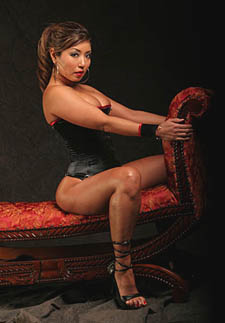 Thank You

Akira Lane
Seductive Beauties Studios



Glamourcon extends a special thank you to everyone who made this interview possible.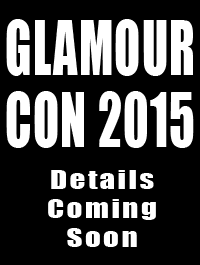 Interview Questions by
Bob Schultz
Photography By
Keith E. Williams
www.Exoart.com



We appreciate feedback
It helps us make a better site




Glamourcon's June 2006 Interview - Issue #29

Our latest Glamourcon Girl of The Month is having a birthday at the same time as Glamourcon in June. Yes, she will be getting lots of gifts but she just might have some presents for you, too! Take a look at her interview shoot - Glamour Girl, Cowgirl, Damsel in Distress, Temptress - she has all the looks and then some. Now, those are what we call presents! And, don't forget to wish her a happy birthday at the show! We proudly present Akira Lane.
---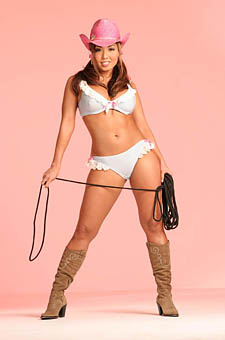 GC: We're interested in the history of Akira...
Akira: I was born on June 9th and raised in Okinawa, Japan. My mother is a very beautiful and vivacious Okinawan and my father is a proud Hawaiian. So I guess you can see that I got the best of both worlds – American and Japanese culture. I attended a Christian school until transferring to one of the schools on the military base in Okinawa. As a result, I speak both Japanese and English fluently although my writing skills are a little suspect in Japanese since all my formal education was in English. After high school, I decided to attend a university in the states versus attending an extended college program in Okinawa.

GC: The college experience. Why International Business?
Akira: My college years were a blast. I attended Old Dominion University in Virginia for a year and then got the urge for a sunny climate and transferred to San Diego State and ultimately earned my degree in International Business. I chose that major due the multi-lingual requirements and I have always enjoyed travel and different cultures not to mention my upbringing has sensitized me to the importance of embracing and understanding other cultures. And yes, I did the sorority thing but if I told you which one, they would probably kick me out or ask me to return my pin.

GC: Your bio says you always wanted to model. Where did that idea begin for you?
Akira: I believe it's every girls dream to become a model. Who doesn't admire beauty, right? Yes, I always did, but never even thought about the possibility of pursuing it because of the strict way I was raised. Believe me, I was an ugly duckling as a child and was never viewed as a beauty queen of any sort as a teenager either. It all really started when I was discovered after a dare and posting pictures on a photography forum.

GC: Now that you are in high tech consulting, how do you find time to model?
Akira: I really don't have time. I wish there were 36 hours in a day. To be quite honest, I have been busy building my own business rather than consulting. I now administer, manage, host, produce several websites including my own, www.akiralane.com. I am trying to build my own little empire and I do have some very supportive help from photographers and programmer types. I do love being in front of the camera but sometimes find it tough to make the time and having the right mood set (i.e., feeling sexy) is really important to creating good images. Many of those who have followed me over the year would tell you that I don't sleep a whole lot.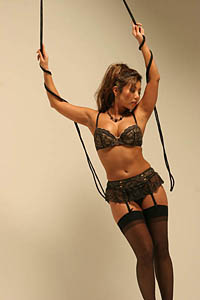 GC: So you got into modeling on a lark?
Akira: It is all true although I should add a little clarification…I did some commercial modeling when I was very young and while in college but never thought about "glamour" modeling. A few years ago a friend of mine dared me to pose naked for some photos and with the help of a little tequila, I took the dare! That led to posting a few photos on a photography forum (I kind of enjoyed the impromptu shoot) and the very soon I had many offers to work and model. After doing a few shoots mostly for fun, I realized I could earn some money modeling and then ended up thinking even bigger with a few movie roles, my website and now hosting and managing other sites.

GC: Do you remember your first paid modeling shoot?
Akira: Bob, I am assuming my first paid "glamour" shoot. Yes, I do. His name was Gary, and we shot in a Victorian style hotel near the airport. It was a topless glamour set and I drove for two hours, modeled for 2 hours and received $50 and copies of all the photos.

GC: When did you start doing video work? Do you remember your first video shoot?
Akira: I started auditioning for film work first so I should start there. My very first one was a short film called "Roar" where I had to burp really loudly and say "Power!" Unfortunately I can't burp on command so I had to fake it but making the mouth motions and the director was going to edit the noise in. I remember that my character was a teenage schoolgirl.

My big break was with Indigo Studios, a subsidiary of Playboy, where I was cast in the supporting role of "Candace," a bitchy vixen. The movie is titled "Thrust" and is a "Fast and Furious" type plot with import cars, street racing, and hot girls. It is available at your neighborhood video store and even has a couple of love scenes featuring yours truly.

GC: Do you have a favorite photo shoot?
Akira: I particularly like the work that I did for bikiniriot.com and think that they take great pictures and I also like the set I have done for Danni's Hard Drive and Stephen Hicks. I almost feel bad mentioning specific names as there are many shoots which I am proud of. I should also mentioned Michael G and Henry Boardman which, for lack of a better word, are my "staff photographers" which is another way of saying that they shoot me for my site and are the camera side of the all the akiralane.com owned photos. Every now and then, we get the set and look just right! A few that stand out are "Madrid" (Spanish-themed), Nude Dresser, Nude Vacation, The Shop and White Garter.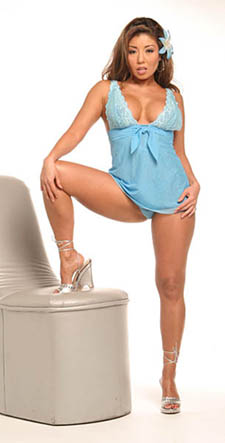 GC: Tell us about your involvement with Playboy.?
Akira: It was a surprise actually. I went to an open casting call at the West studio for "Who wants to be a Playmate Centerfold." I was called back a couple of times but never made the very final cut but the magazine did publish photos of me in their feature layout of the search.

GC: You have a fairly traditional background with Okinawan mother and Hawaiian father. How do they feel about your modeling?
Akira: They know that I model and my mother knows that I have done work for Playboy and is totally supportive. Of course, there is an element of my work that is best left under the "What happens in Vegas, stays in..."

GC: We've noticed that, lately, more and more models who typically have done Asian model shows, have been attending Glamourcon and other more general shows. We think this is great trend. Do you feel that many of the Asian models are becoming more popular in the broader model category or that they are looking for other outlets? or...?
Akira: The Asian modeling market is for sure more saturated now than it ever was before. It has become more competitive for all us Asian models out there, but fortunately with Glamourcon shows, it has broadened that gap for us. Since the nature of Glamourcon caters to models of all ethnic backgrounds, it has only helped Asian models obtain more jobs that aren't Asian specific. I think Glamourcon has definitely been a positive outlet for Asian models seeking to break into the broader modeling outlet aside from everything Asian.

GC: Are there models or photographers you haven't worked with but want to?
Akira: I would like to work with Dave Chappell and Suze Randall as well.

GC: Thinking about the many modeling jobs you have done, what turns you on most about them?
Akira: When I am truly "in my zone" I do get a bit turned on while shooting. I like the idea of being watched and creating something that gets people's attention and hopefully gets a rise out them. If so, I have done my job well!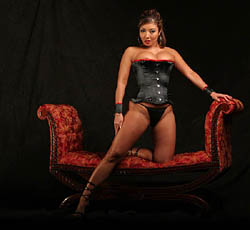 GC: You have so many great looks and styles in your portfolio but we especially like the fetish work. How did that develop?
Akira: For the longest time, I turned down fetish work thinking that pure glamour was a more "innocent" track. Finally, I accepted a job with JBVideo.com for whom I did some mild feet/leg/pantyhose fetish type work and like those first tequila-induced pictures, I was hugely surprised by the number of positive emails that I received as a result of that work. Slowly but surely, I started accepting more and more fetish work including bondage, suspensions, pantyhose, stockings and a number of private assignments. I found I enjoyed the work and the process of creating a fantasy and I now do quite a bit of bondage and feet/leg work and even have my own pantyhose fetish site, www.pantyhoselane.com.

GC: Describe a typical Akira fan.
Akira: I honestly don't think that there is such a thing. Every time I think that I have it figured out, I meet or hear from somebody new and interesting that has been following me for years. If there is a common thread, they enjoy variety and like my unpredictable character and presentation and wondering just why does a girl like me do what I do

GC: We've enjoyed your company at numerous Glamourcon, what do you think about the show? The fans?
Akira: I always have a great time and it feels like a homecoming and I see the same faces year after year and I look forward to seeing them and miss those people if for some reason they don't show. It is kind of like picking up a conversation where one left off. And of course, each year the event attracts new people so it is an ever expanding circle. The fans feel like friends!

GC: Do you have a Glamourcon or Glamourcon fan story that comes to mind?
Akira: Some of my favorite Glamourcon moments are relaxing after the show with a drink and chatting with people. I do remember that one year, a whole bunch of NASCAR big wigs were in the hotel lobby and I hung out with them for a couple of hours which was very cool since I follow NASCAR.

GC: Would you recommend Glamourcon to other models?
Akira: Absolutely! Not only is it a great place to network and meet people, but I am always flattered by the fans that show up and are familiar with my work. 99% of them are wonderful people and I always leave Glamourcon feeling good about myself and what I do.

GC: We've noticed that, lately, more and more models who typically have done Asian model shows, have been attending Glamourcon and other more general shows. We think this is great trend. Do you feel that many of the Asian models are becoming more popular in the broader model category or that they are looking for other outlets or?
Akira: I couldn't presume to speak for other models and such, but my experience is that men first appreciate beauty and more importantly woman that is not afraid to communicate her sexuality with the camera. For many people, Asians are exotic and we have appeal to many people so why should there be a "niche" category? It only makes sense to meet those that make our career possible and that includes the Glamourcon clientele.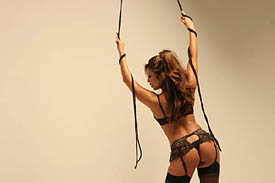 GC: Tell us about your "shopping habits."
Akira: There is not much to know except that I have a weakness for shoes, purses and exercise gear. I am generally a frugal person and not really a shop-aholic. I probably spend more time reading food labels than I do department store labels.

GC: You told me you would like to travel to Greece. Closer to home, is there a place in the US you haven't been to but would like to see?
Akira: For some reason, I have always wanted to do one of those western round ups and see the wide open country and camp under the stars – kind of like the movie City Slickers.

GC: You say you are attracted to a man's bottom. What do you think attracts a man to you?
Akira: Apart from the obvious, it is my smile that keeps the initial impression lingering…

GC: What is your idea of a perfect evening with your man?
Akira: It would be a quiet evening with fire, a good movie on the wide screen TV and a great bottle of red wine which is the perfect set up for a later retreat to cozier places if you know what I mean!

GC: When your are not modeling, how do you relax?
Akira: When I really take a break, I cook or watch movies. And if budget and time allows, I do enjoy traveling.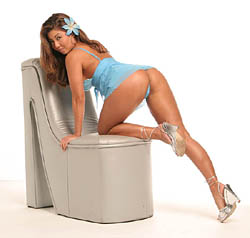 GC: Give us some details about www.akiralane.com and your other sites.
Akira: I like to think that my website is a great value! There is almost five years of Akira photos and videos and it is fun to see the development and changes over that time, not to mention that I am the unpredictable sort so one never knows what to expect and the site is mild-to-wild with a bit more emphasis on the wild side.

In addition to the thousands of photos of me, I have tons of bonus content from Suze Randall to Danni's Hard Drive to hundreds to guest models. And as I mentioned earlier, I have also have a fetish site, www.pantyhoselane.com for those with a more specific taste.

I update the site several times each week to it is always getting bigger and better! I truly hope all your readers will come check it out and I hope they enjoy it! People can also check out www.asianakira.com which is a "sampler" site and contains 20 or 30 sets for me plus bonus content for just ten dollars and it is a good subset of my main site and gives people and opportunity to sample the goods at reduced cost.

GC: What do you see in the future for Akira?
Akira: I hope to branch out and open more niche oriented sites so I can explore more types of genres and I think that I will also pursue a few more movie roles, something that I have not focused on for the last couple of years.

GC: I'll wrap this up with my favorite question, tell us a secret.
Akira: It must be that I can't keep a secret since I am about to share one with you. I love to entertain and on a crazy night all the women run around topless (and more) and we just love it. That and I like power tools (and I really mean drills, saws and the like).

GC: You're an amazing lady. Thanks for spending a few hours with us.. The next Glamourcon! is coming soon and we'll see you there!!


| | |
| --- | --- |
| Feedback Helps Us Make A Better Site. Please Take Moment. | |
You can see more of Akira at
www.AkiraLane.com