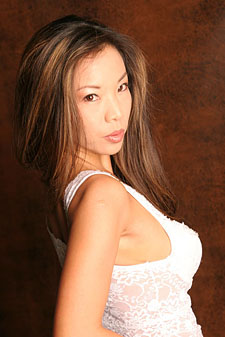 Thank You

Alice Bradley
Seductive Beauties Studios



Glamourcon extends a special thank you to everyone who made this interview possible.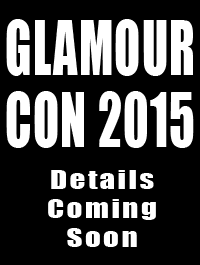 Interview Questions by
Bob Schultz
Photography By
Keith E. Williams
www.Exoart.com



We appreciate feedback
It helps us make a better site

Glamourcon's April 2006 Interview - Issue #28

April's Glamourcon Girl says she was an ugly duckling and has a huge sweet tooth. Sure ... but, you'd never believe it by looking at her! This university trained model has experience in print, Internet, music videos, modeling events, contests, commercials and, of course, Glamourcon. Oh, and did we mention she even speaks Mandarin Chinese? We proudly present Alice Bradley.
---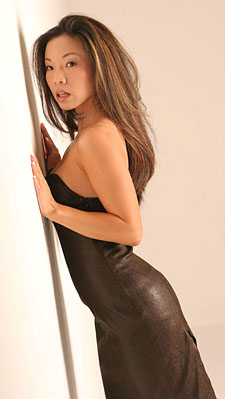 GC: First things first. Tell us about your background. Where you were born, grew up, etc...
Alice: I was born in Taiwan and then moved here to the US at the age of 6. My parents first looked into Southern California as a possibility to live, but opted for the beautiful Bay Area to call home instead. I grew up in San Mateo County, specifically in Burlingame, and then moved to Hillsborough. I miss it up there tremendously and would move back in a heartbeat if it wasn't as expensive as it is to live there. After being admitted to UC Irvine, I packed up and headed down to Southern Cal at the age of 18.

GC: Tell us about college at UC. We read that you studied voice and music?
Alice: I loved my college years at Irvine and obtained the best memories ever. I would never have gone to another UC after my experience in Irvine. Not only did I fall in love with a beautiful, clean and safe city, but I also enjoyed every bit of my years in college being surrounded by supportive and long-lasting friendships that were made throughout my 4 years there. Yes, I took voice and music classes one summer just to stick around and gain some extra units. I was never the type who got homesick; so taking summer courses was the only way my mom allowed me to stay down here:-)

GC: Your bio says you always wanted to model. Where did that idea begin for you?
Alice: I believe it's every girls dream to become a model. Who doesn't admire beauty, right? Yes, I always did, but never even thought about the possibility of pursuing it because of the strict way I was raised. Believe me, I was an ugly duckling as a child and was never viewed as a beauty queen of any sort as a teenager either. It all really started when my boyfriend took me to a head shot photographer guy he knew in LA where I got some great shots and then began submitting them to agencies.

GC: Do you remember your first paid modeling shoot?
Alice: My first paid photo shoot was back in 1999 for a web advertisement at the Smashbox Studios in Culver City. It was a quick 1/2 hour shoot...really no big deal since it was just my first job!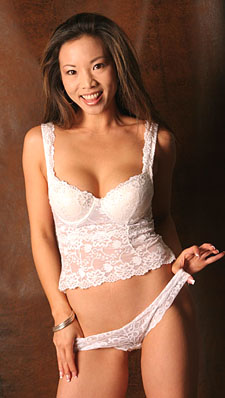 GC: When did you start doing video work? Do you remember your first video shoot?
Alice: My first video work was in 1999, which I went in as a club girl for T-Mac video. It was a good experience just seeing how tedious these shoots can be. Talents are all required to be present for long hours for minimal pay. I wouldn't shoot for another music video unless I was going to be featured and if the artist was somebody very famous.

GC: Do you have a mentor or favorite model in the business?
Alice: I would say Akira Lane is definitely my mentor in the modeling business. As everybody knows, she was one of the very first women that took the Asian modeling industry by storm. She is a genuine and sincere person, yet crazy and fun as well. Seeing modeling as a business is her concept. That is how she gained so much success. With determination and strength, it can all be done. She has guided me through thick and thin, referred me to various jobs and has been nothing but encouraging and supportive. It's been great having a peer/mentor in such a cut-throat industry.

GC: Do you have a favorite photographer?
Alice: Can I pick two? GC: Of Course These photographers are very different and have completely different styles as well. The first is Kelsey Edwards. She's great in capturing beauty when it comes to more commercial, editorial and lifestyles shots. The other photographer is Lawrence Gayoso. He's amazing in the glamour field. He works hard with the model and is the photographer who has made me feel the most comfortable and at ease during a shoot.

GC: Describe a typical Alice Bradley fan.
Alice: They're all quite different but I must say they're all horny men...ha ha!! All of my fans whom I've met in person have been nothing but supportive. They're all very friendly and great talkers.

GC: Now that you are a Glamourcon veteran, what do you think about the show?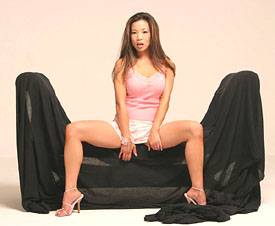 Alice: Glamourcon is one of the very few modeling events out there that I really encourage every model to attend. For models who want to break into the industry, make great contacts and make great money...Glamourcon is seriously a very beneficial event to attend. It draws fans from around the world because of it's reputation and size, and it does nothing but help models gain more exposure.

GC: Would you recommend Glamourcon to other models?
Alice: Yes, definitely!

GC: We've noticed that, lately, more and more models who typically have done Asian model shows, have been attending Glamourcon and other more general shows. We think this is great trend. Do you feel that many of the Asian models are becoming more popular in the broader model category or that they are looking for other outlets? or...?
Alice: The Asian modeling market is for sure more saturated now than it ever was before. It has become more competitive for all us Asian models out there, but fortunately with Glamourcon shows, it has broadened that gap for us. Since the nature of Glamourcon caters to models of all ethnic backgrounds, it has only helped Asian models obtain more jobs that aren't Asian specific. I think Glamourcon has definitely been a positive outlet for Asian models seeking to break into the broader modeling outlet aside from everything Asian.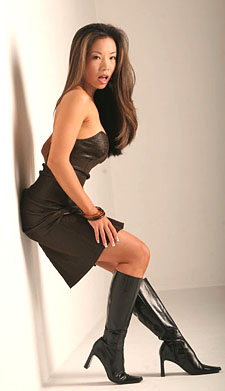 GC: What is your idea of a perfect evening with your man?
Alice: My idea of a perfect evening with my man is relaxing at home. Either spending it talking on the couch or over a glass of wine with a movie.

GC: When your are not modeling, how do you relax?
Alice: There isn't much relaxing when you're a mother of a toddler. I squeeze in relaxing time when my daughter's napping and at nights after she goes to bed. I'm such a homebody that I just love being in pajamas or sweats, lounging around with a book or knitting.

GC: Tell us about your website, www.AliceBradley.net
Alice: I have worked very hard on building and maintaining my website...www.AliceBradley.net. It is set up in a way so it's easy for visitors to navigate and covers everything you need to know about me including my portfolio which I'm constantly updating. As a member, you get to view all the hottest topless/nude photos of me.

GC: What do you see in the future for Alice?
Alice: Who knows what my future holds, but as far as I know, I will continue to work hard. I will try to land bigger projects, let it be calendar or magazine work. I would seriously love to be featured in FHM or Maxim...something along those lines would make me very happy.

GC: Share a secret.
Alice: I am a food lover and binge on sweets all day long!

GC: We throughly enjoyed spending the day with you. The next Glamourcon! is coming soon and we'll see you there!!


| | |
| --- | --- |
| Feedback Helps Us Make A Better Site. Please Take Moment. | |
You can see more of Alice at
www.AliceBradley.net