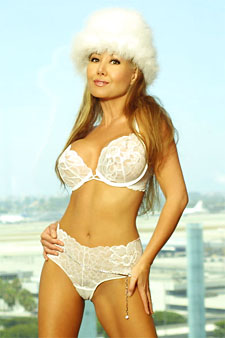 Thank You

Cindy Pucci



Glamourcon extends a special thank you to everyone who made this interview possible.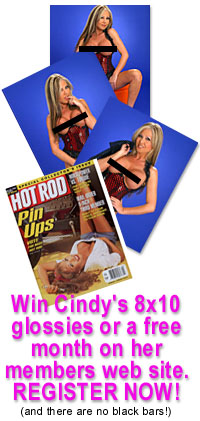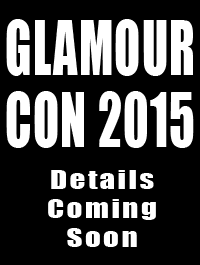 Interview Questions by
Bob Schultz &
Keith E. Williams

Photography By
Keith E. Williams
www.Exoart.com



We appreciate feedback
It helps us make a better site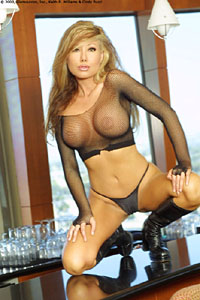 Glamourcon's October Interview - Issue #9

The view of Los Angeles from the 15th floor on this beautiful day is stunning. But not half as gorgeous as our October Interviewee - Cindy Pucci
---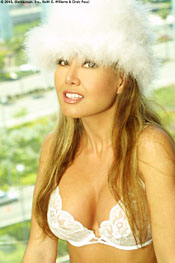 GC: How did you hear about Glamourcon and when did you first come to the show?
Cindy: Glamourcon 19 was my first show I had a table. I had gone to one of the LA shows before I attended so I could check it out. I remember hearing about Glamourcon a few years back but really didn't know too much about it. Today that's all changed I have been to quite of few of them now and I love it. For me it's been the best experience of any show out there.

GC: Has Glamourcon been of benefit to you? Would you recommend it to other models?
Cindy: Glamourcon is the best! As I'm sure you are aware there are many other shows out there but none can compete with Glamourcon. For one, the attendees that support the show are all a class act. For me, it has been a great venue to meet up with my fans and meet new ones! I really enjoy it. What has become my little Sat. tradition, is after the show, my fans/friends get together in the hotel bar or nearyby establishment, where we can just relax and catch up. I loved how at the last Chicago show, Glamourcon had a get together too. That rocked!

GC: Tell us a bit about yourself.
Cindy: I was born and raised in sunny Southerm California! I grew up at the beach and as a child I loved living there (and still do). I was the kid with the highlighted hair, the sun kissed face and always in a bikini. So, it really is no wonder I would end up bikini modeling. However, I really never set out to be a model, I just stumbled into it. At the time I was aspiring to be a fashion designer. When I was 14 I got involved with hairshows and ended up shooting for hair books/magazines. Being only 5'5" I really didn't take it to seriously until I started meeting people and they encouraged me to give it a try. I'm so glad I did!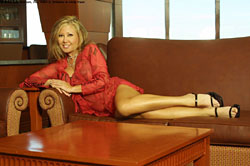 Modeling has given me an incredible opportunity to work with some very talented people and travel the globe. When I was 18, I left home to go model over seas. I really grew as a person and today I am still the same down to earth girl I always have been.

GC: In your website bio, you talk about getting involved in "hairshows" when you were 14. What is a "Hairshow?"
Cindy: Hair shows are where hair stylists and design teams show off the latest cuts, colour, styles and techniques. At the time I was an aspiring fashion designer and was just starting to sell some of my designs. My hair stylist asked me if I would model for a show and I thought it would be a great way for me to stay up on the latest trends plus get free products. The shows led to shooting for hair books/magazines.

GC: After modeling for hair magazines, what prompted you to go into bikini and glamour modeling? Do you remember you first bikini shoot?
Cindy: I was so into the high fashion world, I was under the impression you had to be super tall too model. All my life people had always told me I had a great figure. During a shoot for one of the hair magazines the photographer said I should give "body modeling" or glamour/cheesecake a try. I was very leery at first but from that point my destiny would change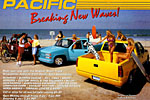 My first car/bikini assignment was the day after the LA riots. The day of the riots, I was getting fitted for my bikinis and the client was going back and forth on whether we should postpone the shoot. Since we were shooting at the beach they decided to go forward. I'm glad they did we shot at sun up and the set was like baywatch, bikini girls, life guards and surfers. I got to miss school and got paid. I couldn't believe this was work after that I was hooked.

GC: Your magazine credits include quite a variety of different genre from Celebrity Sleuth, to Hot-Rod Magazine to Playboy TV Girls Next Door. Which type of magazine work do you most enjoy?
Cindy: I love it all! I need variety so I'm very happy I been able to do a wide range of assignments. For me modeling is all about expressing myself.

GC: Of course, at Glamourcon, we have special interest in Playboy projects. Tell us about the Playboy TV Girls Next Door.
Cindy: I had sent in a home video, which they liked. They sent a crew to my house to video me just being the girl next door. They captured me working on my computer, playing with my piggy Sol, talking on the phone, stuff like that and then I introduce my video to the viewers. The show led to a Best of the Girls Next Door. Where I went to their studios for a sexy interview. They even let me plug my website and email. I got an amazing amount of email from the show. Then after the show the viewers were able to call in and vote on their favorite video. I was stunned to learn when the show premiered, I won best video.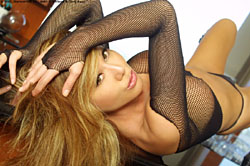 GC: Have you or do you have any plans for video work?
Cindy: I have done video work. I just recently worked with peach dvd, they were a blast to work with. I'm excited to see the results. Also, I'm working on my own dvd, called lingerie dreams which I hope to debut at the next Glamourcon.

GC: You mention a love for cooking in your bio. What kind of cuisine is your favorite to make? ...To eat when you don't do the cooking?
Cindy: I don't have a particular cuisine. Basically, whatever I'm in the mood for. From Italian to Southwestern to Asian to comfort. When I create on my own I tend to infuse asian flavors with latin, I love it spicy!! I'm also, on the quest for cooking healthy yet flavourful food. So what I do is every other week I choose a new vegi I have never tried nor worked with. I hate processed food and will take the extra time to prepare something from scratch. Entertaining is something I like to do often. I enjoy planning the menu and making everything myself. Last Thanksgiving was my first Thanksgiving dinner I made all from scratch.

GC: How did you get involved in animal protection organizations?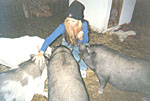 Cindy: I have always been a strong animal lover and supporter. I just wanted to get involved, make some kind of difference. Be a voice for those amazing creatures. They can't speak for themselves, well actually they do, it's people that don't take the time to get in tune with them. Since, I have pot belly pig, Lil Orphan Hammies is one my fave. Sue who runs the rescue and santuary is an amazing woman. She tends to over 145 pot belly pigs, some with medical needs and others that have been abused. I will say it again she's an amazing woman!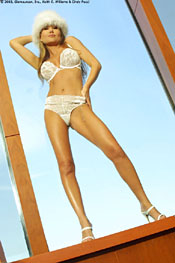 GC: What does the future hold for Cindy Pucci?
Cindy: It's hard to say. I'm a free spirit and live for today. I do look forward to what new things I may learn and people I will meet on my life journey.

GC: What advice would you give to models just starting out?
Cindy: Know who you are dealing with. Get references and don't ever compromise your safety. It doesn't take alot of money to get started. There are some costs involved and steer clear from the "you have to use our photographer" line.

GC: What would you like to say to your fans?
Cindy: Thanks for your continued support! I can't wait to see you guys at the next show! For my true fans that have become friends. I'd like to say thank you for always being their for me, whether in good times or bad. Last year my sister got sick and I received so many words of encouragement not only via email but at the glamourcon show. The gestures really touched me and helped me pull through at a difficult time. It's those little things that mean the most to me.

GC: Tell us about your website, www.cindypucci.com. What does it have inside? What does it cost to join and what do members get?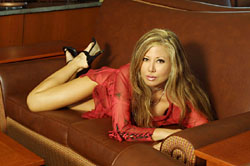 Cindy:My sexy hi res photo galleries and steamy videos. Both shot exclusively for my site. My 24/7 Spy Cam is one feature my members love. You can peak in on me everyday. I call it voyeurism made easy, LOL. My diary is where you can catch up on the latest goings on in my life. I also, have a scrapbook page where I post pics from my appearances such as glamourcon and share my published work. What I love the most on my site is my live webcam and chat. Which I call Cin TV. I love having the chance to meet and interact with my members. We get together twice a week and have a blast! That's usually how I spend my Friday nights, online with my members. If you happen to miss a video chat. I post both pics and videos of the highlights. For Glamourcon.com website visitors I'm offering a special membership, buy one month get one free. Click Here

GC: Tell us a secret...
Cindy: Don't laugh but I have a goal to visit every Hard Rock Cafe in the world. When working over seas, Hard Rocks symbolized home for me.

GC: This has been great. We've thoughly enjoyed our time with you! Best of luck with your future projects. We'll be watching.

Take a moment or two to view the photographs of Cindy displayed below. Cindy will soon have more of the fun and sexy images displayed a Cindy's site - check it out at www.CindyPucci.com in the very near future.


| | |
| --- | --- |
| Feedback Helps Us Make A Better Site. Please Take Moment. | |
There will be more interview and additional photos at
www.CindyPucci.com