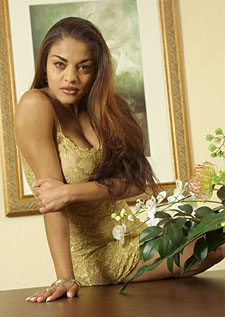 Cleopatra Details
Main Web Site:
www.cleosoasis.com

Interview Date & Location:
September 20th, 2003
Chicago


Thank You

Cleopatra



Glamourcon extends a special thank you to everyone who made this interview possible.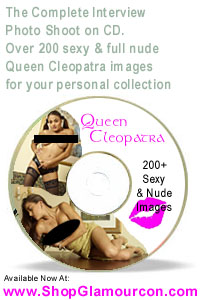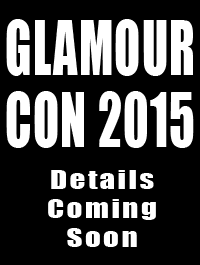 Interview Questions by
Bob Schultz
Photography By
Keith E. Williams
www.Exoart.com



We appreciate feedback
It helps us make a better site







Glamourcon's July Interview - Issue #15
Get A Photo CD of the Interview Shoot with over 200 sexy & nude images

Meet the Queen! Cleopatra of the Nile - model, actress, featured entertainer, entrepreneur. It is fortunately for us that hieroglyphics and papyrus are old school as they don't quite capture the beauty of this royal. Now, through the miracle of modern technology, we bring the exotic Queen of the Nile, Cleopatra.
---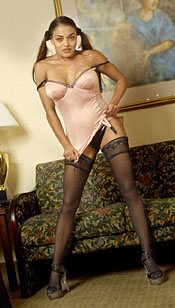 GC: Tell us a bit about your background.
Cleo: My parents come from Egypt. I was born and raised in Australia. I was brought up between two cultures. Egyptian old world customs and the crazy, zany, upbeat, down-to-earth Australian way of life. Very confusing sometimes but I am glad I got the chance to experience both ends of the spectrum to know what life can bring you.

GC: When did you start modeling?
Cleo: I came to America in 1996 and started modeling immediately. I resided in Los Angeles and haven't moved since.

GC: We understand you are of 100% Egyptian heritage and imagine that background is pretty conservative. How has that community reacted to your current career?
Cleo: Being from an Egyptian background made my choice of career a difficult one. I had a hard time trying to work as a nude model and keep it away from my family. I managed to hide it for 3yrs but my family is very protective and nosy so the questions kept coming at me. It made it virtually impossible to hide anymore. Finally, due to many visits to the US by my parents, I broke down and sort of explained what I do to them. I thought it was going to be very hard and I thought they were going to disown me but they were calm and understanding. Even though they don't approve, they respect my choices. I respect and honour my family very much for many reasons but especially for respecting me as an individual and allowing me to make my decisions on my own.

My community knows nothing of my career. Fortunately for me, the Australian - Egyptian community is not that clued in on the whole industry to come across anything. They do not know.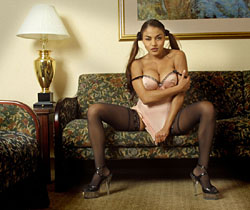 GC: Tell us how you got interested in modeling.
Cleo: I became interested in modeling when I was 19yrs old in Australia. I was a big fan of the 80's supermodel era. The 80's were the best years in my opinion. That was the era where the model was glorified. I loved watching the runway shows and catching up on what they were wearing. I even so much as went to Paris and shopped at YSL. That was so exciting for me!!!

I LOVE fashion and clothes and perfumes and cosmetics, etc... I am a girly girl!! I was so inspired that I applied at Ford and Elite in Australia. Elite took me as one of the petites. I trained in runway and so when I came here, I was a runway model. Then 3yrs later, I started in glamour and I have never looked back since then.

GC: Do you remember your first shoot?
Cleo: My first shoot was in Australia in the streets of Perth - through the construction sites, back alleys and the main streets. This is where I practiced modeling with Shawn, my friend from University who took the pictures. I still have the negatives too. I was so nervous, I thought I was going to throw up before looking at the pictures. Instead I had nothing to worry about, they came out great. I had a somewhat Cindy Crawford look back then. My face was like hers and my hair was the same style and colour. My mole is on my chin instead but we had the same eyes and mouth so I used to get stopped a lot in the streets with people telling me I looked like her. That was really flattering. I don't look like that anymore though. My look has changed a few times. It was these pictures that made Elite take me in.

GC: Tell us about your wildest shoot.
Cleo: My wildest photo shoot was in the US. I was 27yrs old and I shot in Las Vegas in a hotel during the swingers convention!!!! I shot with a photographer who was a nudist and he insisted on being naked during the shoot, which totally had me laughing my head off! I didn't mind, I am very easy going and can handle any situation thrown at me. As long as he had fun !!!! He insisted on finishing the shoot by shaving my pubic hairs off completely with this little razor. He chased me around the room for a good half hour. I wouldn't let him....however, I was getting hungry and wanted to go eat so I let him do it so I could get out of the room. To this day, he did such a perfect job, that I have had it completely bald since that day and I love it!! He did a perfect job and now I keep it that way...how hysterical!!!

GC: Your schedule shows a lot of gentlemen's club. When did you get involved in dancing?
Cleo: Yes, I am a Feature Entertainer. I got involved in it the day I saw what they features do on stage. I saw it at Spearmint Rhino. They get to perform in beautiful costumes and they do specialty shows and sell their merchandise and of course make a lot of money. I have been a feature for 2yrs now and I love performing. I just won MISS NUDE BLACK UNIVERSE 2004 this weekend plus HOTTEST STAGE PERSONALITY 2004 and BEST DANCER 2004. Last year I won: MISS NUDE BLACK INTERNATIONAL 2003, HOTTEST STAGE PERSONALITY 2003, MOST SENSUAL 2003, MISS ELEGANCE 2003, BIKER BABE OF THE YEAR 2003.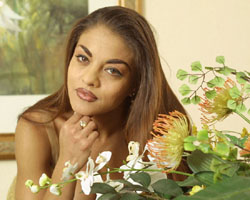 GC: What do you like most about dancing?
Cleo: My most favourite thing about dance is the creativity of the show. The costumes and the music and the choreography. You can do anything!!!! The audience and their participation - That is the best part!!!

GC: Where is your favorite place to dance?
Cleo: I love to dance at the Showcases and the Pageants because you get to see so many different acts and talented women. Especially at the ED Expo in Las Vegas.

GC: You have to tell us about female wrestling. What's that like?
Cleo: The female wrestling is crazy. Some companies like the fake, girly girl type cat fights where it looks like an episode of Jerry Springer. Some companies like the semi real stuff, where you have to take punches and hurt each other a little to make it look effective. I enjoy the challenge of putting together a fight and actually using all the moves to either win or lose. I like challenging things. My favourite wrestling match was when I had to fight some guys. 3 women tagged 3 men in an oil wrestling pit. That was so exciting. I won my match, just so you know!!

GC: Your bio mentions your are also an erotic actress. Which film, in which you appeared, is your favorite? Why?
Cleo: Being an Erotic Actress has really tested me. I took such pride in being as sexy as can possibly be in my movies. I did this one movie, called TALES OF KAMA SUTRA, which was one of the most erotic films ever made. The amount of press I got from that movie was tremendous and it was done in such a way, I had never seen myself look like that before. It was thrilling. I loved this movie because I got to see myself in a different light, not in a way as I always see myself, much like as if I was out of my body viewing someone else. An eye opener.

GC: Your bio says your favorite places are Hawaii and Las Vegas. What do you like about those places?
Cleo: My favourite places are Hawaii and Las Vegas because I love the heat and I love the tropical lifestyle. I love to party and I enjoy my life having many exciting things to get into. If I could live in Las Vegas and have a summer home in Hawaii, that would be the ultimate lifestyle. I could live in sin city and get up to no good every night and then take a vacation from my crazy world and then go to Hawaii and suntan each day and take long walks on the beach in the moonlight. Done it before and I miss it everyday.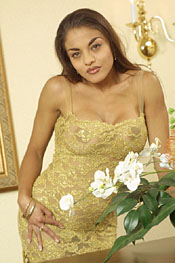 GC: Correct me if I am wrong but I read that you would like to have a Praying Mantis as a pet. Doesn't the female Praying Mantis bite off the head of her husband when they mate?
Cleo: So everyone has given me hell over the Praying Mantis!!!! I know it is crazy but I think they are the cutest little alien looking things I have ever seen. One day, when I was 16yrs old, I was studying outside on our back terrace in Australia. I had exams for that week so I wanted a fresh, healthy environment - study outdoors. I was drinking my lemonade mum made me and here he comes, little Herman.... he hopped on my desk, stopped to look at me to see if I was eatable, cocked his head to one side and looked at me with his funny bug eyes and then he hopped away. I have been in love with them ever since. Yes, I know that the female eats the male after sex.....that's only because she is smart!!!

GC: How did you first get involved with Glamourcon?
Cleo: I started with Glamourcon 7yrs ago when it was at the Marriott hotel in Los Angeles where they had two separate rooms, one for Playboy and one for the artists. I had only 4 black & white pictures to sell. I was so new. No nudes either.

GC: How do you think Glamourcon benefits you?
Cleo: Glamourcon benefits me in so many ways. Firstly, it was where I started my glamour career. It was what helped me determine which direction I wanted to take. It then gave me a chance to meet so many wonderful people who enjoy my work and then I also got to meet so many photographers whom I have now worked with and enjoyed every part of the growth of my career with. I have done many conventions since then but Glamourcon will always be my favourite one.

GC: Let's get a bit personal if we may. What do you find sensual? What do you find passionate?
Cleo: What I find sensual - getting my hair brushed, having a man shave my legs for me. A man putting on my jewelry for me, my pantyhose for me etc.
sensual - eating strawberries dipped in chocolate while drinking champagne in front of a fire on a lamb skin rug!
sensual - erotic perfume
sensual - telephone conversations in a whisper.
sensual - having a man run me a bubble bath with candle light and soft music.

passionate - great sex after a huge fight
passionate - eating fruit while naked
passionate - kissing
passionate - heated discussions about personal things, very passionate about that
passionate - body massages that get out of hand
passionate - love!!!!!
passionate - relationships

GC: What do you look for in your "perfect man?"
Cleo: My perfect man - if there ever is such a thing! I would like him to be intelligent, hard working, sexy, intuitive, communicative, well established, responsible, reliable and well versed. I think I ask for too much!!! Realistically - my perfect man needs to have many qualities I have so that we have some things in common and then many other qualities I don't have that I wish I did have so that I can admire him for these things.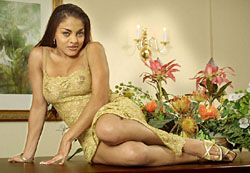 GC: Tell us about your website, www.cleosoasis.com. What can a member expect?
Cleo: My website, www.cleosoasis.com. It is a very artistic representation of me. Even though my work is erotic, there are so many sides to me that people don't see. My personality is one of them, this you can find in my BIO and my Newsletter. My gallery has a lot of photos never seen before as well as in the members section. A lot of nudes I have never published are in there. I have a forum I would love more people to write in to say what you feel. I created it for you!!! For the fans to have things to share. I also have a schedule so you can keep up with where I will be and where I am going. Right now the people who join between August 1st 2004 and September 30th 2004 will receive a $25.00 lip print card with my real lips on them for free. You have to sign up for one month to get it and you must include your mailing address for me to send you the gift. It is a hot little gift valued at $25 for absolutely free for joining my members section for one month or more.

You can also join my yahoo fan club to stay in touch with me also http://groups.yahoo.com/group/goddesscleosoasis

GC: What does the future hold for Cleopatra of the Nile?
Cleo: My future?? Well, I have become larger and larger in this business as the years have gone by and now I am publishing my comic book - a science fiction adventure. I will have a new movie out in the market for next year as well as the new 2005/2006 calendar with DVD of the behind the scenes coming out this year which you can pre-order by emailing me at cleosoasis@hotmail.com.

It is the first 2yr calendar with a DVD of the Making of the calendar, all the behind the scenes bloopers and mayhem that went into the shoot. Not only that but the next DVD to watch out for is ON THE ROAD WITH CLEO, this is a movie about all the stuff Cleopatra of the Nile did on her tour of the US.

This is a keeper!!!! If you want to know more about what Cleopatra of the Nile has to offer, You can email her for a personal catalogue. cleosoasis@hotmail.com

GC: Before you go, please tell us a secret.
Cleo: You guys want to know a secret....when I was 6 or 7yrs old, I used to play Monopoly with myself...no-one else wanted to play because I was greedy and I would change all the rules. On Sundays I used to imagine playing Monopoly with Jesus and I used to let him win because he was Jesus and it was Sunday!!!! (Editors Note: We are sure he appreciated that!)



GC: The next Glamourcon is only a couple of months away, and we hope you can make it. Thank you for a wonderful interview. We've had great fun and learned a lot about Queen Cleopatra.


| | |
| --- | --- |
| Feedback Helps Us Make A Better Site. Please Take Moment. | |
You can see more of Cleopatra at
www.cleosoasis.com