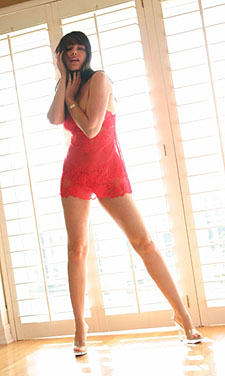 Devin Devasquez Details
Main Web Site:
www.DevinDevasquez.com

Interview Date & Location:
March 2005
Southern California

Thank You

Devin Devasquez
HoneyBunny



Glamourcon extends a special thank you to everyone who made this interview possible.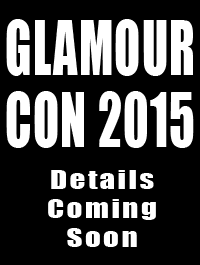 Interview Questions by
Bob Schultz
Photography By
Keith E. Williams
www.Exoart.com



We appreciate feedback
It helps us make a better site





Glamourcon's May 2005 Interview - Issue #22

Bunny Meets Bunny. Both are soooo cute but only one is a Playboy Playmate, winner of Star Search, documentary maker and Cajun cuisine chef. We bet you can guess which one! We recently had the pleasure of an interview at her Southern California home and being treated to some delicious Cajun pasta. Oh, and we also met a new family member. This month, we bring you, Devin Devasquez and HoneyBunny.
---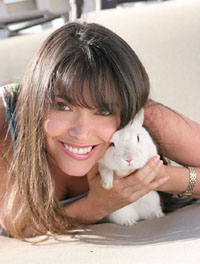 GC: Who is the your cute little friend?
Devin: My friend is my new bunny rabbit who I named 'Honeybunny." She's soooooo adorable and only 2lbs. She's a great addition to my household and I'm slowly becoming a vegetarian like her. My Shih-Tzus, Elvis and Romeo, are a little jealous that they don't get all of my attention these days.

GC: Tell us a bit about your early years.
Devin: I'm from Baton Rouge, Louisiana born on June 25. That makes me a Cancer - super sensitive, loyal and very much a homebody. I like to say I'm International - a mixture of French Canadian, Irish, American Indian and Spanish but you can call me Cajun.

GC: Your bio says you were discovered while at LSU. Tell us about that. What were you studying? Was Playboy your first shoot?
Devin: I graduated a year early from high school and I was in college at LSU studying Marketing and Accounting when Playboy discovered me. They took out an ad in the school newspaper. I went along with another coed out of curiosity and ended up being one of 5 girls chosen out of 400 that auditioned. I was completely surprised and flattered but had never even seen a Playboy and had to make such a big decision quickly. The shoot was at a Plantation mansion and I was so nervous, I was still a virgin! I soon realized after the makeup artist fell asleep and the lighting guy seemed bored reading a book that it was no big deal to them that I was topless and became more comfortable.

GC: Tell us what it is like to wait for an answer from Playboy. Who told you your are going to be a Playmate?
Devin: I decided I wanted to test for Playmate after the "Girls of the SEC" pictorial but it took me two years to work up the nerve to call Playboy, I didn't think I'd make it because there were so few exotic girls in the magazine at the time. I flew to Chicago to test and was accepted immediately, however at that time Roberta Vasquez and Karen Valez were both scheduled for November and December of 1984 so they put me in June of 1985 because our last names. I shot my centerfold in one day! I was always sick because I could never get use to the winters in Chicago and happen to sick the day I shot my centerfold. You can see my eyes are watering and they were feeding me Vicks cold medicine through a straw. I thought for sure I blew my chance at Playmate but got a call a few days later from editor Michael Ann Sullivan saying I was chosen and was one of the last Playmates shot in Chicago by Richard Fegley.

GC: How does being a Playmate affect your life? Did it, does it open doors?
Devin: I was a little naive about how much being a Playmate would affect my life at the time I made the decision. I wanted the money for college since I'd been working two part time jobs and taking a full college schedule... it was so tough. Once I became a Playmate, it opened doors for me to travel and meet lots of new and interesting people since I'd never been anywhere. I did see how judgmental people could be in the South especially at that time and lost a student working job as a result of posing for Playboy. I then decided it was time to spread my wings and fly away from the South to find myself. I kinda fell into catalogue modeling in Chicago which then lead to the rest of my career.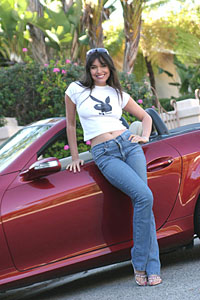 GC: Tell us about Star Search. How did you get involved with that and what happened?
Devin: I was modeling in Chicago at the time and there was a cattle call of every model in town. Cindy Crawford was the hottest model there at the time and even she was on the audition. They selected only 2 girls to go to New York and do the videos that were for the show's competition. Star Search was like American Idol is today and I wanted so badly to go but couldn't because I was booked in Los Angeles on the Playboy Playoff video shoot. I sent flowers to the producers hoping they'd keep me in mind for the next season when luck seemed to be on my side and a girl fell out of the competition towards the end of that season and they replaced her with me. I was on the last 3 shows of that season and won which placed me in the semi finals and then the finals. I won the $100,000 in 1986. I was the only contestant in the history of Star Search that never lost a show! Playboy was so proud they offered me a celebrity cover and pictorial for November 1986 which of course made up for me not getting Playmate of the year.

GC: What is your favorite type of modeling?
Devin: I have done every type of modeling there is from catalogue, runway, showroom, print ads and nude of course and I'd have to say I prefer print ads the best.

GC: Do you have a memorable photo shoot story?
Devin: I shot a print ad for my legs with a baby leopard on a leash and was so afraid he was going to nip at my legs. They seemed to use my body parts a lot in ads I did. That was one I remembered. I also remembered shooting the cover of Playboy's "Girls of Winter" and fainted because I was in a mink coat in the mist of summer!

GC: Did you have a model or photographer who mentored you in the business?
Devin: Retired Playboy photographer David Chan who discovered me. I love him dearly.

GC: We see you have been heavily involved in acting. What was your favorite part in film or TV?
Devin: I love film but at the time I started acting there were not a lot of roles for girls like me. That's changed thanks to Jennifer Lopez and Selma Hayek so most of my work has been in film, I'd like to now do more television.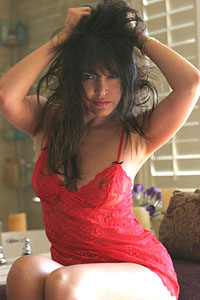 GC: We hear you are making a documentary. We'd love to hear about that.
Devin: I have been working on a pinup documentary in which I interviewed Bettie Page. That was a great highlight in my pinup career, but it's been slowly getting done because of the time involved.

GC: How did you first get involved with Glamourcon?
Devin: Another Playmate told me about it and I went to a Glamourcon in Burbank with absolutely no merchandise to sell. Photographer Albert Ortega educated me on the process and brought me magazines to sign and then I didn't do another one for a number of years until Bob e-mailed one day.

GC: As a Glamourcon veteran, what were your impressions of the show?... the fans?
Devin: I've noticed it's grown quite a bit from the small Glamourcon I did many years ago in Burbank and fans are so loyal and sweet. They bring me flowers and candy and pictures I haven't even seen to sign. I think it's a great venue and I'm happy to be a part of it

GC: What is the most common thing fans tell you at Glamourcon?
Devin: That I haven't aged a bit and look better now than I did 20 years ago; really good for my ego!

GC: How do you think Glamourcon benefits you or other models? Would you recommend it to other models?
Devin: It's the largest convention for pinup models to network and interact with fans, photographers and it's growing every year! I would recommend it highly to up and coming models.

GC: Thank you for making pasta for us...lol. What is your favorite kind of cuisine?
Devin: Your welcome... Cajun of course. My best dish to make is Gumbo. (Ed. Note: We LOVE Gumbo!)

GC: Strengths and weaknesses?
Devin: My strengths are that I'm very organized, honest, hard working, compassionate and of course a great cook, ha ha ha. My weaknesses are that I'm very sensitive, sometimes overly, impatient at times and introverted.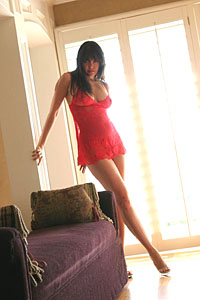 GC: What do you find sensual? Erotic?
Devin: Romantic dinners with fine wines following bubble baths and massages are very sensual to me. I find talking dirty erotic.

GC: What qualities do you look for in your man?
Devin: Honesty is number one for me. I love a man who knows what he wants and goes after it and a man who believes family comes first.

GC: Impress us with www.DevinDevasquez.com. How is it different from other sites?
Devin: My site has been up for over 5 years now and it has everything from contests, pictorials, Girlfriends and personal e-mails from me! I have put a lot of myself in my site and pretty much everything Devin is there. I have erotic stories and give pictures and memberships away if you send me funny jokes and stories to post. I think my site is different from other sites because it's constantly changing like me.

GC: What does the future hold for Devin Devasquez?
Devin: The future holds writing books, producing movies and growing spiritually for Devin. Hopefully, my fans will be with me for the changes. (Ed. Note: No problem there!)

GC: Are there more Glamourcon in your (near) future?
Devin: Yes of course. I love the November show! (Ed: that woud be GC37 in LA Nov 19/20)

GC: Ths is the point in the interview that you tell us a secret.
Devin: I'm really quite shy believe it or not, I use to not talk at all!!

GC: It's been a great interview - you even provided a home cooked pasta meal! Thanks for the good food and sharing your life with us. We'll see you at the next Glamourcon!


| | |
| --- | --- |
| Feedback Helps Us Make A Better Site. Please Take Moment. | |
You can see more of Devin Devasquez at
www.DevinDevasquez.com