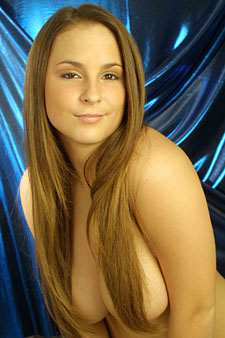 Jasmine Grey Details
Main Web Site:
www.JasmineGrey.com

Interview Date & Location:
August 30th, 2004
A Chicago Studio


Thank You

Jasmine Grey
Michael Ilyinsky



Glamourcon extends a special thank you to everyone who made this interview possible.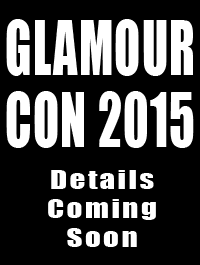 Interview Questions by
Bob Schultz
Photography By
Keith E. Williams
www.Exoart.com



We appreciate feedback
It helps us make a better site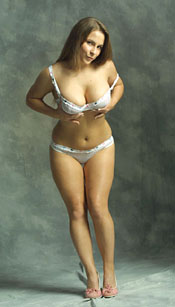 The Glamourcon staff would like to pass on our sincere condolences to the family and friends of Jasmine Grey who passed away in an auto accident early Saturday morning.

She was our friend and will be greatly missed.


For now, we have decided to leave a slightly edited version of Jasmine's interview up, so those that wish to get to know her can.

IN MEMORY
Jasmine Grey
1984 - 2005

Glamourcon's November Interview - Issue #18

At only 4' 11" and packing a natural 34D-25-35 resume, Jasmine Grey is the real deal! We first met Jasmine at Glamourcon last year and knew that this lady was going places. Since then, she has created a great website, done tons of photo shoots and is now our Glamourcon 35 Cover Girl. She knocked our socks off at our recent shoot and we are sure she will do the same to you. Presenting Jasmine Grey, our Glamourcon Girl of The Month for November.
---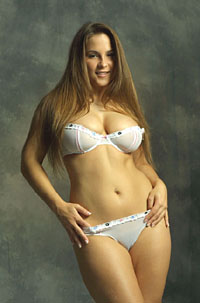 GC: One can read all about your growing up in Cleveland on your website so I am going to cut to the chase. Please explain to your fans exactly what is Graeter's.
Jasmine: Graeter's is an ice cream place in Cincinnati. It's kind of a local place. They do have shops in some other cities, but are mainly limited to Ohio, Kentucky, and Indiana. They have the absolute best ice cream ever. They have over a dozen flavors, but my favorite would have to be Mint Chocolate Chip. The way they make their chips is by pouring the chocolate syrup into the ice cream while mixing it. It is just the best!

GC: When you turned 18 you auditioned for a gentlemen's club. What made you decide to do that?
Jasmine: Well for one, I was tired of working 40 hour weeks. I have been doing that since I was sixteen. I also knew some people that were dancers and I just envied there lifestyle. I grew up with very little money and the fact that I could now make it so easily and have fun doing it was very attractive to me. I have always been a very sexual person, and the fact that I could use my sexuality to make money was just a huge bonus for me.

GC: What do you like most about dancing?
Jasmine: What I like most about it is that I get to be sexy. I love turning men on and teasing them. I get such a rush when I see them start to sweat. Dancing is also a way to live out some of your sexual fantasies. You can be whomever you want to be on stage. It's almost like an act.

GC: What got you interested in modeling?
Jasmine: Honestly, I had always wanted to model. I always wanted to look as pretty as the girls in the magazines. I got turned down by every agency I called, mainly because of my height. It was not until I started dancing that I discovered the world of adult modeling. Quite a few of the girls I worked with were doing it. One of the girls was a Penthouse Pet. Her name is Tyler Reed. They encouraged me to try it as well as most of my friends. Most of the girls were signed with a local agent. They told me to call him and go do a test shoot. I did, and that's how I started.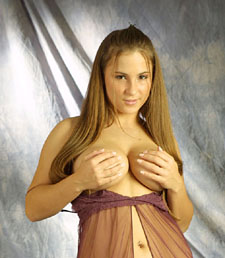 GC: Do you remember your first photo shoot? Tell us about that??
Jasmine: My first shoot ever was on September 19, 2002. I was very nervous going there. I wasn't nervous about posing nude, I was just nervous because I knew nothing about the modeling business. I arrived and immediately got into it. I love to play dress up and that's exactly what it was like. I was trying on all these beautiful clothes and getting my pictures taken. It didn't seem real. When we finally looked at the pictures, I couldn't believe it was me.

GC: What was the wildest photo shoot you ever did?
Jasmine: I have had a lot of interesting photo shoots. I would have to say my wildest shoot was when I was put into a full body cast. I was working for this website that shoots a lot of castings. (Like if you broke your arm and have to get a cast) Well, they had a request from a customer to see a girl in a full body cast - from the neck down to the feet. I was one of the more patient girls they were working with so they asked me. Little did I know it would take 4 hours to cast me, an hour to shoot, and an hour and a half cutting me out of it. Thank god I didn't have to go to the bathroom!

GC: A little birdie tells me you might have some interesting photographer stories... does something come to mind?
Jasmine: The most recent thing that happened to me that caught me off guard was the photographer asking me to shoot him. I was hired for a 1/2 day shoot. Everything started off normal, and we were shooting and talking and whatnot. He started asking me questions like what is the craziest thing you have ever done and all that stuff. I knew it was leading somewhere so I asked him what he was getting at. He asked me if I wouldn't mind shooting him nude. Now, photography is something I want to get into, but I always thought I would be taking pictures of beautiful women. However, since he asked and I really didn't have a problem with it, I said yes. So we ended up shooting me for about an hour and the rest of the time, I shot him.

GC: Most of our readers have never been to a photo shoot (especially on that takes several hours) and they may not realize that is a bit of work. Tell them a bit about a typical photo shoot. What goes through you head while you are posing and just how much work is involved?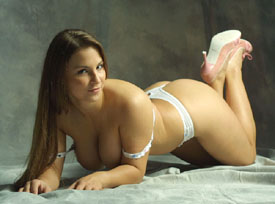 Jasmine: Well, a typical photo shoot is about 4 hours, sometimes longer. The prep going into it is major. You have to make sure your nails are done, both hands and feet. Make sure you shaved or trimmed everywhere. You have to wear loose clothing before the shoot so you don't have clothing marks on your skin. That's just before the shoot. Then you arrive and have to discuss wardrobe, hair, and make-up. This sometimes takes an hour alone. Once all that is decided, you can then shoot. However, all photographers shoot differently, so it takes awhile to figure out and adjust to there style. Most of the time I am thinking about my next pose or trying to remember to arch my back. You also have to know the lighting and remember to play to the light. Overall, I just try to remember to be sexy and feel sexy. The more you project that, the better the pictures will look.

GC: You are an all natural 34D-25-35. We often see a lot of talk about what kind of body type the fans like. Your thoughts?
Jasmine: Most fans will like you anyway, no matter what you look like. I know some fans my have a certain type of girl they like, but most of them just like a nice pretty girl who is friendly. I know I have had some people tell me that I should change some things, but I am happy with who I am, so I don't listen to them.

GC: How did you first get involved with Glamourcon?
Jasmine: I first heard about it through one of my photographers, Michael Ilyinsky. He said he was getting a table and asked if I would be at his booth. I went and had a blast. Since then, we have been to every one... each time telling more girls about it.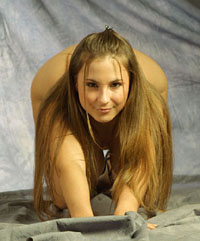 GC:How do you think Glamourcon benefits you?
Jasmine: The main benefit for me has been exposure. The first show I did, nobody knew who I was. Now when I go to a show, I have people saying hi to me. Whether it be fans or people in the business. I have so many more fans now, just from going to these shows. It gives them a chance to get to know more than just the picture. They get to talk to me and ask questions they probably never would have been able to. They also get to see I am a real person and not an airbrushed version. The same goes for people in the business. Everyone gathers at these shows and it is a great way to network. I have gotten my job offers from the show and well as making some great friends.

GC: You've been to several Glamourcons. Do you have an interesting Glamourcon story?
Jasmine: Every Glamourcon has been interesting for me. The best was when I had the father, son, uncle, and best friend all at my table . They were all fans of mine. It was kind of weird at first, but then I thought, that's a cool family.

GC: Now for a bit more personal questions. What do you find sensual? What do you find passionate?
Jasmine: Sensual to me is kissing and massaging. Slow and gentle, especially on my lower back and up to my neck. Passionate is a night of loving making that is so good, you never want to stop. Where all you want to do is please the other person.

GC: What do you look for in your "perfect man?"
Jasmine: My perfect man has to be big and tall. Total opposite from me. I prefer bigger guys. I like them to have a little meat on the bones. If they are too skinny, I am afraid I would break them. He has to have a sense of humor. He has to be trustworthy, loyal, and understanding. Any guy I am with has to understand that whatever I do is my choice. I hate jealous, control freaks. He would have to open-minded, smart, and not afraid to admit when he is wrong. And overall, love me for who I am.

GC: Tell us about your website, http://www.jasminegrey.com. What can a member expect?
GC: Your bio says you want to own a spa and salon. Tell us about that.
Jasmine:Someday I would love to open my own spa and salon. I used to want to be a massage therapist, but since I injured my wrists, that is no longer an option. I still want the spa though, because I love to be pampered and pamper other people. I am a people pleaser and love the make others happy. I think this is the ultimate place you can do this. A place you can go and relax away form the world.

GC: Before you go, please tell us a secret.
Jasmine: Even though I am comfortable with my own nudity, at the shows, I like to picture every one around me naked. It kind of levels the playing field.

GC: We look for to seeing you again at the next Glamourcon!


| | |
| --- | --- |
| Feedback Helps Us Make A Better Site. Please Take Moment. | |
You can see more of Jasmine Grey at
www.JasmineGrey.com