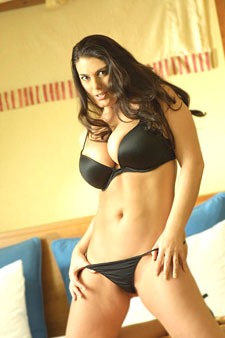 Jenna Magen Details
Main Web Site:
www.JennaMagen.com

Interview Date & Location:
January 2005
San Jose

Thank You

Jenna Magen



Glamourcon extends a special thank you to everyone who made this interview possible.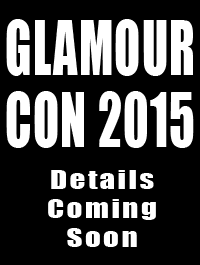 Interview Questions by
Bob Schultz
Photography By
Keith E. Williams
www.Exoart.com



We appreciate feedback
It helps us make a better site





Glamourcon's April 2005 Interview - Issue #21

Little did we know that this future Glamourcon Girl of The Month was behind the scenes, scoping us out at the VAMP show in Palo Alto. One thing led to another... next stop Glamourcon! Come spend a few minutes with this naturally endowed consultant by day, Internet model after hours. Sure, she can tell you all about wine, cheese and chocolate but we think you'll be fixated on her other "gourmet" treats. Introducing... Jenna Magen.
---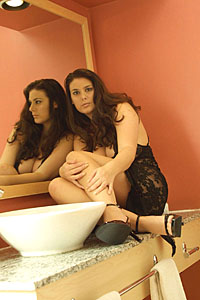 GC: Tell us a bit about your background.
Jenna: Born and raised in Santa Cruz, CA - My family moved here from Atlantic City, NJ driving here in a Volkswagen van because of the surf. I am told I was conceived somewhere along the way.

GC: You have a day job. What do you do?
Jenna: I am a Sr. Staffing Consultant for high tech companies. I hire people in the Engineering and Product Marketing space. I really love what I do and have had the privilege of working with some of the most amazing people involved in technology today!

GC: What got you interested in modeling?
Jenna: As a child I was always a ham and loved being in front of the camera. Before I got sick my mom would take me to auditions to meet with people for acting, commercials, etc... but my parents were divorced and both struggling to define their own careers so being in front of the camera was put on hold. Then I got sick and I thought that any chance of being on camera was completely gone.

When I was in 8th grade I went to the local mall portrait studio and did a sitting. The images came out really good and they requested to use one for their store advertising. I think at that moment I realized that I may still have a shot of doing something. I did not fully pursue it during the next few years but during my last year of High School I began to work with a company that used modeling to raise self esteem in teenage girls. It was run by a married couple who had both been professional models for 20yrs and they shared an office space with an amazing photographer. I was hired to run the office and was exposed to the modeling and acting industry in my local community.

GC: You just mentioned being sick, and you're very candid about the Shingles you had as a child. Tell us a bit about how you handled that situation.
Jenna: It was not easy and being nine years old I really had no idea what was going on. I spent 3 months in bed, lost half of my hair and ended up with a scar on my cornea as well as my forehead, nose, and eyelid on my left side scared and stained by the medication they gave me. The experience made me a much stronger person. From this experience my life's philosophy was born, I really believe everyone looks at life through a lens.. like a camera lens... and with each difficult experience that lens widens and you see a little bit more of the "whole picture." I believe that I was forced to grow up faster and would not be where I am today if not for this experience. I had to overcome teasing, feeling really ugly, different and figure out how to hide that half of my face... I guess now I think it adds character...and it is something I still deal with on a daily basis.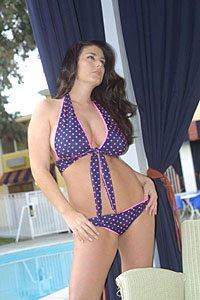 GC: Your first modeling assignment was for a local paper. Tell us about your first shoot.
Jenna: I remember being so excited! I used to play pool after school with friends and one day there was a photographer taking pictures for their brochure. He approached me with his card and said he did a lot of work for the local paper and he would really like to use me for a recent assignment. I was shocked and so excited! I talked it over with my mom and spoke with the photographer on the phone and worked out the details. It was very simple. It was an article on dreams and they needed a visual to go along with it... so I took my mom with me and went to the studio. I basically put on a night gown and pretended to sleep.. I was worried because they shot my left side and I was concerned about my scars - they said they weren't concerned due to newsprints.. I remember being really critical when it came out.. but really proud too.. I still have that clipping!

GC: As your modeling career took off, you decided to market yourself via the Internet. Were you involved in the creation and look of the site?
Jenna: Absolutely! I am sorta a control freak :-) No, I was trying to figure out how to market myself... I was 5''7" with a large natural bust and trying really hard to give a real shot at Fashion. I was doing local fashion shows and trying to be like Kate Moss (without being rail thin) because even at 115lbs I had DD's and curves. So I decided to work on a website and I met someone via a message board who offered to help. At that time it was difficult to find a modeling webpage that did not include nudity and I had a very specific idea in mind - I wanted to show off my photos and really convey who I was. I have always been very hands-on when it comes to my web site.

GC: Do you feel being naturally busty is an asset in this day and age of glamour modeling?
Jenna: I think it is both a positive and a drawback. I think it was more of a negative when I was targeting fashion and commercial work and I had to work really hard to minimize my bust. Once I came back to the industry and really targeted the Glamour market I think it has been an asset that I am naturally busty. I have found that the response is generally really positive and a lot of the fans like a women with some natural curves...I think there is a market for everything and I just happen to fit in the naturally curvy department!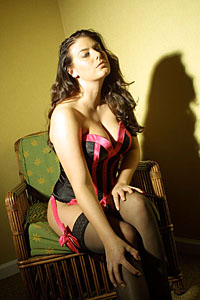 GC: Do you have a memorable photo shoot story?
Jenna: I have a few... but I would probably say for me the most memorable was the first time I ever did nudes. I was really comfortable with my photographer, Albert Ortega, because I had known him for a while.. but I was also terrified! I think as a women your self-doubts come out, your concerns and simply being naked can be a little overwhelming. But... Albert arranged to shoot at a nudist resort in Palm Desert and I really did not know what to expect. When I finally agreed to drop my bottoms I think we had to try the shot like 5 times because I would untie my bikini and literally grab the string again in one swoop... I finally dropped it and held the position with a few deep breathes.... looking back I think it was so silly... because here I was all concerned about posing nude and I had men standing around in T-shirts and nothing else with their "Willys" hanging out... I think I busted into hysterics a few times and once I realized that besides Albert & my makeup artist that I was the most clothed person present.

GC: Any photographer or magazine you would like to shoot for?
Jenna: A ton of course! Top of my list are Patrick Demarchelier, Herve Lewis, Tony Ryan, Mark Daughn.

GC: Any thoughts of doing video modeling or acting?
Jenna: I have thought about it and even auditioned for a movie role back in September. However, I really feel that you need to be centered in LA or NYC and fully pursue that avenue if that is your dream. I think it takes real dedication to become a working actress and I consider my modeling a very serious hobby but not something I do to pay the bills or something I see myself doing for the next 10+ years. As far as Video modeling? I get a lot of requests and most of them I am just not comfortable with for my own personal guidelines and boundaries. I have started to really ask myself why I am accepting certain bookings, etc.. and I have decided to not do anything that I would not purchase for myself or a boyfriend.

GC: We hear you like to be behind the camera on occasion. What do you like to shoot?
Jenna: I love photographing children and animals - I would say my style is very portrait oriented and I love capturing expressions and the light in the eyes! I have just started to experiment with B&W and love the feeling of actually capturing what I see through the lens. I would like to potentially move into the model space since being in front of the camera gives you such a different eye..I keep telling Steve Nichols that the next time he gets Aria Giovanni I will be first in line to photograph her! :-)

GC: How did you first get involved with Glamourcon?
Jenna: I met Christina Leardini at one of the VAMP Shows in Northern California. I was just checking it out one weekend and she was the sweetest, nicest person - I ran into her again once I started to consider doing shows and was scoping out Glamourcon. She recognized me and was shocked when she actually saw my book. She was super supportive and introduced me to Albert Ortega and told him he HAD to work with me and said that I really should consider modeling again. I think that had I not met Christina the ball would not have begun to roll.. that was the same show that I met Carlos Cartagena and he expressed interest in working together (being that I was a huge fan prior, I was on cloud nine)... I ended up working with Carlos later that year and thought that the pinup was something I could take to Glamourcon and see how it went. I then decided to shoot my first nudes with Albert and he convinced me that I had to come and sit at his table. I was a little intimidated since in the scheme of glamour modeling I only had pretty pictures but had not done any magazines or even topless or nude images. I had a blast and have come back ever since!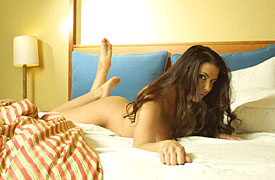 GC: Now that you are a Glamourcon veteran, what were your impressions of the show?... the fans?
Jenna: The show for me just keeps getting better and better. I never could have hoped for a better reaction from the fans. Just the fact that I have fans is pretty cool! :-) or that people have even heard of me! Everyone that I have met has been extremely considerate and charming. Glamourcon is the best way to network with other models, photographers and fans!

GC: How do you think Glamourcon benefits you or other models? Would you recommend it to other models?
Jenna: Absolutely!!!!! It is a fabulous way to gain exposure and market yourself. There is no better place that I have found to meet other models, network and of course get up close and personal with your fans! I love representing who I am and getting to be really real with the fans. I get to show them who Jenna is.. It can be a little scary but really an amazing experience!

GC: Your greatest/favorite weaknesses? Your biggest strengths?
Jenna: I would say my greatest weakness is that I love gourmet food!!!!!! Like outstanding cheeses & wines and of course your occasional chocolate fondue! and if you pair that with my fondness for Louis Vuitton, heels and lingerie and you have found my favorite weaknesses :-)

I would say that my biggest strengths are my levels of integrity. I am also a very opinionated and strong willed person and I believe that is what allows me the confidence and drive to be successful in however I define that for myself.

GC: We, at Glamourcon, appreciate the wines of Northern California. Which winery to you recommend when we visit your area?
Jenna: I adore Cakebread!!!!!! I think it is my all time favorite label that is always consistent! However, Beaurgaurd vineyards just recently opened a new tasting room on the Santa Cruz wharf that has stunning views of the Pacific on both sides.... nothing better than watching the sunset over the water and enjoying a great boutique wine!

GC: We hear you like to visit Hooters. What is the attraction? (We know what it is for us...)
Jenna: The Buffalo Shrimp ~ Hot and served piping hot! :-) I just wish they would update the outfits and make them a bit more sexy...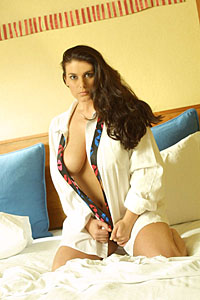 GC: A little bird tell us you love animals and tulips. As a matter of fact, we heard you thought seeing an Orca for the first time was quite an experience. Any thoughts of visiting the home of lots of Orcas and Glamourcon, Puget Sound? And BTW, we have great wines and tulips, too... lol!
Jenna: I love the Puget Sound and Seattle area! Actually, I almost went to school on Orcas island and bought some of the best honey and red wine ever at Pikes Place market :-) I have been trying to figure out when my schedule will allow another trip. In July I spent a week driving from California to the Northern tip of Vancouver Island and stayed at this amazing little town called Telegraph Cove where I was able to witness Orcas in the wild for the first time... and it was nothing short of spiritual! I am terrified of needles but am currently contemplating having A33 (Nimpkish, a large male Orca) tattooed on my lower back. Being on a boat in total silence and then having this massive 6 foot fin rise out of the water, a huge breath taken and then disappear again is like nothing I can describe in words... I could live in the Northwest.... there is just something special about it.. besides.. it is home to tulips, great wines and Glamourcon!!!!!! :-)

GC: What do you find sensual?
Jenna: Looking into someone's eyes and knowing without a doubt that the connection we have is so intense that there is no fighting it! So basically.. being wanted is pretty damn sensual! That and I am a typical girl... candles, flowers, romance.. long baths and back rubs.

GC: What qualities do you look for in your man?
Jenna: Great eyes and a great smile! I really want someone I can truly be myself with, someone who can be my best friend as well as my lover. I look for someone who is driven and has passions of their own... and they have to do laundry and iron... I don't iron :-) LOL

GC: Do you believe in Soul Mates?
Jenna: Yes, but not in the traditional way. I think everyone has more than one match and based on timing and choices you make, you find your way to that particular match... I guess it gets complicated if you find more than one match at a time... LOL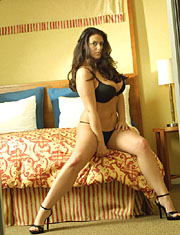 GC: Your bio says you are bi-curious. We are curious about that...
Jenna: LOL... I think that being in this business that is so focused on amazing exteriors you develop an appreciation for beautiful women! I think women are extremely sensual and sometimes you just can't help but be attracted to them! So I think the curiosity is there.. not in a relationship sense but in a sensual sense... but honestly, I think most people can agree with that!

GC: Tell us about your website, www.JennaMagen.com
Jenna: I keep my site nudity free in an attempt to really showcase the images and reserve my site for the implieds to be more fashion and glamour focused. I feel that implieds can be so much more sexy and really reserve going the extra step in removing my clothing for specific projects and photographers.

When I do shoot with a photographer and do nudes or topless they can generally use those images for their sites and those images become more valuable for both of us. I think that I started to do limited nudes and topless to see what types of images I could create and to honestly see if I could go to the next level! Some of those images are my favorites, but I also feel that in a market where you are your image - that there should be some greater value and I have tried hard to make sure I do not saturate the market and that the only nudes that I do are done on my terms...and I only sell my nudes at shows such as Glamourcon.

GC: What does the future hold for Jenna Magen?
Jenna: I have a number of things currently in the works! I just worked with an AMAZING artist, Henry Asencio, whose oil paintings have such an amazing use of light and movement, I am really excited to see what our sittings help create! I also did a concept shoot this year for a wine label, who are currently in talks with a number of artists to paint the image for distribution - which is very cool! I plan on working with Simon Thorpe again this year on a series of B&W images and hope to travel to Paris this summer to work with a brilliant photographer on a few of his current projects. And something really fun... I should have a comic book and character ready for release in the next few months or so! I hope this is just the start to an amazing year!!!!

GC: Will we see you at the next Glamourcon?
Jenna: of Course!!!!!! and I have a new corset to wear (wink wink)

GC: Before you go, please tell us a secret.
Jenna: I find clothing extremely restricting... when I go to bed ;-)

GC: Thanks for the awesome interview! We now know your intimate details. We'll see you at the next Glamourcon!


| | |
| --- | --- |
| Feedback Helps Us Make A Better Site. Please Take Moment. | |
You can see more of Jenna Magen at
www.JennaMagen.com