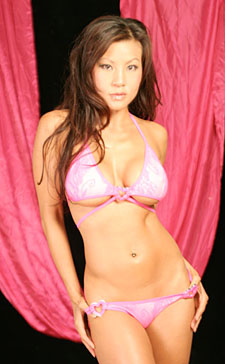 Thank You

Katherine Thom
Seductive Beauties Studios



Glamourcon extends a special thank you to everyone who made this interview possible.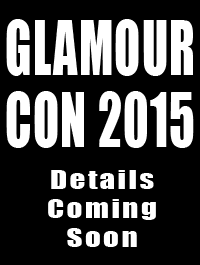 Interview Questions by
Bob Schultz
Photography By
Keith E. Williams
www.Exoart.com



We appreciate feedback
It helps us make a better site








Glamourcon's December 2005 Interview - Issue #27

Our newest Glamourcon Girl of The Month is one sunny Southern California girl! Come meet Katherine Thom as she talks about camcorders and Daisy Dukes, the Import scene, how eyesight can get the best of you and a snow storm in So Cal. What we reallly want to know is how someone with a love for salty snacks and root beer can look this good! Please meet, Katherine Thom.
---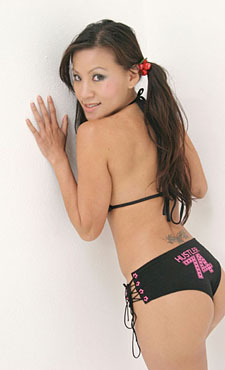 GC: Give us a lesson in Katherine Thom history.
Katherine: I was born on November 14, in beautiful Hong Kong. My mother is Chinese and my father is Chinese-British. I grew up in Hong Kong and immigrated to America at the age of four. When my parents and I first arrived to America, we lived in Arizona, Texas, and Las Vegas. However, we decided sunny California would be the place for us. Growing up in Southern California, I attended an all-girls catholic school and ventured off to college studying Marketing. College was a joy for me because it was a place where I learned to be independent!

GC: Tell us how your modeling career began. What got you interested in modeling?
Katherine: I was scouted by a well known producer. I thought I would give modeling a try since marketing was my forte. Because I was too petite to do run way, I started doing print-work which lead to swimsuit calendars, posters, magazines, etc. In addition, I signed on to various talent agencies where I landed several international commercials, ad campaigns and spokes model. All in all, I have enjoyed my pastime as an aspiring model and would love to continue to pursue acting and singing.

GC: Do you remember your first paid modeling shoot? Were you excited, nervous, or?
Katherine: My first paying modeling/acting job was to star in a series of Karaoke videos that were distributed all over Asia. And over the years, I have found that modeling has become my true passion. It gave me the opportunity to travel to many exotic places and to have met different people from all over the world. Nevertheless, I never allow modeling to replace what is dear to me which are my family, friends and of course, my pets!

GC: We noticed your website had some spicy videos. When did you start doing video work? Do you remember your first video shoot?
Katherine: Haha! You noticed videos on my site huh? (ed. note: Of course!) I've actually never shot any videos until the launch of my website. It was a great idea that my webmaster and I had. For every picture set, I have a video taping the actual photo shoot before, during and after. Since the video is pretty raw, it shows some slips here and there! When we shot my first video, I was really embarrassed because I didn't know how to act and just had this frantic smile all the time. I didn't even know how to move because I didn't want to show too much but yet be sensual at the same time. Now, look at me, I am such a pro!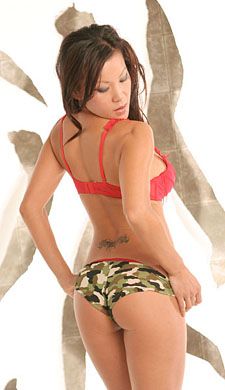 GC: Do you have a favorite photo shoot? A favorite video?
Katherine: My favorite photo shoot was in Tahiti this past summer. I had the honor of being a model for a very well known artist/sculptor. Tahiti is the most beautiful and untouched paradise. I've never seen so much clear waters and blue skies in my life. The people of Tahiti were very friendly and humble. I had such a lustrous tan and by the 3rd day I was there, I blended in like the locals.

GC: Do you have a mentor or favorite model in the business? If so, what attracts you to them?
Katherine: My favorite model in the business would be Gisele Bundchen. She's very natural and has very beautiful features. I love the natural look as I think a beautiful woman needs very seldom makeup.

GC: Do you have a favorite photographer you worked with or one that you hope to work with?
Katherine: I would definitely like to work with photographers that shoot FHM, Stuff and any accredited photography magazines. It would be an honor to have that someday!

GC: Do you work solo or with other models?
Katherine: At this time, I've only worked solo and have not worked with any other model. It would be a great experience to work with someone I liked!

GC: Are there models or photographers you haven't worked with but want to?
Katherine: It would be an honor to shoot with the photographers of Playboy…..

GC: Thinking about the many projects you have done, what turns you on most about them?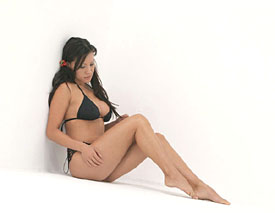 Katherine: The thing that I like most about doing projects is being able to travel, sleep late, and eating all that I want! (ed. note: How does she do it?!)

GC: Now that you are a Glamourcon veteran, what do you think about the show? The fans?
Katherine: Gosh, that makes me sound so old….LOL! At Glamourcon, I was so thrilled to have fans come up to me and tell me that they love my work. It's an honor that I have people that I've never met in person but only received emails from come up to me and give me big hugs! The fans reaction to my presence is definitely something that I am flattered by.

GC: Would you recommend Glamourcon to other models?
Katherine: I would highly recommend all models who are amateurs or professionals to attend the show. It's a wonderful place to network and to get their names out there. Producers, directors, and actors go there to mingle and or seeking the next "it" girl.

GC: Have you done other glamour and pinup type shows? Tell us a bit about them. The Import Shows for example...
Katherine: Wow, who hasn't done those Import shows? I guess it's pretty easy being an Import model as there's no minimum height requirements or anything like that. All you have to do is look sexy in some Daisy Dukes and have plenty of courage to shake that booty and best prepare for lots of camcorder shooting up your derriere!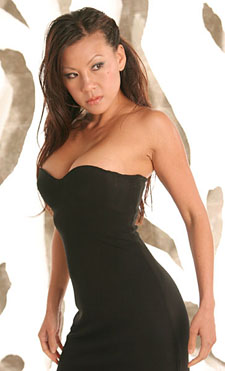 GC: What is your idea of a perfect evening with your man?
Katherine: My perfect evening with my man is having him all by myself! I am real jealous so no third party involved!

GC: Rumor has it you were auditioning to be a weather girl?
Katherine: I actually would like to be a host of a variety lifestyle show and being a weather girl would be one of them. I am really good in selling so I thought if I was a weather girl, I could inform the public that a snow storm is coming soon….

GC: When you are not modeling or acting, how do you relax?
Katherine: Like as if modeling is hard work huh? Well, to most that don't model, it is hard work. Getting up real early for a call time and arching the back is one of the most hardest thing to do! OK maybe not, but someone's got to do it! In between shoots and being on sets, I enjoy my free time by wearing baggy pants and a beater top snacking on Doritos and root beer and watching reruns of Sex and the City.

GC: Tell us about www.katherinethom.com.
Katherine: Let's just say come visit me on my site and you'll find out how easy it is to see me in all my glory. I also have numerous girlfriends that show more than just their glory! Even more? I have videos that shows my true personality having fun and being tickled. Event coverage photos and even a very personal diary that you can read of my most intimate thoughts…now can you really put a price to all that good stuff?

GC: You must get a ton of fan email so we were wondering if you could tell us about a message that might have touched you.
Katherine: The one email that really touched my heart was from a fan that told me that I was his inspiration to the recovery of his cancer. I remembered meeting him at an Import show and he was really sick and frail. He told me that it was my warmth and compassion that was what he was so attracted to. I thought that was very touching and something that I can always hold in my heart.

GC: What do you see in the future for Katherine Thom?
Katherine: I see…..the next fitness guru named Katherine Thom that will have her own fitness show on cable or Prime-time!

GC: And of course, before you go, tell us a secret.
Katherine: I shave….All of it!

GC: Well, thanks so much for sharing with us. Hopefully we'll being seeing you again real soon at the next Glamourcon!


| | |
| --- | --- |
| Feedback Helps Us Make A Better Site. Please Take Moment. | |
You can see more of Katherine at
www.KatherineThom.com