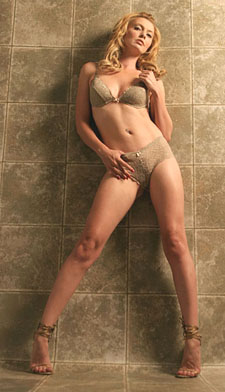 Thank You

Kelle Marie
Seductive Beauties Studios



Glamourcon extends a special thank you to everyone who made this interview possible.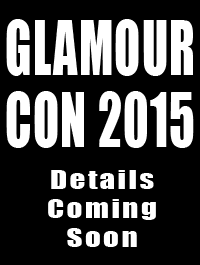 Interview Questions by
Bob Schultz
Photography By
Keith E. Williams
www.Exoart.com



We appreciate feedback
It helps us make a better site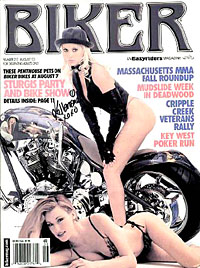 You Can Get This Kelle Marie Autographed Magazine and other collectibles in:


ShopGlamourcon
Autographed
Kelle Marie Print

Autographed
SoloErotica 3

Autographed
Whatever It Takes

Glamourcon's November 2005 Interview - Issue #26

Our British Import. From all the way across the big pond in Wales comes our Glamourcon Girl of the Month, Kelle Marie. Besides being a Glamourcon veteran, Kelle is certainly making her mark in glamour, fetish and adult modeling and films. We caught up with her before the Model Showcase Expo and spent several hours getting to know all about her. Now we invite you to meet Kelle. Enjoy!
---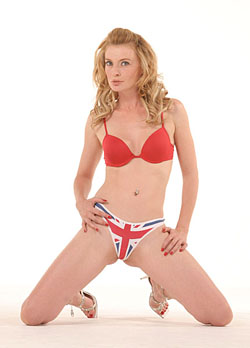 GC: First things first. Tell us about your background. Where you were born and grew up, etc...
Kelle: I was born and brought up in Wales, UK.

GC: Your bio says you were first began modeling at age 16. Tell us how that all started.
Kelle: I left school and started modeling. Starting with regular mainstream stuff.

GC: Do you remember your first paid modeling shoot?
Kelle: It was for a beauty magazine and I was 16. I started to earn good money so I put my education on hold and decided to make a career out of my recently chosen profession.

GC: So no plans for more school?
Kelle: This kind of job has no real routine. You are here one week and somewhere else the next. It would be hard to try and juggle school at the same time. However this is my 9th year in modeling and, honestly, I have been thinking about my future. Maybe I will go back to school... I'm only 25 so there's still time!

GC: Tell us about your Page Three shoot.
Kelle: At home in the UK we have Page 3. Basically, the tabloid newspapers have a Page 3 Girl. You open the paper and there on page 3 you get to see a topless girl. Yeah!!! I was a Page 3 Girl. I started by taking off my top and just couldn't stop. As soon as I was legal, I was naked... lol What can I say? I'm not shy, I'm Welsh!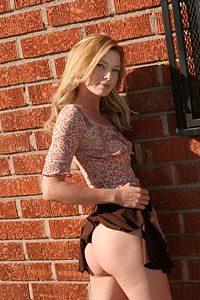 GC: Tell us about your Penthouse career.
Kelle: Wow!!! So I had already been shooting for a few years.... I'm always playing with my look.(nothing too drastic though, I'm not into surgery! I know lots of girls who are, not that I look down on it or haven't seen good jobs but it's just not for me) When I play, I cut my hair, put on wigs or stick on some false eyelashes or nails. That's as brave as I get! So I'm home, board, and think, hey what a great idea, cut your hair short. So I did!

A few weeks later '' Hank Londoner," a Penthouse photographer based in LA, called me up and said '' I have seen your picture, I want to shoot you for Penthouse, do you still look the same?" I mean, my hair has been blonde, black, brown, red, long, short. I said, " What do I look like? lol I just cut my hair short.'' ( It's since grown back again.) He said, "No worries, you are beautiful!" He flew me out and shot me. That was at the end of 2000. I was Pet for May 2001. I went home, never really doing any work for Penthouse. I didn't live here. I was really happy even shocked when I got Pet of theYear runner up! I really love Penthouse. One of the best things! I have made some fabulous friends. Two of my greatest - Aria, who was in the same year and Sunny, who was pet of the year! We all hang out. It's lovely!!! I now live here in LA. I do a lot of work with Penthouse and will even be signing for them at the AVN show in Jan. I can't wait!

GC: When did you start doing video work?
Kelle: Shortly after stripping for the mags, I was shagging on film. Starting with Playboy TV and TVx in the UK then moving on and making movies with the likes of Metro and Vivid to name just a few!



GC: You mention Andrew Blake in your bio. Which was your favorite film you did with him?
Kelle: I have made a few Andrew Blake movies. I love his stuff! My fave was the last one I did, "Hard Edge" - I'm on the box cover. We shot it in Paris it was so much fun!!! Kelle's Andrew Blake movie is available for purchase in ShopGlamourcon

GC: Tell us about the role playing and fetish work you have done. Do you like fetishism in your own life?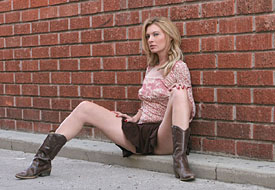 Kelle: Yes, yes, yes. I love to dress up! Just look at my site. I have so many different looks. One day I will be a dominatrix and the next, a school girl. I just like to play.

GC: Which is your favorite photo shoot? Your favorite film? (that you were in)
Kelle: I don't have one. I have done so many and really do love them all.

GC: Tell us about a memorable photo shoot or film that you weren't in. Maybe some piece of work that turned you on or inspired you...
Kelle: Lately I have been playing and watching a lot of bondage.... I love to be tied up,spanked ooooooooh just abuse me. lol Sex - it's fabulous! Taking part or watching. One time I was in a club in the UK. There was a couple sitting next to me and the guy was wearing a kilt. His girlfriend got down on her knees and started doing her thing right in front of me! It was so horny! I watched for a while and then had to get myself off!

GC: Do you have a mentor or favorite model in the business?
Kelle: Justine, Sunny, Aria, Aimee, Jelena, Crystal... I can probably name some more..........I'm lucky I have some really good friends.

GC: Do you have a favorite photographer?
Kelle: Not really. Lots are really talented. Everyone has their own style!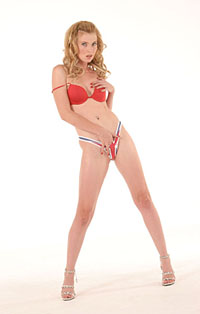 GC: Are there models or photographers you haven't worked with but want to?
Kelle: Anyone who wants to work with me!.

GC: Thinking about the many films you have done, what turns you on most about them?
Kelle: That I get to sleep with lots of gorgeous girls.......
We have a bunch of your awesome videos in ShopGlamourcon and know you aren't kidding!








GC: Now that you are a Glamourcon veteran, what do you think about the show? The fans?
Kelle: I love it!!! I have just started to do the exhibitions. I think its a great way for models to meet fans. It makes our job so much more personal! At GC Chicago, I got drunk with a load of the fans afterwards. We were at an art gallery and I got balddered and thought it would be fun to flash in the door way. As I did, every camera went flash! Yes, there are pictures to prove it!!! What can I say? You can take the girl out of the Valley but you cant take the Valley out of the girl! I'm just a slut... hehe

GC: Would you recommend Glamourcon to other models?
Kelle: Oh yeah! It's so much fun! Come join the party!!!

GC: What is your idea of a perfect evening with your man?
Kelle: Food, wine and sex in any order!

GC: When your are not modeling or acting, how do you relax?
Kelle: Take long hot baths, read a book, walk my dog and of course masturbate!

GC: What kind of cool stuff is on your site, www.kellemarie.com?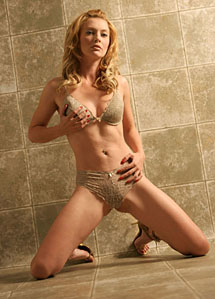 Kelle: You get to see all my naughty content. Stills and video and I'm not talking 5 minute clips! You get your money's worth!!! Its a great way for fans to really get to know me. I write a newsletter. I have a phone and a forum and answer all my own emails. You find out where I am and what I'm up to and who I'm doing! It's brilliant and I'm biased but it really is! Check it out www.kellemarie.com You won't be disappointed.

GC: What do you see in the future for Kelle?
Kelle: I keep busy. I have lots of loyal members that love my work. I really like hearing from my fans and their point of view. For now I am going to keep working and promoting myself and my site. I have started shooting, directing and producing so I won't be going anywhere soon. In the long term future, I would like to settle down get married and have The Waltons! I better get a boyfriend first lol. I don't think anyone will have me! Just kidding! I'm just busy working all the time!

GC: Before you go, tell us a secret...
Kelle: Well, I love to travel. I have been to Australia, New Zealand, all over Asia, Europe and the US. I have gypsy blood. OK, my Nanna was Irish. She was like a rabbit and had 11 children! I don't think I will have that many! Although there is nothing wrong with a bit of practice. I love to have sex and I love to have sex in unusual places! Along my travels I've managed to have done it on a plane, on a train, in a car, on a car, on the beach, in a tent, in a club, on a boat, in a phone booth, oh yeah I forgot to mention, my bed hehehehe

GC: The Los Angeles show is going to be awesome. We'll be watcing for you at the next Glamourcon!


| | |
| --- | --- |
| Feedback Helps Us Make A Better Site. Please Take Moment. | |
You can see more of Kelle at
www.KelleMarie.com