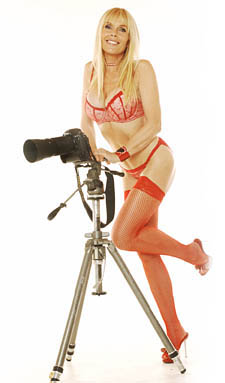 Lillian Müller Details
Main Web Site:
www.LillianMuller.com

Interview Date & Location:
October 2006
Southern California

Thank You

Lillian Müller
Maurice Rinaldi
Victoria Rubell



Glamourcon extends a special thank you to everyone who made this interview possible.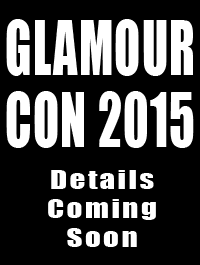 Interview Questions by
Bob Schultz

Photography By
Maurice Rinaldi
www.MauriceRinaldiPhoto.com

Make-Up & Hair By
Victoria Rubell
www.VictoriaStyle.com

Wardrobe Provided By
bizzybofhollywood.com




We appreciate feedback
It helps us make a better site




Glamourcon's November 2006 Interview - Issue #30

You are not going to believe this but our Glamourcon Girl of the Month is celebrating two major events this year -- her 30th anniversary as Playmate of the Year and her 55th birthday. Yes, we said 55th birthday! Lillian Müller is a Norwegian beauty who, besides being the Playmate of the Year with the most Playboy covers to her credit, is an accomplished actress, fitness expert and author. Read all about her fascinating life story in our exclusive interview/photo shoot. OK, OK, look at the photos first cuz we know you want to. Enjoy our look at the this timeless beauty, Lillian Müller.
---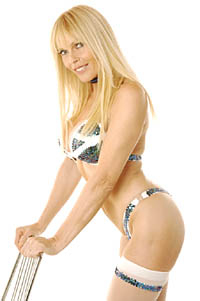 GC: Of course, we need to know something about Lillian Muller's early years. We know you are Norwegian so tell us a bit about where you grew up. What was it like then and what is it like now?
Lillian: I grew up on a small farm in a village called Fevik in the south of Norway with maybe 300 people and one major road. We had one pig, a few chickens, kittens and bunnies. No TV, no hot water, with a WC in the outhouse... a very long way in winter Norway! Now, Fevik is one of the most fashionable summer resorts in Norway. I travel there every summer to visit family. It's my favorite place in the whole world!

GC: You started in films in 1975. Did you do any modeling prior to that? Do you remember your first professional shoot?
Lillian: In 1974, I moved to London to pursue a career in modeling where I was signed by the TOP MODELS agency. They gave me my first assignment with the London Sun Newspaper as the "Page Three Girl." Beverly Goodway, the photographer, told me I was a born Pin-Up which was a much needed compliment at that time.

GC: Tell us about the first film you were in.
Lillian: In 1975, my manager, Bruno Bernard, of BERNARD OF HOLLYWOOD fame, introduced me to the German film director Rolf Thiele and I was quickly signed up to star in the film "Rosemarie's Daughter" filming in Munich.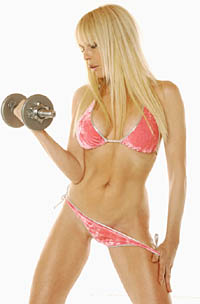 GC: What made you decide to move to America?
Lillian: In the beginning of 1975, I had just shot my first nude photo shoot with London photographer Suze Randall. The London Playboy Club's CEO Victor Lounge had seen some of the pictures and sent them to America to be viewed by the Playboy editors. I was offered a chance to come to Chicago to shoot my Playboy Centerfold.

GC: It wasn't long after you moved to the States that you were became Playmate of the Year. Tell us about your Playmate of the Year shoot.
Lillian: It was in the early spring of 1976 in Los Angeles. Most of the shoot was done in a 1947 Phantom Rolls Royce, sitting in the front yard of the Playboy Mansion.

GC: We've heard about your relationship with Hef. That must have been quite an experience.
Lillian: Before we met, I had only seen Hef on Norwegian TV. Never in my wildest dreams did I think we would ever meet.

I met Hef in Chicago while shooting my centerfold. I thought he was totally handsome, sexy and charming and I felt like a shy little school girl. I was in awe! He did all the talking as I did all the listening. After a few weeks, he invited me to go back with him to his mansion in Los Angeles where I lived with him for almost a year. I was a very young, insecure, immature woman and very much in love with a very sophisticated, mature and confident man. I did not have enough life wisdom to know how to handle that complex relationship. With so many other beautiful women around, I was always worried he would find someone he liked better than me. In the end, I had to walk away. I couldn't live with the fact that I might have to share him with anyone. Nonetheless, we are good friends to this day.

BTW, Hef appeared in the 2003 Norwegian TV documentary about me. He was a big hit with the Norwegian women!

GC: Hef had only been occupying the Playboy Mansion in Los Angeles for a few years when you arrived. What was the Mansion "scene" like back then?
Lillian: The grounds of the mansion was like a beautiful park with its private zoo. Mansion life was a lot of late night, early morning socializing with Hef and friends. It was a fantastic experience to be at all the parties and being able to meet so many intresting and influencial people. In spite of what people might say, "Mansion Life" was not all SEX, DRUGS & ROCK N ROLL... I never even tried coffee, let alone drugs, alcohol or cigarettes.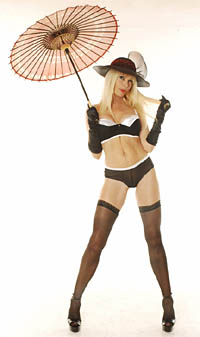 GC: How did your Playboy experience help shape your career?
Lillian: I'm glad I experienced the whole "PLAYBOY LIFE" at such a young age, giving me a foundation for my years to come in show business. Playboy has opened many doors through the years, giving me very valuable exposure in the general media which has given me opportunities to get work both as an actress, model, spokeswomen and author.

GC: You worked with many famous leading men in your films. Of all those men, who did you like working with the most?
Lillian: I worked with Bill Cosby in the movie "THE DEVIL AND MAX DEVLIN." He was such a great guy to me and made sure I got a nice close up. Also, Tom Selleck was a true gentleman and even better looking in life than on screen. We actually dated for a few months. Some people might remember that I was in the pilot for Magnum P.I.

GC: You spend a lot of time in Norway. Tell us about the popularity you enjoy there to this day and why?
Lillian: Can you believe it? I have actually become a "HOUSEHOLD NAME" in my own country! Who would have thought a little kid in an orphanage in the middle of nowhere in Norway would go this far and it's not over yet. Honestly, looking back at my life, I can't believe how fortunate I've been. It's fun to go home and always be in the magazines and newspapers. I hope that I have managed to become a positive role model with my knowledge and wisdom about health, fitness and agelessness. I have for the last 10 years or so and tried to share it with as many people as I can.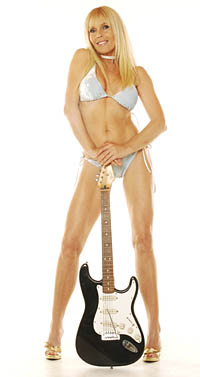 GC: You are in fantastic shape which is even more remarkable given you were the PMOY for 1976. In fact you wrote a book, "FEEL GREAT, BE BEAUTIFUL OVER 40!" If you had to boil down your heath/beauty tips into just one paragraph, what would that paragraph say?
Lillian: The foundation for your health is a pure blood stream. With that comes a very strong immune system to fight off disease and keep you super healthy and beautiful. To keep your blood pure you must focus on positive, optimistic thinking, pure water, natural fruit and vegetable juices and natural, unprocessed foods. You also need a good amount of physical activity daily to keep your bones and muscles strong. Learn to breathe correctly and keep your body detoxed at all times.

Not bad for a woman celebrating her 30th anniversary of her PMOY shoot!

GC: You are one of our most seasoned Glamourcon veterans. Do you remember your first Glamourcon? What did you think about that experience?
Lillian: My first Glamourcon was around 10 years ago. I sat together with Hef at a big table and signed autographs for hours. The line of fans was a very long one and it was so much fun sitting there with Hef, talking and joking with all the nice people. Come to think of it, I have never met one jerk at Glamourcon.

GC: Would you recommend Glamourcon to other models?
Lillian: YES! It's a great place to meet your fans, have fun and make some good money.

GC: What can fans find on your website, www.lillianmuller.com?
Lillian: I'm putting up several brand new pictures for sale as well as a poster. They can also purchase a copy of my Health Book and get their own copy of my only Calendar ever ..the 2004 Calendar I posed for to celebrate my 50th Birthday! I'm also updating the rest of the information and adding some International media coverage.

GC: When you aren't modeling or acting, how do you relax?
Lillian: I spend most of my time with my daughter. I pick her up from school four days a week and we enjoy having dinner together. We like to talk about everything going on and are very close. I also love working out. I run stairs or walk or go to the gym several times a week. The rest of the time I enjoy spending with my boyfriend. He's a fabulous guy, even my Mom likes him ... and that takes a lot.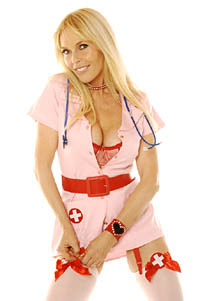 GC: Now the sex question. Since you spend a lot of time in Scandinavia, how would you compare their attitude about sex to ours in the States?
Lillian: I have heard people say in America that they think Scandinavians are so sexually open minded and liberal. I got news for you as they are just as up tight and sexually complicated over there as here. How can something that was meant to be so simple, uncomplicated and beautiful have gotten so out of hand? I think the sex industry, in general, have gone to far.

GC: If you could visit anywhere in the world that you haven't been to, where would that be and why?
Lillian: I have never been to northern Norway to see the midnight sun... unbelievable. I'm going next summer for sure.

GC: What plans to does Lillian Muller have for the next ten years?
Lillian: I am writing a second health, fitness and beauty book as well as an autobiography. I would like to travel the world giving talks on my favorite topic -- how to stay healthy, fit and beautiful for life. Also I'm going back into the acting world soon now that my daughter is planning to go away to college in the next year or so. I think its important to have big dreams and goals as long as you live. Always strive to be as good as you can be, take chances and shoot for the moon. If you do that, you will go far!

GC: Tell us a secret...
Lillian: If there's one thing I would have done differently in my life, I would have had more children. My daughter is the greatest thing that ever happened to me. She has brought me so much peace and so much joy!

GC: Thanks for taking us on a quick stroll through your life. We appreciate you sharing your time and experiences. The next Glamourcon! is coming soon and we'll see you there!!


| | |
| --- | --- |
| Feedback Helps Us Make A Better Site. Please Take Moment. | |
You can see more of Lillian at
www.LillianMuller.com