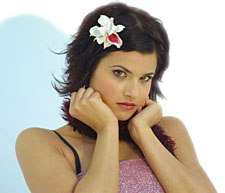 Thank You

Lizzy Strain
Julie Strain
Kevin Eastman



Glamourcon extends a special thank you to everyone who made this interview possible.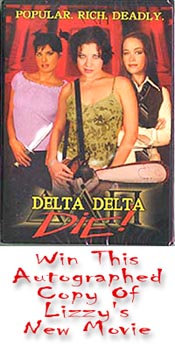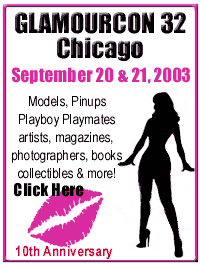 Interview Questions by
Bob Schultz &
Keith E. Williams

Photography By
Keith E. Williams
www.Exoart.com



We appreciate feedback
It helps us make a better site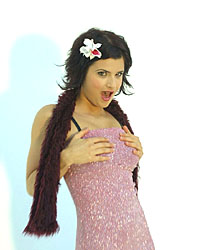 Glamourcon's July Interview - Issue #7
On a beautiful spring day in the Hollywood Hills, GC got a chance to get to know Julie Strain's talented little sister, Lizzy. This rising star shares her thoughts and plans, right at the start of her career.
---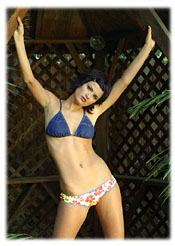 GC: It's such a pleasure to meet you. I know that you will be a fresh face to many Glamourcon fans, so please, start by telling us a bit about yourself.
Lizzy: Well, I am from Kalamazoo Michigan. Julie discovered me when I was fourteen or fifteen. Well, actually my Mom sent her a letter through Penthouse. She flew me out to California and we played dress up, did photo shoots and hung out at the Playboy Mansion. I was sixteen, like a little girl, scared out of my mind, but it was good experience.

GC: So, you liked the Playboy mansion??
Lizzy: Yeah, I do. It's a lot of fun. We went there for New Year's and Halloween. Halloween was amazing! I don't know how much he spent on his haunted house. It was fantastic!

GC: Tell us about the photo shoots with Julie.
Lizzy: I'd come and go to California to visit and then six months ago she said come on, you're coming out. We're doing this now... move in with me, I'm gonna be your stage Mom. So, six months into it and I have had so many jobs and met so many nice people. It's kinda nice because I get the back door to all her jobs, and she makes them put me in her movies. I'm like her little sidekick in movies and stuff. I guess I am pretty lucky because a lot of people come out here and don't know anybody. They have no one to steer them away from the bad people or know the right people to talk to.

GC: What was your first paying job?
Lizzy: Probably for Trashy Lingerie Modeling - www.trashy.com. They are like a family and they are so great! They love me and I am all over their site.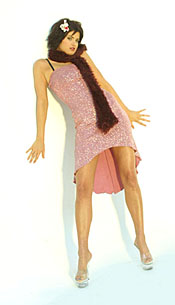 GC: Are you still working with Trashy?
Lizzy: Yes, I just did a shoot with Susan Block. I went to her little studio and had a live Internet trashy girl fashion show and got to meet her - it was fun.

GC: Have you done any print modeling?
Lizzy: I just did Dazed and Confused - it's a really cool European magazine. I also did a Femme Fatale.

GC: I understand you want to get into movies.
Lizzy: Yes, I've been doing a lot of extra work but we also just wrapped Delta Delta Die. The director is Devin Hamilton and I had just little parts in two previous movies before that. I'm just getting comfortable. I have been taking a lot of acting classes.

GC: Where do you take your acting classes?
Lizzy: Margie Haber Studio.

GC: It's a lot of work, isn't it?
Lizzy: Yes, but I enjoy that a lot. We do cold reads and read in front of the camera. We also do different activities so it's kind of like counseling in a way. You also get to interact with everybody and pull up life stories to go along with the acting - it's really cool.

GC: You think these classes are really necessary, don't you.
Lizzy: Oh yes. You have to learn your craft.

GC: From your first movie until now, how has your comfort zone expanded?
Lizzy: I was in one of Devin Hamilton's movies and I was scared sXXtless. I was so scared and Julie was saying "come on, there's nothing to be afraid of. It's like three lines, come on, come on." She coached me through it. I was so nervous that I was going to screw up but it actually went really well. And then every movie I progressed so much more in the acting classes. Before I was pretty shy about it, but now I am really confident.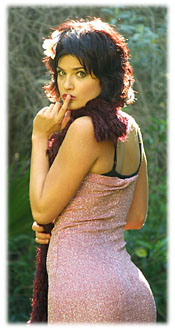 GC: Where do you see the acting career going?
Lizzy: We're sticking with a lot of the directors that we are working with now so we keep moving up as they keep moving up. A couple of national commercials would be nice. Maybe small roles in movies. I've only gone out for three commercials and actually I have an audition today for an AT &T commercial so hopefully

GC: You had some movie scenes with a famous scream queen, Brinke Stevens.
Lizzy: Yes, she is very nice. She actually took me up the stairs and knocked me over the head with a lamp. She's great!

GC: You had your coming out party at VAMP courtesy of Golden Apple Comics. How did you get in with them?
Lizzy: We walked in one day and Julie (Strain) said, "This is my little sister. She's trying to break her way in to Hollywood and we want to have a coming out party so she can be my sidekick at the convention." It was really exciting and was a lot of fun! It was crazy to see fifty fans at the table just in awe over my sister. I'd be walking around and no one knew who I was and then they announce me as Julie Strain's little sister and everyone was freaking out. So I was signing pictures and it was real overwhelming. I felt super famous or something.

GC: Do you want to work the other side of the camera?
Lizzy: Definitely. I took photography in high school and Julie has given me a lot of the artsy information - the artistic view of it. I like the behind the scenes also.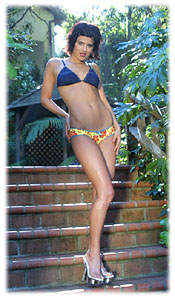 GC: Want to tell us about your love life?
Lizzy: I am single. You know, I have a few guys in mind but I really don't have time and Julie kind of keeps me kept away in the hills - away from all of the bad guys and bad people. I don't really have time for anyone, so that's okay.

GC: What do you like to do with your free time?
Lizzy: I like to rollerblade. I like to read. I love good movies - like Fight Club, and Corrina, Corrina. I'm really into politics. I'm disgusted by the possible war (Ed Note: it was still impending at the time of this interview). It's really sad ... it's just really sad. I kind of consider myself a humanitarian. I like animals. I'm for women's rights, that kind of thing. I also like movies like Amelie. It's just a really good ' feel good' movie. I like movies that make you feel good or have a really good plot. Amelie is just quirky and different. I just love the whole thing. It's so cute and so good.

GC: There's a rumor that you like to cook.
Lizzy: I was in a student ghetto back home with, you know, three roommates and we'd eat cereal and macaroni and cheese. Now I've been cooking with Julie, learning how to make good meals - good chili with all of Julie's secret spices and ingredients. I am going to be a perfect little housewife by the time she gets done with me. My favorite thing to cook is probably Chili. (In the background, Julie begins to tell us about her Chili ingredients and we are all now strangely hungry...)

GC: What don't you want to do?
Lizzy: I don't want to get into the stereotype of the young cute girl in Hollywood that gets in to drugs and marries the rich older guy. I don't want to do any nudity. The more life progresses the more I am confident







GC: Do you have anything you want to say to your fans?
Lizzy: Look out because I am here! Keep an eye out for me because I'm the new hot thing. I want to say hi to Charlie. He's probably my favorite fan. He's so nice - he's the sweetest guy, he's great. I met him at your VAMP show.

GC: We wish you all the best as you rocket to the top!

Take a moment or two to view the photographs of Lizzy displayed below. Lizzy will soon have more of the fun and sexy images displayed a Julie's site - check it out at www.JulieStrain.com in the very near future.


| | |
| --- | --- |
| Feedback Helps Us Make A Better Site. Please Take Moment. | |
There will be more interview and additional photos at
www.JulieStrain.com