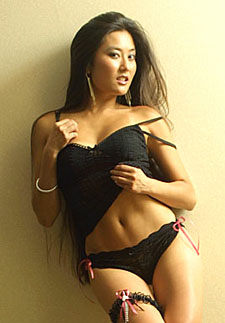 Thank You

Miss Becky



Glamourcon extends a special thank you to everyone who made this interview possible.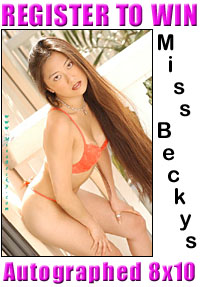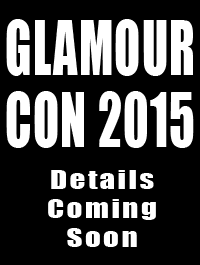 Interview Questions by
Bob Schultz
Photography By
Keith E. Williams
www.Exoart.com



We appreciate feedback
It helps us make a better site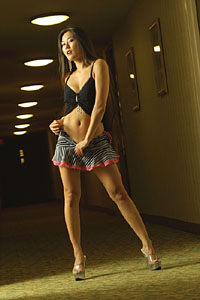 Glamourcon's March Interview - Issue #12

Miss Becky was so excited be the next Glamourcon.com Girl that we started to photograph her in the hall before she even got to the studio! You can imagine why the same guy kept walking back and forth down the hall during the shoot. We weren't surprised when he kept apologizing saying he had forgotten something...Hmmm...

Miss Becky is the darling of the import car scene and you will see why when you read her interview. Oh Miss Becky!
---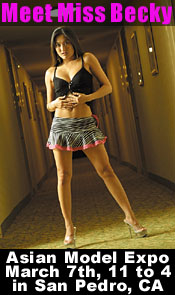 GC: Tell us a bit about yourself.
Miss Becky: I was born & raised in San Francisco. Iíve never lived anywhere else. I went to Catholic school for 12 years of my life. That must be where my passion for plaid skirts came from. I even went to an all girls high school. I grew up with very strict parents & wasnít allowed to do much as I was growing up. To this day my mom still has no clue about my modeling career. I am the youngest of four children & I admit that I am quite spoiled. Since I have been spoiled all my life I continue to spoil myself with my favorite things like lingerie, clothing & shoes!! Who wants to take me shopping??? Iím just kidding. I consider myself to be pretty self sufficient & very low maintenance. Along with modeling I actually do have a full time 9-5 job. Itís a lot of long hours, but as long as Iím having fun thatís all that matters. Iíve been told by many people that I am easy to talk to & very approachable. I think Iím a very friendly & down to earth person.

GC: When did you first get involved with modeling?
Miss Becky: Iíve been modeling for almost two years now. Before I really got into it photography was my main hobby. It was my major in college for a while. It was a long transition period for me & I couldnít seem to put my camera down to focus on being in front of the camera. Maybe it was in a way like my security blanket. I used to avoid cameras & not allow strangers to photograph me. Now Iím sitting on strangersí laps to take Polaroid's. Imagine that. (Ed. Note: Hmmm, we are...!)

GC: Do you remember you first paid shoot? Tell us about that.
Miss Becky: My first paid shoot was for the cover of a radio control car magazine called Touring Cars. I represented RC Car Action magazine for a year by attending various import car shows to promote their big show RCX & acted as their spokesmodel for the actual show. It was an interesting shoot because I had to pose w/ little radio control cars rather than an actual full size car. Itís not that easy trying to model w/ such little cars. We shot for about four hours & towards the end of the shoot I was so tired that I was in a terrible mood. Needless to say I had some angry faces in the last few shots. Of course you can guess which shot ended up being on the cover. Itís true what they say about you being your worst critique, but I hated the image they used.

GC: Do you have any mentors in the business? Models and/or photographers you admire?
Miss Becky: Alley Baggett has been a huge inspiration to me. She is such a strong, beautiful & sweet person. There are so many photographers that I admire. Iím lucky to have a circle of close friends who are all wonderful photographers & great people. The only down side of being surrounded by photographer friends is the fact that they love capturing me at my worst whether itís a funny face Iím making or putting me in the strangest settings just to snap a shot theyíve envisioned.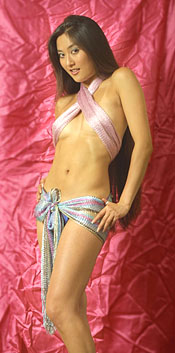 GC: You are certainly a fixture on the Asian model scene. Many of the import car shows specialize in featuring Asian models. Tell us a bit about those shows. How do they compare with shows like Glamourcon?
Miss Becky: I attend pretty much all the major import car shows in California & many across the country throughout the year. The best shows are the Hot Import Nights shows. These events are basically a huge gathering of fans of import cars & sexy models under one roof & the lights are off. It gives the feel of a clubbing environment & that's part of the reason that it draws the 10ís of thousands of people it does. Most shows have a stage where dance groups perform, DJs spin & Go-Go dancers work the pole to entertain the crowds. If you're lucky you may even see a fire performance by Masuimi Max. These shows are a lot different from a Glamourcon show. Import car shows are usually held in large convention centers because of the amount of people who attend the shows. The models that make appearances at these shows either sit at tables & sell their merchandise like at Glamourcon or they are working at a booth or posing with cars. Itís certainly not a place to have an intimate conversation w/ a model since the music is extremely loud. However itís a great place to meet lots of different models & have access to photograph many of them without many restrictions.

GC: We hear you are working on a new project, Import Idols. Tell us about that.
Miss Becky: Iím so excited about the DVD. Itís called Import Idols & I am the hostess & a director for the project. There are so many DVDs currently being sold about the import scene. All of them are mainly about the cars. However we all know that guys arenít really going to these shows to check out the cars. The celebrity models of the scene have been a huge part in making these shows what they are today. I basically chose two of the most popular models from the import scene & weíre going to give fans a chance to see what these girls are like outside of the scene. It will feature Sasha Singleton & Flo Jalin. Itís all exclusive footage of both models & will this DVD will be the first of itís kind since itís all about the girls. We had so much fun working on this project. Weíve gone on many shopping trips, spent lots of time in hot tubs, threw Sasha a lingerie birthday party & the girls have go-go danced more than they have ever before. The DVD is going to be so hot itís hard for me to hold in the excitement, but at the same time I canít give it all away. Let me just say this was the first time Iíve been topless with two girls. = X

GC: What other projects are you currently working on?
Miss Becky: Import Idols has been keeping me quite busy since I like to be in charge & make decisions. I wanted to be a part of every piece of the project & I always like to be right. Hopefully when itís all complete Iím still liked by all my partners. Our next project is a DVD about glamour models. I will be a producer on this DVD. Weíve done some filming for it w/ models we met at the last Glamourcon in LA. Iíll keep you all posted on itís progress.

GC: Do you have any plans for video work?
Miss Becky: Well since Iíve been filming for Import Idols I guess Iím already doing video. I not only directed the DVD I am actually in it. Fans will get to see me in action. It will soon be available in Miss Beckyís Boutique. As of right now Iím planning on continuing on the Import Idols series so there will be more video footage of me to come.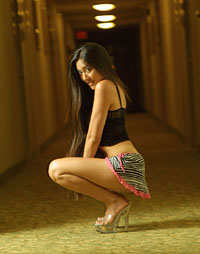 GC: Do you have a website? If so, what does it have inside? What do members get?
Miss Becky: For those of you who have seen my site I know your first question will be ďWhen Will It be Finished?Ē Iíve been so busy for the last year traveling for shows & filming the DVD. My site is not my #1 priority. I like to focus on personal appearances since that is where I actually get to meet fans & talk to them. The one place that I do keep updated daily is my Yahoo Group. Itís just a fan club type thing where I list my upcoming appearances & share candid photos from shows. Iím still planning on creating a member section on my website & that is where I will post images from my various photo shoots. I am very protective of my images & that is why I rarely have photos from shoots posted on the Internet. I have thousands of photos of myself & the only place that you can see a few are at shows like Glamourcon. I keep the rest to myself. = ) I know I need to learn to share. Just be patient. I think itíll be worth the wait. Did I mention that fans can purchase my panties from Miss Beckyís Boutique on my site?? = )

GC: How did you hear about Glamourcon and when did you first come to the show?
Miss Becky: If I remember correctly I found out about Glamourcon from Alley Baggett. I have always been a huge fan of hers & I attended my first Glamourcon to see her a few years ago. I had met her before when she was the official spokesmodel of a popular import car show. To this day I have not figured out why, but Alley is the only person in the world that makes me nervous. I would get really hot & almost shaky each time Iíd see her. I couldnít even talk to her. Iíd just take a picture with her & walk away.

GC: Has Glamourcon been of benefit to you? Would you recommend it to other models?
Miss Becky: Glamourcon has definitely been a huge benefit to me. It has given me a chance to meet lots of fans & create a huge network of models, photographers & artists to work with. Within a few months I had been drawn by Todd Borenstein, shot with Albert in Miami & shot with Dave in NY & LA. Thatís just a few of the results of attending two Glamourcon shows. Most importantly I had the opportunity to meet the wonderful Bob, be a guest judge in the Glamourcon photo contest in Chicago & shot with Keith in Chicago as well. What more could I ask for?

I certainly recommend that models attend Glamourcon as models. I notice lots of girls coming to the shows to walk around & get an idea of what itís like. Iím not sure if they are hoping to network with people by doing this, but itís completely different when you are sitting behind the table. It gives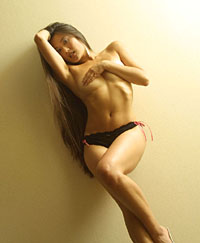 photographers, producers & other people looking to work with models a chance to come up to you to discuss their needs & possibilities of hiring you. Not to mention you have a place to display samples of your work to let people see what you have to offer & ask you questions. I have to admit that in the beginning it maybe scary sitting there. It still takes me awhile to get comfortable after setting up my table. It makes me a little nervous having so much attention from all the fans. After you get to know the other models it puts you at ease & it then becomes fun.

GC: Do you have a Glamourcon story you would like to share?
Miss Becky: At the last Glamourcon in Los Angeles I was sitting at my table & when I looked up I saw Alley Baggett standing in front of me smiling. Needless to say I started freaking out & got into my usual nervous state. I was so happy to see her. She came over, hugged me & laughed at me for being my usual silly self. That was probably the best Glamourcon moment for me. My idol was coming to say "hi" to me. It was a reversal of roles from my first Glamourcon where I was standing in front of Alleyís table to say "hi" to her. She is such an awesome person. Alley was there scouting for potential models for her new projects. Such a hard worker.

GC: What advice would you give to models just starting out?
Miss Becky: Figure out what it is that you would like to accomplish & why you want to do it. That way youíll know your goals & hopefully youíll be less likely to let someone talk you into doing something you wouldnít normally choose to do. Donít try to be something youíre not just because you think thatís the way you need to be in order to be successful. Lastly, be sure to have fun. If youíre not having fun then why do it? Money isnít everything & wonít necessarily bring you lasting happiness.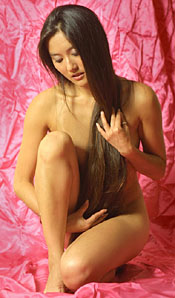 GC: Tell us about your passions.
Miss Becky: Believe it or not working is one of my passions. I am a perfectionist & I take great pride in everything I do. I put all my efforts in everything I take on.

GC: What would you like to say to you fans?
Miss Becky: I am so flattered at the thought of having fans. You have all been so supportive of me & I am thankful of each & every one of you. One of the most enjoyable things is meeting you all in person. Please donít be shy when you come to shows. I donít bite so be sure to come say "hi." Thank you to all my fans. I truly appreciate the support!!!

GC: What does the future hold for Miss Becky?
Miss Becky: The possibilities are endless.

GC: Tell us a secretÖ
Miss Becky: I donít have any secrets. = ) Well, I have a hard time sleeping alone in hotel rooms. So I always bring a sleep buddy w/ me when I travel. His name is Snoopy. He keeps me warm & loves to cuddle.

GC: We look forward to seeing you again at AME on March 7th in LA. We're sure after reading about you and checking out your photos - there will be some new fans there to see you. Thanks for hangin' with us and see you at the next Glamourcon.


| | |
| --- | --- |
| Feedback Helps Us Make A Better Site. Please Take Moment. | |
You can see more of Miss Becky at
www.MissBecky.com