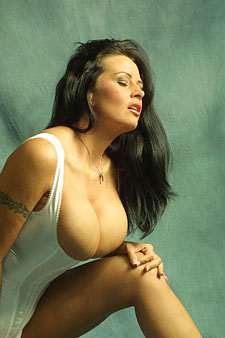 Taylor Kennedy Details
Main Web Site:
www.TaylorKennedy.com

Interview Date & Location:
August 27th, 2004
A Nice Chicago Studio


Thank You

Taylor Kennedy



Glamourcon extends a special thank you to everyone who made this interview possible.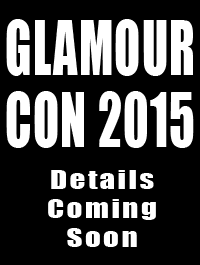 Interview Questions by
Bob Schultz
Photography By
Keith E. Williams
www.Exoart.com



We appreciate feedback
It helps us make a better site





Glamourcon's October Interview - Issue #17

Hey Tay, Whaddaya Say ? This blue-eyed natural vixen has made her mark as a Playboy model, Hooter's trainer, fitness guru, business owner and web designer. After spending some time with her, we know there are more things for her to conquer. But, we'll let her tell you about that. Her friends call her Tay, TK, Liz or Tennessee. We call her our Glamourcon Girl for October, Taylor Kennedy.
---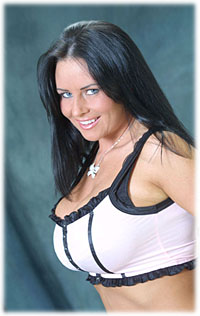 GC: You grew up in Tennessee. Tell us, Southern Belle, NASCAR Groupie or...?
Taylor: Yes, I grew up in Nashville, Tennessee! I'm a Southern Belle, a huge NASCAR fan, and a Tennessee Titans fan! Dale Jr. is my favorite NASCAR driver and I try to watch all the races. Yes, I'll admit I have a crush on Jr. but let's keep that between us! ;) I also have a lot of respect for all the drivers. And I'm a big fan of the Tennessee Titans! I go to all the games when I'm in town and when I'm not, my friends get to enjoy my season tickets!

GC: You began your modeling career in South Carolina. What was your first modeling job?
Taylor: My first modeling job was for a local swim wear publication in Hilton Head, SC. I happened to meet the photographer and he asked if I wanted to do it, and of course I was up for it. The shoot was on the beach and it was my first time in front of the camera. I loved every second of it. And when I saw the publication, I was so excited. I wanted to make a career of modeling!

GC: You were the Head Trainer at Hooters in Nashville? (stopping to imagine what that might mean...) OK, you've got to fill us in. What does a Head Trainer at Hooter's do?
Taylor: LOL! Yes, I was the Head Trainer at Hooters in Nashville. I was responsible for training all the new Hooters girls that came to work at Hooters. Believe it or not, Hooters girls had to take tests before they could wait tables. What a riot! Of course, no one ever cheated! ;) After their tests, they would follow me around for a couple of days to watch how I waited on my tables. Then for a couple of days, I would follow them around as they waited on my tables. Now, this part was great because they did the work and I got to keep all the tips!

GC: You became a certified personal trainer. That is not an easy thing to do. What did you have to do to get that certification?
Taylor: Yes, I'm a Certified Personal Trainer through the International Sports Sciences Association. It was not an easy thing to do at all. I studied for months before my classes even started! I took a weekend course in Atlanta to get my certification. As soon as I got there, I had to turn in a completed open book test which included some very difficult essay questions. And as soon as the professor arrived for class, he informed us that 50% would fail. What a hard ass! We had a day of instruction in the classroom and a half day of instruction in the gym. The gym instruction was definitely my forte! After the gym instruction, we took our final exams. I was so excited to learn I had passed! After I received my certification, I opened my own personal training business, Fitness Physique!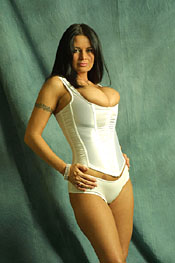 GC: We couldn't help but notice that you have been in Playboy's Playmate 2000 Search, Playboy's Natural Beauties and Playboy's Voluptuous Vixens. Tell us about your Playboy experience. How did you come to Playboy?
Taylor: My Playboy experience has been phenomenal! I've had so much fun working with Playboy! I originally went to Playboy's Playmate 2000 search and was not chosen. It was pretty funny, actually! When I get there, Playboy asks me if I mind if a TV camera follows me through the audition process and then the segment would end with me being interviewed. I assumed it was for Playboy TV so I agreed. None of my family knew I was doing this so I doubted they would ever see Playboy TV. The camera follows me through the big bunny bus and films a little of my nude shoot. Then, after the interview, the reporter tells me that I can watch my segment on the local news at 6! I was freaking! LOL! At 6:05 my phone started ringing off the hook! My family found out but they were totally fine with it! I was also still working at Hooters at the time and a lot of people that came in would recognize me from that news segment. How funny!

Playboy then came back to Nashville in early 2003 and held a casting call for new Special Editions models. And even though I couldn't get an appointment because they were all booked, I was one of the first girls to show up! I was bound and determined to audition that day! I did get my audition and the rest, as they say, is history! I was one of 15 girls chosen for Playboy's Cyber Club and added to their Nashville Casting Calls at Playboy.com. Playboy later called me and said that they had received great reaction to my photos inside the Cyber Club and they wanted to fly me to Playboy headquarters in Chicago to shoot for 3 Playboy Special Editions. I was very, very excited to see my very fist issue in print! I was recently invited to be a guest on Playboy Radio with Juli Ashton and Tiffany Granath. That was so much fun and I would love to do more radio with Playboy. I also recently attended the Midsummer Night's Dream party at the Playboy Mansion and it was an amazing time. And, I just found out that my third Playboy Special Edition will be out at the end of November....another Playboy's Voluptuous Vixens!

GC: What has your experience with Playboy done for you?
Taylor: My experience with Playboy has taught me so much! I'm actually less shy than I was before my work with Playboy! I used to be deathly shy as a child. But when I posed for Playboy, all that shyness flew out the window! Playboy has also helped my career really take off. I've been traveling and shooting nonstop since my Playboy's hit the newsstands! I've had the opportunity to meet some great people, I've made some amazing friends and I've had some incredible experiences that I'll never forget. I would not have been able to do all those things had I not been a Playboy model. I can't wait to see what happens next. :)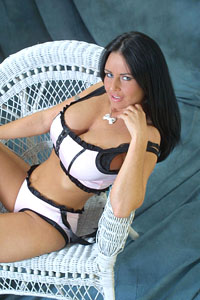 GC: We see you did some commercials. Which was your favorite?
Taylor: My favorite would have to be my Hooters commercial! I had a great time working at Hooters and shooting that commercial was no different. It really wasn't work at all! Half way through shooting, we took a break and I told the director I had to run an errand up the street and I would be right back. Truth is, I had to go to court because I had gotten a speeding ticket and my court date was the same day as the commercial shoot! There was no way I was going to miss the shooting of my Hooters commercial! So, I run up to the court house and plead guilty to speeding! Then I ran back down to the filming of my Hooters commercial! No one ever had a clue! :)

GC: We know you want to move forward in your acting career. When do you think we may see you in a major motion picture?
Taylor: I absolutely would love to move forward with my acting career...and I am! I am set to start filming a picture with National Lampoon in Jamaica this year at Hedonism II. It's entitled 'Celebrity Strip Poker' with Nikki Zereing, Kato Kaelin and the girls of Playboy. Look for it to air on Pay-Per-View in January of 2005 and it will be released on DVD as well. I also look to appear in major motion picture in the next year! Stay tuned!!

GC: How did you hear about Glamourcon?
Taylor: I actually found Glamourcon by way of the Internet! I was surfing the web one day and came across the Glamourcon website. I thought it was a great place to meet my fans, meet fellow models, and make great contacts within the industry. And it has been! I had a fabulous weekend at Glamourcon 34 in Chicago and the After Dark party was fun too! I look forward to attending Glamourcon 35 in LA as well.

GC: What has the Glamourcon experience done for you?
Taylor: One thing that I really appreciate about Glamourcon is that it gives me the opportunity to meet my fans face to face. Sometimes you tend to look a little different in print and your personality doesn't always come through in pictures and on the Internet. But when someone meets you in person, they get to see the real you. There's no Photoshop in real life! And I love being able to actually speak with my fans one on one. I've had people fly and drive all the way across the country just to be able to meet me and talk to me at Glamourcon. I think that's awesome! If my fans are willing to go that distance, attending Glamourcon is the least I can do for them!

GC:Do you have a memorable Glamourcon story you might want to share?
Taylor: At this past Glamourcon 34 in Chicago, I got to Chicago a little early so that I could actually shoot the pictures to accompany this interview. Well, after the shoot and later that night, a friend and I went to the hotel bar just to relax and have a few cocktails. I ended up talking to a few people sitting next to me that night but it was pretty quiet. The next day at Glamourcon, a ton of people that I met kept saying "I saw you last night at the bar!" I asked them why they didn't come and say hello and they just said they didn't want to bother me! I told them that at anytime I'm seen out like that, please stop me and say hello! That's what I'm there for! Don't be so shy guys...I don't bite! Promise! ;)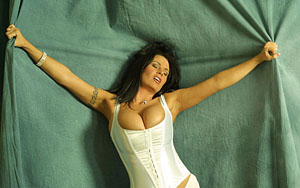 GC: You're a girl that's certainly not afraid of tattoos. Tell about your tattoos and what they mean.
Taylor:Who me? Tattoos? :) No, I'm certainly not afraid of tattoos! Sometimes I think about getting more but I know I have plenty already. Currently, I have 6 tattoos. I have the Japanese word for "love" on the back of my neck because I think of myself as a very loving person; a tribal armband on my right arm that represents my Cherokee heritage; a red heart with tribal and flowers on my lower back because I'm a sucker for flowers and hearts; a red rose below my tummy which was my first tattoo, again I love the flowers; on my right leg near my ankle, a small tribal tattoo that again represents my Cherokee heritage and I have an anklet of daisies because I love flowers! :)

GC: We read that you have your own fitness business. Tell us about that.
Taylor: Yes, I did have my own personal training business, Fitness Physique. It did very, very well and it kept me extremely busy. I thoroughly enjoyed training people and sharing in their success! But, in the past couple of years my modeling career had been keeping me even busier so I had to make a very difficult decision in my retiring from personal training. Although it was a difficult decision, I don't look at it as a sad one. When one door closes in life, another one opens. And in this situation, I had two doors open at the same time! lol And, although I no longer own my personal training business, I'm still at the gym working out 4 days a week!

GC: Your bio says you decided to control your own Internet site and learned Internet design from the ground up. Why did you decide to climb that learning curve instead of letting someone else do the site?
Taylor: I decided to design my own website because, honestly, I felt like I needed to keep complete control over my site and my image. I felt that I would not have able to do so had I hired a webmaster at the beginning. And now, more so than ever, I feel like I made the right decision! Granted, there are many hard working, honest, professional webmasters out there! But, I've heard a lot of model's stories of how they were ripped off by a webmaster who didn't follow through on his/her promises. And actually, just recently, I have hired a webmaster to handle the day to day operations of my website such as updates. But, I still have complete control over my site. I still do all of the design myself and of course, I answer all of my email myself!

GC: Speaking of your site(s), tell us what your fans get when they join your site.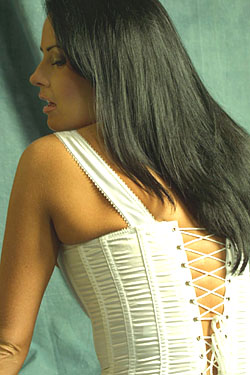 Taylor: AVN Online Magazine says of my site, "There's real interaction between Kennedy and surfers here--top notch all around!" I think the number one thing a fan gets when he or she joins my site, is real live interaction with me. I can guarantee I'm the person answering my emails and I have a weekly Live Webcast with Chat right from my very own bedroom! Members of my website can log on, see me and chat with me live for an hour, every single week! This live video chat is super sexy and is a favorite among my members. Members of my website also get my personal photos inside the Photo Zone. This includes photos shot exclusively for my members area as well as Girl/Girl photos, Candid photos, Behind The Scenes photos, Webcast Still photos, and my Girlfriends photos. Members of Club TK will also enjoy exclusive super hot, soft core videos in the Video Zone. Inside the TK Lounge, members interact with me on the Club TK Forum as well as enjoy my Fit Tips, Funnies and Downloads! This section also includes an extensive Help section in case you have a question or get lost! I also have a very unique area called the Audio Zone where you can hear my voice as I answer member emails, tell jokes and make comments. And inside the Data Zone you can learn more about me and my life by visiting my Biography, Naughty FAQ's, Journal and more! You can read all about my crazy adventures from the Playboy Mansion to my Playboy photo shoots inside my Journal. As you can see, my website is packed with lots of things to see AND do! ;)

GC: Where does Taylor Kennedy find passion?
Taylor: I find passion in many things. Whatever project I'm working on at the moment, I can guarantee I'm passionate about it! I'm very passionate about people being treated equally. I don't think it's difficult to treat others with dignity and respect. I also believe that with all you do, have grace! Even if someone treats you badly, treat them well in return. You don't know what kind of day they've had. Give them a break, be nice and move along. I also feel passionately about education. All children deserve an opportunity for a good education. Be that kindergarten or college. Every American deserves that! Currently, I have plans to establish the Taylor Kennedy Foundation which will provide college scholarships to young adults.

GC: Tell us a secret...
Taylor: Well, after this it won't be a secret! lol Although, I don't wear the jewelry any longer, I used to have both nipples pierced! ;)

GC: OK, most important question. Tell us the truth ... does Bob have a career as a photographer's assistant?
Taylor: Honestly, yes AND no! Bob, in order to have a career as a photographer's assistant, you have to be able to be in the same room with a totally naked woman. As soon as my clothes came off, Bob ran! LOL! But, while getting the photographer and me to the studio, Bob gave us a fabulous tour of Chicago! And I have a feeling that no matter what city Bob's in, he would be able to give the best tour! (Bob: I didn't run.... I walked quickly!)

GC: Thanks for a great afternoon. We had a blast hanging out with you. We're glad you enjoyed the impromptu tour of portions of Chicago. We look for to seeing you again at the next Glamourcon!


| | |
| --- | --- |
| Feedback Helps Us Make A Better Site. Please Take Moment. | |
You can see more of Taylor Kennedy at
www.TaylorKennedy.com