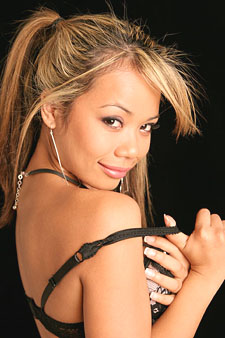 Luana Lani Details
Main Web Site:
www.LuanaLani.com

Interview Date & Location:
May 2005
Eternal Desire Studios
Southern California

Thank You

Luana Lani
Eternal Desire Studios



Glamourcon extends a special thank you to everyone who made this interview possible.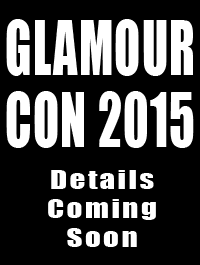 Interview Questions by
Bob Schultz
Photography By
Keith E. Williams
www.Exoart.com



We appreciate feedback
It helps us make a better site





Glamourcon's June 2005 Interview - Issue #23

Our June 2005 Glamourcon Girl hails from the Aloha State. She is a rising star in the Import Model scene and has already been featured in Playboy's Wet and Wild Special Edition. Her website is ULTRA HOT so be sure to look for much more sizzle from this island girl, Luana Lani.
---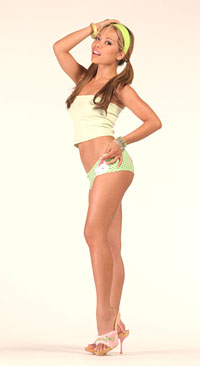 GC: Tell us a bit about your background. Where, when, etc.
Luana: I'm was born in the Philippines but grew up in Hawaii. I moved to LA right before I turned 19.

GC: What brought you to the Mainland?
Luana: I moved to the Mainland to pursue my modeling career.

GC: What do you miss about Hawaii?
Luana: I miss the beach, for sure! I used to go skinny dipping and sunbathing all the time. I can't do that in California! I also miss the "Aloha spirit" that most people seem to possess. People there are just so darn nice =)

GC: What got you interested in modeling?
Luana: I always enjoyed taking pictures and people told me I was photogenic, so, ever since I was 13, I had it stuck in my mind.

GC: Tell us about your first shoot.
Luana: First photo shoot was awful! The photographer was apparently shooting me just to get his jollies. The next couple ones after that weren't that much better. It was only until I learned my mistakes that the photo shoots became more enjoyable and professional.

GC: We hear that you have been in Playboy's Wet and Wild Special Edition. Tell us about your Playboy shoot.
Luana: My Playboy shoot took place in a club in Miami. I was flown in for a couple of days and basically pampered on the day of the shoot. My setting was a drum set in the rain - which was a lot harder to shoot than most of the stuff I've done in the past. But the pictures are worth it =)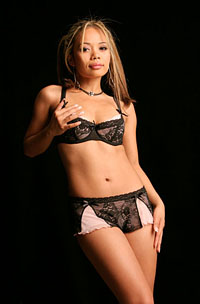 GC: Do you think you would like to be a Playboy Playmate?
Luana: I would love to be a Playboy Playmate. So if anyone has any ideas of how this can happen, be sure to contact me, hehe.

GC: What is your favorite type of modeling?
Luana: I like glamour modeling cause I can get all dolled up and get my makeup done.

GC: Do you have a memorable photo shoot story?
Luana: I remember my first girlfriends photo shoot with Francine Dee. She's this hot Asian model with big boobs. I had never done a professional girlfriends set before shooting with her and she'd already been established for a while. We first shot in a bubble bath and she totally took control. I was sooo nervous! I didn't even know what to do and how far to take things. After that, we did a shower set. She's really fun to shoot with because she's got so many ideas and poses. I wouldn't mind shooting with her again.

GC: What do you do to relax after a shoot?
Luana: Eat, eat, and eat!

GC: Any photographer or magazine you would like to shoot for?
Luana: No one in particular...it would be a dream to get featured in magazines like Maxim and FHM.

GC: Do you have a favorite model in the business? One that you like personally, respect or like to be like?
Luana: I was always such a big fan of Tila Nguyen. I kind of identify with her in some ways. She's had a tremendous amount of success in her career and I hope to become as big as she is.

GC: Besides video modeling, would you like to go into acting?
Luana: Sure, I'm not a trained actress but it's never too late to start.

GC: What is your favorite type of movie?
Luana: I love comedies. I love getting sucked into a really funny movie and forgetting all about what's going on in the real world.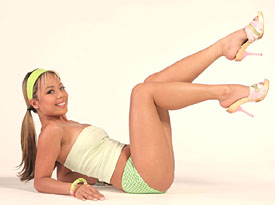 GC: How did you first get involved with Glamourcon?
Luana: I attended my first show last year in LA cause I heard so many great things about it. I always like doing public appearances because I can meet all my fans and fellow models.

GC: Now that you are a Glamourcon veteran, what were your impressions of the show?... the fans?
Luana: The fans that attend the shows are so supportive and respectful. I love Glamourcon!

GC: What was the most common thing fans tell at Glamourcon?
Luana: "You look really young."

GC: How do you respond to that?
Luana: I just smile sweetly and say, "Of course, I'm the naughty little girl next door!" Hahaha, I can get away with saying almost anything cause I'm so innocent looking.

GC: How do you think Glamourcon benefits you or other models? Would you recommend it to other models?
Luana: Glamourcon really helps models to get their name out and provides a nice environment for them to sell their merchandise. It's the best place to meet fans and promote yourself.

GC: What do you find sensual?
Luana: I love watching girls strip dance and listening to sexy music.

GC: What music do you find sexy?
Luana: I think R&B is really sexy. I like contemporary lounge music with a soulful edge.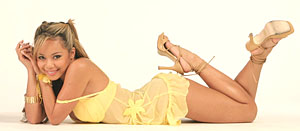 GC: What qualities do you look for in your man?
Luana: I look for a guy with ambition! But he should also be down to earth as well as intelligent.

GC: Tell us about your website, www.luanalani.com What makes it special for members?
Luana: Members can expect lots of updates! I post all nude photos and videos regularly. I also host two webcam chats a week. I keep my diary up to date and I share candid photos. I'm also very active in my forum. My site is different from other sites because, well of course - it features me!

GC: What does the future hold for Luana?
Luana: Hopefully lots of big things in my career! I just wanna take it as far as I can. I'd like to do magazine covers and be featured everywhere. I'd love to work more with Playboy. Later, I see myself getting into photography.

GC: Will we see you at the next Glamourcon?
Luana: I hope so!

GC: Before you go, please tell us a secret.
Luana: I walk around naked in my house all day ;o)

GC: Thanks for spending this time with us. I'm sure the Glamourcon fans will enjoy it. We'll see you at the next Glamourcon!


| | |
| --- | --- |
| Feedback Helps Us Make A Better Site. Please Take Moment. | |
You can see more of Luana Lani at
www.LuanaLani.com