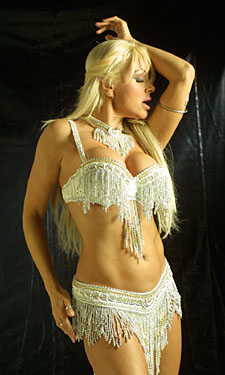 Thank You

Stacy Burke
Creations Models Studio
Moses
Jonathan
Trinidad



Glamourcon extends a special thank you to everyone who made this interview possible.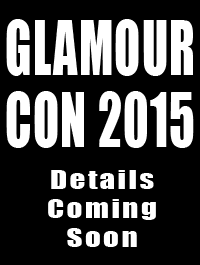 Interview Questions by
Bob Schultz
Photography By
Keith E. Williams
www.Exoart.com



We appreciate feedback
It helps us make a better site


GC OTR Team Reviews




Rental Studio
A Great Place To Shoot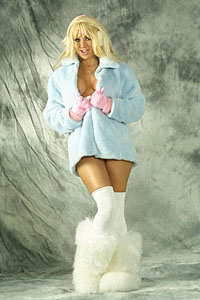 Glamourcon's August Interview - Issue #16

We had the pleasure of joining Stacy Burke in her Fetish A Go-Go world to learn what makes this remarkably beautiful and bubbly woman tick. Model, video star and Playboy Mansion regular - these are just a few of the many sides of Stacy. Join us as we bring you one of the most effervescent models we have ever had the pleasure of spending time with - Stacy Burke.
---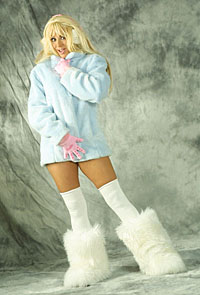 GC: Tell us a bit about your background. Where are you from?
Stacy: I am from Pomona California. My Grandparents raised me strictly. I was a Misfit Punk Rocker who won Homecoming Queen as a fluke. The popular kids were going to pull a 'Carrie' type prank on me, but it backfired. They did not realize that the misfits, underclassmen, geeks & freaks out number the popular kids, so I actually won for real. Hehehe, you should have seen their faces, it was priceless! I played the Sex Pistols and Slam-danced (Moshed) with my Punker friends at my Homecoming Dance.

GC: Tell us how you got interested in modeling.
Stacy: I was raised as an only child, so I had to entertain myself. I got into acting in school and loved living out different roles, fantasy and being anyone I wanted in a wink of an eye. Modeling is a form of acting and I love portraying and exploring different facets of my personality through modeling & acting, no matter how big or small the venue is.

GC: Do you remember your first photo shoot? Tell us about that?
Stacy: I was 18, fresh out of high school and an ex-school mate of mine needed a model for his college Calendar. I loved it! I danced around posing here and there. I was very energetic.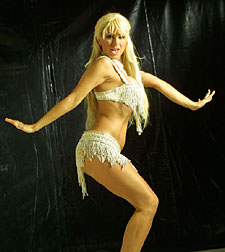 GC: Your website welcomes us to your "Fetish A Go-Go." Let's talk fetish. Tell us about how that got started.
Stacy: I guess I was always into Fetish without knowing it. I loved the old Batman & Robin TV series. My first words was not Mommy or Daddy, it was Batman! I loved everything about that series. The costumes, the in-peril, the fighting, the colors, the bondage, the Superheroes, the good verses evil. I would pretend I was a Superhero or Genie. I also love the old Beach Blanket a-go-go movies. I always wanted to live that life, having bonfires, go-go dancing and partying on the beach.

Funny, I grew up doing exactly what I dreamed of doing that is soooo Groovy!!!

GC: What's it like to be a fetish chick?
Stacy: It's awesome!! It is limitless. It has no boundaries (pun intended). It has no judgment. It is a great title that allows me to be whatever I want and show the world that Fetish does not mean dark or scary. It can be fun and campy as well.

GC: Some folks make the B/D D/s scene out to be dark and oh so serious yet you and your website represent it as being upbeat and fun. Why the difference?
Stacy: My sites reflect my life and me. I am not a dark sad person. I guess I am not your stereotypical Fetish Chick. I generally look on the bright side of life, I love mornings, I love the sun, I love wearing bright colors, I love trends, I love being tan, I love being blonde, I go to bed before midnight, I am not to fond of pain, but yet I love fetish play. I know there are more like me out there. Fetish is not only about darkness, S & M, dungeons, whips & chains. That is like saying "if you visit California, you know what the rest of the USA is about." That is so wrong, it is a part of the US but it does not represent the entire United States.

GC: What was the wildest photo shoot you ever did?
Stacy: Well, it is not that wild, but it sure was fun. I do Air Gun Play Videos. Remember when you were a kid and you used your finger as a gun and you went around the neighborhood running for cover and pretending to shoot your friend and they would run for cover and do the same to you? As you shoot your finger at them, you say the words 'Pow-Pow & Bang-Bang' and every so often you would pretend they shot you and you would fall to the floor in your Oscar Worthy Death Performance. Damn, that is fun as hell and I get paid to do that. Is that awesome or what??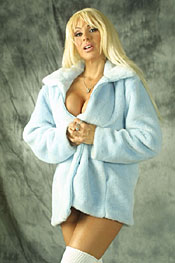 GC: How did you first get involved with Glamourcon?
Stacy: Wow, I don't remember exactly how I got involved with Glamourcon. I think I must have come as a Fan/Customer at first and then I decided to get a booth of my own.

GC: How do you think Glamourcon benefits you?
Stacy: I always have fun at Glamourcon. I usually do not bring much to sell. I usually go, just to go. Every year I get more and more merchandise, so I think this year I will have a bunch of new Videos & Photo CD`s and stuff. I think it does a lot for Public Relations & Networking more then anything. I really do not care if I sale anything. Merchandise selling only goes so far. Person to person contact goes a lot farther. I am mainly there to meet people, talk to my fans and meet with other models & photographers.

GC: Do you have an interesting Glamourcon story?
Stacy: My most touching Glamourcon moment was a few years ago. It was on a Sunday, the last day of Glamourcon. It was the last hour. Many vendors & models packed up and went home early. There were a few fans & costumers strolling around visiting the few left over tables. I still had my booth completely set up, standing & talking to a couple of my 'posse-boys' (my little group of friends that come visit me at every convention and helps me carry things and watch my booth for me during bathroom breaks). A guy walks up to me with a big smile on his face. I could tell he was extremely shy and had a hard time approaching me. He came up to me and proceeded to tell me that he was a fan of mine and that he traveled over 3 hours just to come see me. He was afraid that he might have arrived to late when he walked in and saw a few vendors gone. I talked to him for a while gave him a hug and autographed photo. I could tell it meant a lot to him. I thought to myself, what if I decided to pack up just ½ hour early; he would have traveled 6 hours (3 hours to Glamourcon & 3 hours back) and would have missed me. Ever since then, I try my hardest to be at my booth through out the scheduled time.

GC:The fans and Glamourcon thank your for that too.

GC:Some folks have placed you at one of our favorite places, the Playboy Mansion. What's the skinny on that?
Stacy: I have known Hef for a long time, even before he knew we knew each other! I filmed a Troma movie at the Mansion, I went to a Wrap Party there, and we saw each other at Night Clubs & Conventions. Over 3 years ago I was doing a Live Radio Show from the Playboy Mansion and Hef comes walking out. He sees me, waves and has his photographer get my name & number. The next week Hef calls me! He actually calls me at home and says; "Hello my Darling, this is Hugh Hefner!" He invites me out and asks me 'how do I know you? You look so familiar to me." I proceeded to tell him that we run into each other quite often. That is how it started and I have been his loyal & devoted friend ever since. I once was one of his live-in girlfriends for a while and now I stay at the Mansion every weekend, go out with him & his girls on Fridays and attend all the Mansion Parties. It is a tough life, but I get through it somehow ;-)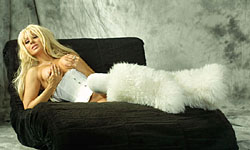 GC: Let's get a bit personal if we may. Does fetish enter what you find sensual?
Stacy: It seems I learn more & more every year. I really favor the Superheroine Role Play. I love playing the Superheroine, wearing a fabulous sexy tight outfit, fight crime, get into trouble, get into peril and I also get the girl!

GC: What do you look for in your "perfect man?"
Stacy: Besides Hugh Hefner? Well, my perfect man needs to be just like your typical Lead Actor Underdog Movie Guy. You know the movies I am talking about. Like the John Cusack type of movies from the 1980`s. The goodhearted, underdog that has a hard time getting the girl because he is so sweet, nice & honest but with a wild sexy quirk about him. Yeah, I want to be the leading lady that he chases after and we live happily ever after once he catches me.

GC: Tell us about your website, http://www.stacyburke.com. It looks like so much fun, what can a member expect?
Stacy: I think it's one of the best values for a fans money that is available on the web! Right now I am running a Join for $3.99 Introductory Special - after that it is a very fair,, low monthly price to make it affordable for fans. I am constantly upgrading, improving and adding tons of new content to it. In fact I am making some major improvements to it this month. It is basically my life, so it is a constant work in progress, just like I am.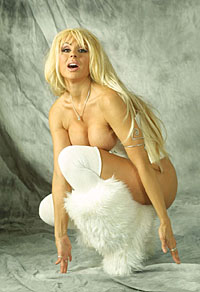 I update weekly with tons of Photos, Videos, 24/7 Live Web cams, Member's Forum, Flashback Section, Featured Friend Section, Pay Per View Archive Library, Audio Clips, Out & About Party & Behind the Scenes Pictures, Magazines, Clothing, Message Boards, Stacy's Words, My Web Journal, Party News, Events, Etc, Etc. It gets bigger a better every year, month, week & day!!!

GC: What does the future hold for Stacy Burke?
Stacy: Who knows? I love creating things, like websites (I have over 70 now), photos, videos, movies, acting, modeling, making & selling stickers, clothing, etc. There are too many Jobs & Careers in the world and so little time. I have never had a job I did not like. If I don't like the job or career that I am doing, I quit and do something else. I will never quit doing what I love, so I will continue to be me, in which, in this case is my career.

GC: Before you go, please tell us a secret.
Stacy: At times, I suffer from a mild case of Road Rage. I am not a very good housekeeper. I don't date. If I am not on a shoot or at the Mansion, I am on my computer, wearing comfy clothes, no make-up, ponytail, eating pretzels and my kitty cats lying at my feet.

GC: Wow, three secrets for the price of one. Thanks. You satiated some of our Stacy Burke fantasies - for now. It's really cool that your the Glamourcon #34 Cover Girl for the Chicago Show We're so glad that you are joining us. See you then.


| | |
| --- | --- |
| Feedback Helps Us Make A Better Site. Please Take Moment. | |
You can see more of Stacy Burke at
www.StacyBurke.com