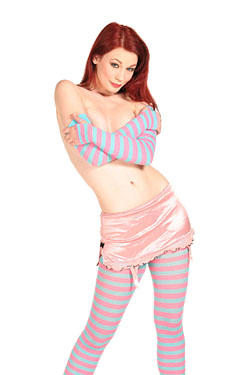 Thank You

Justine Joli
Eternal Desire Studios



Glamourcon extends a special thank you to everyone who made this interview possible.

A Special Thanks to Justine from the photographer.
Your awesome attitude and professionalism are directly responsible for a very successful shoot. I appreciate it. And thanks for building the shoot chair too.
Keith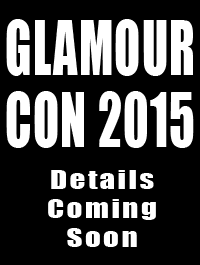 Interview Questions by
Bob Schultz
Photography By
Keith E. Williams
www.Exoart.com



We appreciate feedback
It helps us make a better site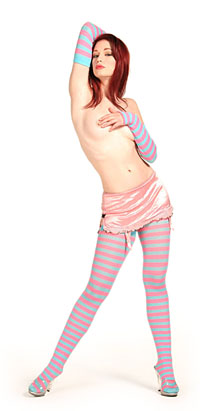 Glamourcon's August 2005 Interview - Issue #25

Her creamy complexion and beautiful red hair are obvious, but our newest Glamourcon Girl of the Month is much more than that. Admitted Sci-fi geek, Anime fanatic and nude bungee jumper - this free-sprit wants to experience it all. We think there's lots more to come. Presenting Justine Joli. Enjoy!
---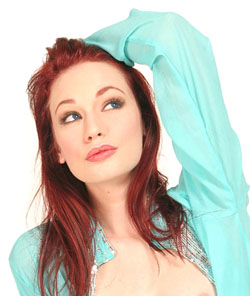 GC: So where does the Justine story start?
Justine: I grew up in Missouri, spending half of my Summers on the farm in Hannibal and the other half in Crested Butte, CO. I loved to horseback ride when I was a kid. I was also a big swimmer. Let's not forget ballet all year round till I was 15. I pushed my parents to put me into ballet by the time I was three.

GC: OK, let's get the nuts and bolts question out of the way. Tell us a how you got started.
Justine: I was scouted by a couple in a mall. I took my mum to the casting. Then they handed me over to an agent in the industry.

GC: Did you do modeling or films first?
Justine: I did mags first. I worked 6 days a week for 6 months doing photo work. I appeared in numerous editions of Penthouse from 2001-2005. The only specific issue that comes to mind this moment is July 2001. And lots of other mags like, Hustler 2001 October (G/G cover) and Hustler March 2002, a solo cover with a red background.

GC: What got you interested in modeling and acting?
Justine: The fact that I got paid to shag girls on film. Well, not just that. I have a fun time with my job.

GC: Tell us about your first modeling job. Nervous or excited?
Justine: Excited? I was so nervous! I don't think anyone could tell though. My first shoot ever was for Stephen Hicks. His whole crew thought I had modeled before. I was nervous because I had never been naked in front of 5 people before not to mention at the time I didn't wander around my own house naked. So that's why I was nervous.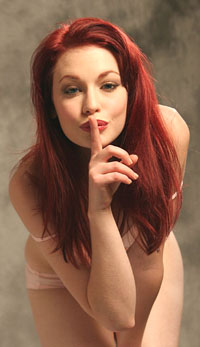 GC: Your first film job?
Justine: It was for Andrew Blake and I stood outside smoking a pack of smokes. I was so nervous that I called my agent saying that I couldn't do the vid. He then informed me that I could and told me to go and then promptly hung up on me. So, I did it and did well!

GC: What's the hardest part of your job?
Justine: 100 degrees in clothes and out in the desert shooting.

GC: Your website header says Fetish Adult Film Star. We must know... Tell us about the fetish part.
Justine: I'm a hardcore sub. I'm dominate in my business life but like to turn the power over in the bedroom.

GC: Do you have a personal fetish you would like to talk about?
Justine: I love feet! They're just sooo cute.

GC: Do you have the opportunity to style your own shoots?
Justine: Sometimes. I mostly prefer to make the models feel comfortable in their clothing. (Photog's Note: Justine created the pink & teal stocking outfit in a couple of minutes. A pair of scissors and some ingenuity and we had a cute outfit.)

GC: Do you have a memorable photo shoot story?
Justine: Yes, the Penthouse shoot. There were so many onlookers to the shoot making me feel uncomfortable so I asked the photographer how much he was charging for admission so the girls and I could get a cut. LOL! He asked what I was on about and told him I was uncomfortable with a room of 40 people watching me. He apologized and sent them away.

GC: Do you have a memorable film story?
Justine: New York, Andrew Blake... For the first time in 2 yrs in the industry my roommate hit on me and we had sex the whole trip. it was rad!!!!

GC: Are there models or photographers whose art you truly admire?
Justine: Richard Avadon, Helmut Newton, Chaz and Ray Chriter.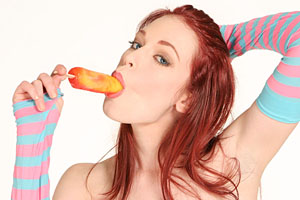 GC: How did you first hear about Glamourcon?
Justine: From Aria (Giovanni).

GC: What did you think of your first Glamourcon?
Justine: I had a blast. The fact that everyone is so respectful and nice. I think, outside of comic cons, this is the best place for models to go.

GC: Would you recommend Glamourcon to other models?
Justine: Oh yes, I certainly would. Because it's fun and safe. The more the merrier!!

GC: So we've heard that your a bit of a geek - and even admit it.
Justine: I'm a sci-fi geek. Love ALL forms of sci-fi. I like playing Spyro and watching cartoons.

GC: We know you like Anime. What attracts you to Anime?
Justine: The barely clad characters and the story line. Ghost in the Shell is one of the best stories ever written for Anime.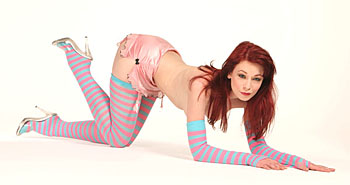 GC: Tell us about "Adult Swim."
Justine: Adult swim is the after hours on Cartoon Network. They show shows such as the Family Guy, Futurerama, Wolfs Rain, and the GIST (Ghost in the Shell) series. I love it and am an avid watcher. Way before they had the black and white cards.

GC: You mention you like to go to comic conventions. Now we know why.
Justine: I go to Star Trek cons. Believe it or not, I have since I was 6.

GC: What is the reaction you get from the fans when they find you are conversant in the comic culture.
Justine: They are always shocked! They don't expect that I will love comics or that I'm into Sci-fi. But I am!

GC: You claim shyness in public. Hard to believe you are shy at all...
Justine: I have always been shy in public. I know, an oxymoron. However, I just feel sometimes like disappearing into the crowd.

GC: How do you cope with your shyness?
Justine: Among other things, I model.

GC: I love your list of favorite movies. Share with the rest of the world a bit about them, especially Hackers... a favorite of your interviewer.
Justine: Angelina (Jolie) is just hot in that movie and, the fact that I'm a computer geek, I so understand what is going on in that movie. That movie is the reason I love girls. It has special meaning to me.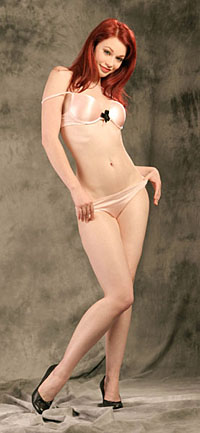 GC: What's on your iPod/MP3, car CD or home stereo?
Justine: It's iPod... mostly techno and audiobooks. Harry Potter in fact.

GC: Have you had a chance to read the new Harry Potter?
Justine: I finished the Half-Blood Prince already. Read the whole thing in 3 days. I also have the audiobook and I listen to it regularly.

GC: A love of French cream sauce. How, with a 32B - 22 - 34 body, do you eat such rich food?
Justine: I just love it. As long as I'm not actually in France I don't gain as much. Last time I went, I gained 15lbs!

GC: How do you keep you skin looking so perfect?
Justine: I take very careful steps. Really. I scrub my skin 3 times a week using Shea Butter and also use a very expensive face wash with Collagen.

GC: We hear you want to bungee jump nude... again.... Wow! We want to hear about the first time!
Justine: It was so rad!!! I did it for a reality series that never went to video. I was standing in Puerta Vierda and watched the first girl jump. She stared crying before she jumped. I said to myself that I wouldn't cry. However when faced with the fact that I was about to throw myself off a 128 meter drop over the ocean I started to cry myself. I asked the owner of the bungee to chuck me off because I couldn't jump on my own. He asked me to close my eyes and he crooned soothingly to me and put his hand on my shoulders and I fell off the ledge. I thought he pushed me. But when I got a look at the film all he did was touch my shoulder. It was the most amazing experience of my life. I shake just writing about it. I still get high off just thinking about it.

GC: What do you find sensual?
Justine: I find touch sensual.

GC: Was this your first shoot with a popsicle?
Justine: As a matter of fact, no.

GC: Describe the man of your dreams?
Justine: Funny, smart, and furry.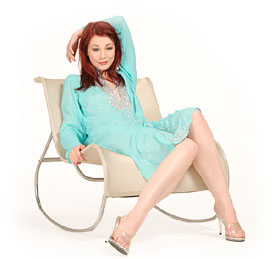 GC: Do you have a general philosophy of life, a way of looking at the world?
Justine: Dance like nobody's watching, love like you've never been hurt, work like you don't need the money and, last but not least, search for something you haven't tried before. Never refuse an invitation, never resist the unfamiliar, never fail to be polite, and never over stay your welcome. Just keep you mind open and suck in the experience. If it hurts you, so what? It's probably worth it.

GC: If you were Queen for a day - what would you change?
Justine: Poverty and health care. Oh and legalize...it.

GC: How do we find you on the web?
Justine: www. justinejoli.com - Fans can enjoy wide variety of photos and videos. There is something for everyone.

GC: What does the future hold for Justine?
Justine: We shall see where the winds of destiny take me.

GC: What do you want to say to your present fans and fans to be?
Justine: Thank you sooo much for all of your support. I'm very thankful and lucky to have you.

GC: Will we see you at the next Glamourcon?
Justine: Yes, of course. Ed: Ed: Justine is scheduled for GC 36 in Chicago on Aug 28-29,2005 - you'll find her on the official guest list here

GC: And finally, our most important question... please tell us a secret.
Justine: I hang around my house naked.

GC: Teasing the neighbors! Thank you for a peek into your life. At this point, I think we should mention to everyone that not only were you our model, our interviewee and our wardrobe stylist - you were also the set builder. Thanks for assembling our new chair used in the shoot. We look forward to hanging out with you again at the next Glamourcon!


| | |
| --- | --- |
| Feedback Helps Us Make A Better Site. Please Take Moment. | |
You can see more of Justine at
www.JustineJoli.com