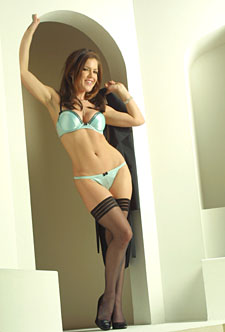 Thank You

Kira Reed
Creations Models Studio
Moses
Jonathan
Trinidad



Glamourcon extends a special thank you to everyone who made this interview possible.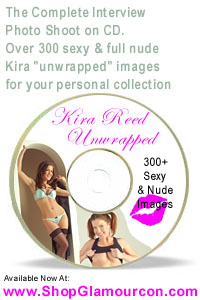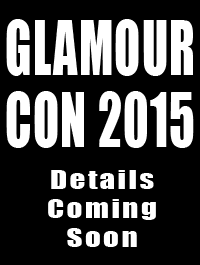 Interview Questions by
Bob Schultz
Photography By
Keith E. Williams
www.Exoart.com



We appreciate feedback
It helps us make a better site


GC OTR Team Reviews




Rental Studio
A Great Place To Shoot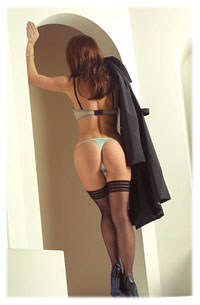 Glamourcon's June Interview - Issue #14
Get A Photo CD of the Interview Shoot with over 300 images - most More Unwrapped

The self-proclaimed Queen of Skinemax is branching out...and how! Playboy TV reporter, Internet dynamo, actress, and hockey fanatic are just a few of the hats this gorgeous honey wears. We caught up with her recently in LA for an interview/photoshoot and the sparks flew. We are sure you'll agree as we present Kira Reed.
---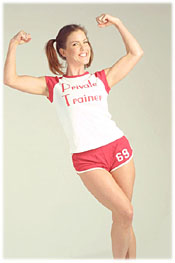 GC: Give us some Kira history.
Kira: I was born in northern California and by age five was performing in school plays and local dance recitals. I really did pop out a big ham. At 10, I was doing commercials and local catalog modeling. When may family moved to Louisville, KY, I attended the Youth Performing Arts School and loved all aspects. I was learning about the acting, voice, dance, costuming, lighting. My momma always said do what you love so I decided to make a career out of it. I then set my sights on going back to California where I received a degree in Theatre, Film, and Television from UCLA.

GC: How did you get involved in modeling? Nude Modeling?
Kira: I always wanted to be a sexy woman. As a kid I would stuff my bra playing dress up. I loved to strut my stuff before I even had any. At 14, I was in full bloom. At school, all eyes were on me. When I went to summer camp all the boys eyes were on me at the pool. So much commotion was had over me in my black one piece bathing suit that I wasn't allowed at the pool without a shirt on over it. I knew then that I had a very powerful tool - my sexuality. As I got older into my late teens and early 20's I honed this power and began topless dancing for cash to get through school. I loved the attention, the money and the power I had over men to get them excited. But dancing is a young girls game. You burn out quickly. Having a tight little body and a few good moves will only get you so far. And as cute as I was I was never the hottest girl in the crowd. I felt like Skipper to the Barbies. If it wasn't for my charisma I wouldn't have shined on stage as I did. Knowing I couldn't do this forever, I decided to incorporate my talent for arousal as a dancer with my talent as an actress.

GC: What's the scoop on yourt ton of roles in film and TV. How did all that begin?
Kira: I did bit parts on TV and in movies after graduating UCLA but my first good sized role in a movie was for Playboy in their feature "Maui Heat." I answered an add in the LA weekly "Models needed for two week shoot in Maui" Nudity required. I loved the idea of going to Maui for two weeks and getting to go to the Playboy building in Beverly Hills. Having been dancing for years, nudity wasn't an issue. Long story short, I was cast as the make-up artist to the swimsuit models, did my first "love scene," and my career in "R" rated erotic movies was launched.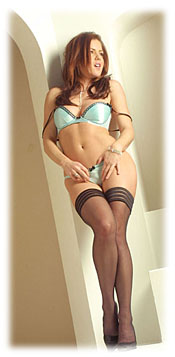 GC: What was your favorite role? Your most challenging role?
Kira: I love "The Price Of Desire." I was cast in "Price" when the director saw my love scene in "Maui Heat" and said: "Who is that girl? I want her!" Over 40 other films followed. I love "Madame Savant," "Alien Files," "Forbidden Highway," "The Mistress Club," and "Losing Control."

GC: Do you have a "dream role" that you're just dying to play?
Kira: I'd love to play a role like Diane Lane's Oscar nominated turn in "Unfaithful." Something sexy but with substance in an arena that gets seen by a wider audience than Skinemax.

GC: We read that you are studying with the Howard Fine Acting Studio. Tell your fans about the work involved studying your craft.
Kira: As an actress, my body is my only instrument. I need to stay tuned up. As an actress I want to be able to hit all the notes. Not just some of them. I respect what I do and I want to bring something special to the table no matter what the project. In these small budget straight to DVD or cable movies we shoot fast. I only get one take most of the time. I need to be on my toes so I can do it right the first time. In class I practice breaking down scenes and working toward an objective with my actions. I work on creating characters in particular situations based on my own experience by asking "What would make me do this?" I look for "why" I say these lines in the script not "how" I will say these lines. Basic fundamentals are key especially in these small movies that don't always have a solid script. I still want to serve it the best I can.

GC: Of course, at Glamourcon, we have special interest in Playboy projects. Share the secrets of Playboy TV Sexcetera.
Kira: I love being an on camera reporter for Playboy TV's Sexcetera. I get to see the world and be a fly on the wall at the most interesting places meeting some incredible people. I've been to the World Body Painting festival in Austria, the nude beaches of Australia, the BondCon convention and play party in Las Vegas, The Red Light District of Amsterdam, the adult chat rooms of the Internet, and the best strip clubs in America all in the name of bringing you everything you want to know about the world of sex.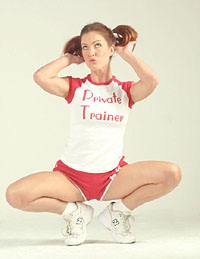 GC: Any hush, hush new projects in the works?
Kira: I have a new Vampire film coming out on DVD this summer : "The Countess" and will be filming the sequel later this year in Prague

GC: What does 2005 and beyond hold for Kira Reed?
Kira: I will continue my acting career as I grow out of being The Queen of Skinemax and into more mature roles in other genres. I have already made the leap to mainstream TV with roles on ER, NYPD Blue, and PBS's Madison Heights.

GC: Tell us about your website, www.kirareed.com . What does it have inside? What do members get?
Kira:I have had my website in many incarnations for 8 years now. It is considered the hottest site of any Late Night Actress on the net. I have tons of nude photo galleries and explicit home movies. I update regularly and feature a bimonthly Live Cam Show where you get the opportunity to call in and talk to me one on one while you watch me on your computer screen.

GC:The rumor is you have more websites? Give us all the juicy details.
Kira: I have combined all my sites - Kiradance: The Official Fansite of Kira Reed, MarriedCouple: Real Couple Real Sex, and Sweat Naked: Sexy Workouts Guaranteed To Make Us Both Hard into one single site: KiraReedStudios at KiraReed.com. You get all 3 sites for one low combined price per month. The longer you stay the less you have to pay and starting later this year I will include another site: KirasKinkdom: Glamour Girl Fetish and Bondage into the Studio. It will feature all may favorite BDSM shoots.

GC: We took a peek at your website and notice you say that it is playpen for experimentation...a place to push your boundaries and fetishes. We imagine several thousand fans just took a deep breath...more info now please!!
Kira: Let's just say if you join my site you will see me in a whole new light. You will see more of me than you have ever seen on TV. I've saved my most intimate moments for the true fans that make the extra effort to seek me out and become a member of www.KiraReed.com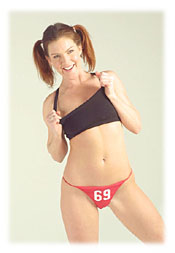 GC: How did you hear about Glamourcon and when did you first come to the show?
Kira: I first heard about the show through my friend Nikki Fritz. She was the first actress I know to build a site and promote it by meeting her fans. I visited her at her booth on Los Angeles and vowed the next year I would be there myself. I was. Over the years I have attended with Ken Marcus, Golden Apple Comics, Soft Bodies, Kim Dawson, and Taimie Hannum. I haven't been for 3 years now but am making my new debut in Chicago #34 with girlfriend Cindy Pucci (a past Glamourcon Girl!). Come see us.

GC: Has Glamourcon been of benefit to you? Would you recommend it to other models?
Kira: Glamourcon is a great way to meet my fans. I am grateful to have the opportunity to do what I love and appreciate each and every one out there that enjoys my movies, my Playboy TV show, and my website.

GC: Do you have a Glamourcon story you would like to share?
Kira: I had a fan come a long way meet me at Glamourcon Chicago several years back. He said his wife had died and he had been going through a lot of pain and loneliness. He said I reminded him of her and felt comforted whenever he watched a movie of mine. I was so happy I'd been able to touch someone from so far away. And because of Glamourcon, I was able to reach out in person and give him a big hug.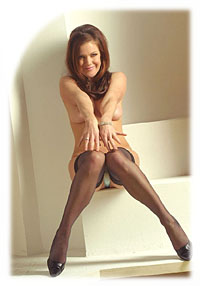 GC: What advice would you give to models just starting out?
Kira: You are in charge of your own destiny. Do what you love and success will come to you. Don't do anything you don't want to do just for money. Own your image and your website so you can make the most of it. Never give up your dreams.

GC: Let us in on your passions?
Kira: I am passionate about food. I love to eat. Great food is the ultimate aphrodisiac. I am passionate about yoga. It's soothing and strengthening at the same time. It releases stress and makes you flexible for sex. I am passionate about Hockey. I love the skill, the grace, and the physicality of the sport. And I love big burly men in uniforms.

GC: What would you like to say to you fans?
Kira: I want to say thank you to all my fans. You have given me the life I've always dreamed of.

GC: Tell us a secret…
Kira: Ah. Some things I'll never tell. When you put so much of yourself out there in the world to be shared, you have to keep a few secrets to yourself. Besides there has to be mystery. Mystery's what makes us women so alluring.

GC: The next Glamourcon is only a couple of months away, and we're excited that you're attending. Thanks for sharing some Kira Reed history and bio stuff with us. We thoughtly enjoyed it


| | |
| --- | --- |
| Feedback Helps Us Make A Better Site. Please Take Moment. | |
You can see more of Kira at
www.KiraReed.com