Thank You

Jana Cat
Gene Ashea



Glamourcon extends a special thank you to everyone who made this interview possible.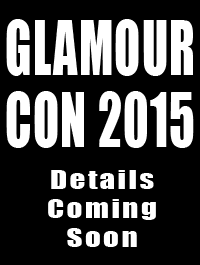 Interview Questions by
Bob Schultz
Photography By


We appreciate feedback
It helps us make a better site








Glamourcon's February 2005 Interview - Issue #20






Jana's Photographs Are No Longer Available

May We Suggest





MEOW WOW! For those of you think that any place above Santa Barbara is the Great Arctic North, we have a surprise for you. We bring you Jana Cat. No arctic cat, this fox is red hot! Jana's future looks very bright, indeed. We are sure you will agree when you meet our newest Glamourcon Girl of the Month, Jana Cat... MEOW!
---
GC: Can you share a little personal history? Where, when, etc…
Jana: I was born and raised in Northern Cali and I love it!! I really can't imaging living anywhere else and plan on staying in California for a very, very long time! The best thing about California is the weather….I love the hot summers and the cold, but not too cold, winters. Those of you who live in really cold states like Colorado and Wisconsin are probably laughing at me when I say that the winters in California are cold…haha! Well, they are pretty cold to me and couldn't imagine living somewhere where it snows…brrrrr!

GC: We've learned you are a student. What are you studying and how far along are you?
Jana: Yes, I actually consider myself to be a professional student! I just can't make up my mind sometimes and there are always classes that I would love to take, so I am currently still taking classes that are of interest to me even though I have already graduated. Once I have taken all of the classes that I plan on taking my goal is to become a pharmaceutical rep.

GC: In addition to your modeling and school, we understand you have a day job. Can you tell us a bit about that?
Jana: Well, it actually isn't a "day" job. But it is a job and does take up a lot of my time. I work as a bartender and a cocktail waitress. It is a lot of fun and allows me to meet all kinds of people. I started waitressing when I was right out of high school and it allowed me to earn some extra cash while I was in college. Once I turned 21 I decided that I wanted to do something a little more exciting, so I applied at a nightclub downtown. I met so many awesome people and it was tons of fun......I actually looked forward to going to work! I have tried to quit several times, but I always feel sad to go, so, I only work a few days a week to keep in touch with friends and earn some cash!

GC: What got you interested in modeling?
Jana: In high school I was totally into sports. I never really cared too much about trying to be cute and sexy like a lot of the girls at my school. I worked for a computer company and my boss asked me if I would be interested in being a host for these events. I had no idea the outfits would be these tiny, little, barely there things! So, I did it and got a ton of response from everyone. I ended up being asked to do some more promotional stuff and things just took off from there! I am a little shy at times and doing what I do has totally broke me out of my shell and exposed me to all kinds of stimulating things!

GC: Most models remember their first photo shoot, what was yours?
Jana: Hmmm, that would have to be a promotional piece I did for the computer company I worked at….but that isn't very exciting so let me tell you about my first girl/girl photo shoot!! I was a little scared because I hadn't really done too much with girls (at the time…hehe) So, I held back a bit at first and before you know it I was totally into it! I actually prefer working with girls as opposed to doing a shoot all by myself….it is boring being by yourself! I really like to shoot video because then you are able to just let the camera roll and not worry about trying to get the position right or pause for the shot. Now wasn't that way more interesting…hehe!!

GC: Do you have a model who mentors you in the business?
Jana: don't really have any one model that mentors me, but there are several models that I admire not only because of their beauty, but because they have really awesome personalities as well. I really feel that it is important to remain grounded and maintain a good attitude, no matter how popular you may be. I have met models who I have thought were very beautiful, but then when I met them in person they were a complete bitch or totally stuck up....which really made me sad that someone I looked up to ended up being horrible!! That is why always try and stay positive and enjoy talking with and getting to know my fans!

GC: You've appeared in calendars, at car shows, on the Internet and in fitness publications. What is your favorite type of modeling?
Jana: I always feel a little scared when I shoot with a really hot car or truck because they are in perfect condition and one wrong move could put a nasty scratch on a custom paint job. But, at the same time I love the feeling of being up close to such an amazing piece of work! I have always been conscious of how my body looks and working out has always been a big part of my life. So, when I have a chance to do some fitness modeling I am always excited….plus it gives me the motivation to work hard and make sure that I am in the best shape that I can be in for that particular shoot.

GC: How did you first get involved with Glamourcon?
Jana: Like I previously stated, I was a little star struck at all the different girls that were there. Since it was my first Glamourcon I really didn't know what to expect and it outdid all of my expectations. It was a great opportunity to meet all kinds of people in the industry as well as meet the fans. I will definitely be attending many more Glamourcons!!

GC: What was the most common thing fans told you at your first Glamourcon?
Jana: The most common thing that I heard was "are you new" and of course I am new to the industry so it was a lot of fun introducing myself and letting people know who I was. I was pleasantly surprised at how many people took interest in me and wanted to get to know me!

GC: How do you think Glamourcon benefits you or other models?
Jana: Glamourcon is such an amazing opportunity to meet tons of people and talk to them face to face as opposed to email. I like to shake someone's hand and talk to them in person so that they are able to see my personality and really get to know me.

GC: We notice you have a couple of tattoos. Please tell us about them.
Jana: I do have a few tattoos!! They are soooo small though and I have had them for a really long time. When I was younger I was always thought of by my family as being the "good girl" who did well in school and participated in any event possible. One night at my sister's apartment I decided to rebel a little and get a tattoo…what the hell what I thinking, I was only 14! So, I got a small rose right in the middle of my ass and then two years later I went back to the same tattoo guy and got a small butterfly on my low stomach. I haven't gotten any tattoos since I was 16 and don't plan on getting any more.

GC: What do you find sensual?
Jana: I love a good foot massage….to me if it is done right it can be almost orgasmic, mmmmm, the thought!! I like to be kissed softly and just treated like a princess….what girl doesn't?!

GC: What qualities do you look for in your man?
Jana: I look for a man to be sensitive and can just break down and cry during a sad movie….I love that and it shows me that he is a sensitive and caring person….which is a total turn on.

GC: For being new to the Internet, you certainly have launched a big time site. Who took the beautiful sample photos you show on the site?
Jana: Thanks!! I am somewhat of a perfectionist and I didn't want to just throw something together and expect people to buy it. I try and put a lot of creativity and thought into my sets and I keep an updated journal including pictures so that fans can know what kind of person I am instead of just seeing all the glitz and glam. I answer ALL of my emails and love hearing from my fans!

GC: Tell us about . What features can a member expect? How is it different from other sites?
Jana: is a great site to be apart of because it has a lot of personal touches to it. It isn't an incredibly huge site where the member feels overwhelmed and I try and make it so that each member knows who I am and feels comfortable emailing me just to say HI! In the beginning I just did topless photos and those are still on the site. It is interesting to see the progression and see how I have changed as a model and really let loose and have fun! I like to keep my members updated on what I have been up to by keeping a journal and a section called "personal picts" so that they can see me just being me. I also have two 24/7 spycams running so that you are able to see me first thing in the morning (that's right…no makeup or fancy hair) and I do weekly cam shows where I tease and chat with fans. I try and make it a fun place to be as well as see some HOT and SEXY sets and videos! I am always running specials where you can get a trial memberships ….or if you purchase a private show I will send you an autographed picture for free!

GC: What does the future hold for Jana Cat?
Jana: Based on the last few months things are going to be really, really great in the future. I have put a lot of work into the site and have been shooting lots of HOT content including some really sexy videos. I have also been invited on many other adult sites to be a feature and so there will be many personal picture updates and journal updates.

GC: Will we see you at the next Glamourcon?
Jana: Of course!! I had a blast there and I am soooo excited for next year! Be on the lookout for me and be sure to stop by and say hello!!

GC: Before you go, please tell us a secret.
Jana: Well, if I told you then it wouldn't be a secret…just kidding!! I am a total neat freak! I used to not be able to do my homework at my house because I would find something that needed to be done and do it instead of my homework…..I have that somewhat under control….most of the time!!

GC: Thank you for spending time with us and continued success in 2005! And we'll see you at the next Glamourcon!


| | |
| --- | --- |
| Feedback Helps Us Make A Better Site. Please Take Moment. | |
You can see more of Jana Cat at
www.glamourcon.com/interview